Serving up a three-peat
Get ready for the upcoming Aces tennis season!
The LM Aces tennis team is back for another year, and is looking better than ever! In the conclusion of last season, the team won States for the second consecutive season in Hershey. The contest was hard fought, but ultimately the Aces prevailed, defeating Conestoga with a 3-2 match victory. The team hopes to once again win States this year.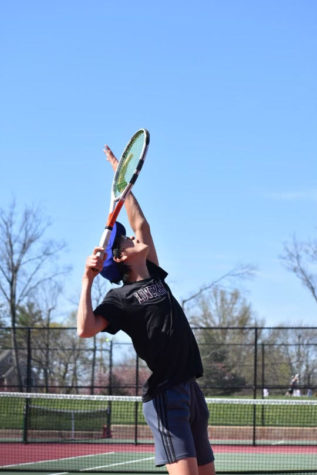 The success of the team can be attributed to the talent and dedication of each player, as well as the leadership of the captains. Two players and captains instrumental to the team's success last season, Justin Yi '23 and Scotty Stuart '22, will no longer be playing this season. In their place, four new captains have been named: Mark Lancaster '23 (singles captain), Adam Lee '23, Stoyan Angelov '23, and David Liu '23 (doubles captains). Each new captain has a role to fill, and the team is confident that they too can lead them to victory. 
The roster also gained many talented freshmen, who will be filling the spots of the now graduated seniors. With the emergence of Nathan Dolgushev '26 playing varsity singles, among many other impressive freshmen, the spots left by the captains will be filled with strength for the foreseeable future. 
Each member of the LM tennis team is ecstatic to be back in action, and they have been training hard in the offseason to make this season a success. But what has really set the team apart from other schools, besides talent, is the camaraderie between each player, whether varsity or junior varsity. Lancaster alludes to this, stating, "Some people ask me how you can have a tennis team when tennis is an individual sport. But for us, it really isn't. Whether we're running relays up the stairs, demolishing Radnor (again), or going to El Limon after Districts, we do everything as a team. Oh yeah, and I guess you could say we're the best in the state." 
With the return of the LM tennis team, the anticipation for their success is high, and the team is ready to rise to the occasion. The season is underway, with the regular season beginning with a home match against Great Valley at LM. If the team is able to. hone its potential and live up to expectations, a third consecutive State title might just be in the works.
Leave a Comment