Cov-ED college applications
Discussing how COVID-19 is impacting the college application process.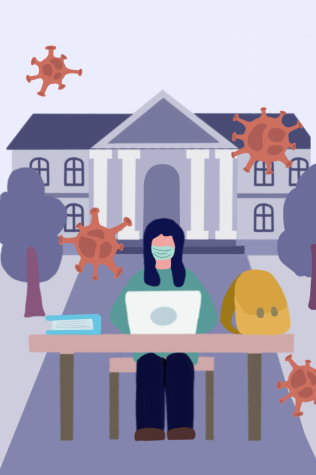 The coronavirus pandemic has left many question marks for all students partaking in college applications. While the LM Class of '20 faced many obstacles when it came to making college decisions, this year's seniors are completely unable to participate in the usual college decision process. Back in the winter of last year when offices, businesses, and schools began to shut down, the students planning to apply the following year had just begun their decision journey. LM seniors Sydney Zelinger and Danny Dilsheimer voiced that they began looking at colleges in the "beginning and middle of junior year." College Board, a non-profit organization that was formed to connect students to college success and opportunity, states that "spring of Junior year is a good time to visit campuses." With the US shutting down in the first two weeks of March, students who had plans to tour colleges were no longer able to visit, creating an obstacle in the lengthy process.
While universities are finding alternatives, such as online webinars and information sessions, the process is still challenging. For students who have applied, or are going to apply early decision to a school, the choice is extremely significant. Another LM senior, Will Treiman, applied early decision and has finished his college process. He analyzed his experience touring during the lockdown and stated "I visited, and got a decent feel [for the campus], but you could tell something was off." Clearly, visiting colleges without the campus life makes it exceptionally difficult to envision the environment. However, Treiman decided that he "really liked the school from online tours and info sessions," but in-person visits allow you "to actually feel the campus vibe in person." Dilsheimer has also toured campuses, but stated, "I couldn't really get a sense of the students but I did of the environment." Most schools are hosting virtual events in order to fit the needs of applicants or other prospective students. While in-person tours are ideal, yet impossible right now, it seems as though the online solutions that schools are finding are benefiting students and their college decision journey.
This year's college process is considerably different than previous years. With deadlines approaching, more and more students need to navigate their future. Most college campuses are slowly reopening, with the hope that freshmen will adjust to the school and college life. For students applying for early decision or are already enrolled in a school, being able to attend normally is still unknown and undecided.

Leave a Comment