Fall album roundup
Emmi Wu reviews some of her favorite albums released this fall.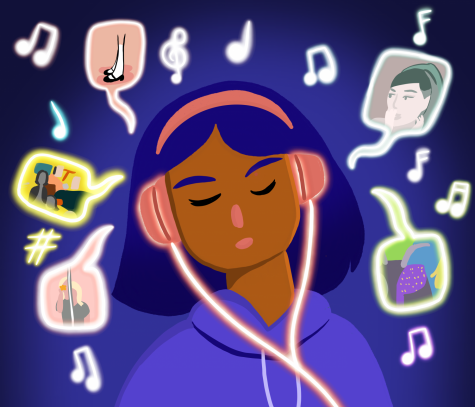 At this time of year, it's easy for students to feel overwhelmed, and with stress levels starting to increase, music is the perfect way to destress. Whether you're crying over a bad grade to the new album Party Favors, dancing it out to some new fall hits, or studying to some chill beats in Wachito Rico, you're bound to find something to enjoy among the season's newest music. Below is a compilation of noteworthy fall releases, complete with reviews and highlights. 
Positions by Ariana Grande: Ariana Grande's long awaited  album has finally been released, and shockingly enough, it did not live up to expectations. Though none of the songs are especially bad, the album overall seems repetitive and a lot of the songs lack any personal meaning. Her other albums were filled with a variety of different styles and emotion, but Positions feels more like one very long, drawn out, 41 minute song. Even the best songs from the new album, such as "34+35," "pov," and "positions," are simply not as powerful as her previous works.
Bright Lights, Red Eyes by Ruel: A rising artist, who is somewhat new on the Pop scene, Australian singer-songwriter Ruel has one of the best voices I've ever heard. However, though his voice is beautiful, the production of the new album is a little dull. It is strikingly similar to his old album, Free Time, and it could've served him well to try something different this time. Bright Lights, Red Eyes simply sounds like an extension to Free Time.
Fake It Flowers by Beabadoobee: Beabadoobee, who recently rocketed to stardom after her song "Coffee" was sampled in the now TikTok-viral song "Death Bed," is most often recognized for her sentimental, lo-fi, ukulele songs. Though she made her name in the lo-fi genre, Beabadoobee's new album, Fake it Flowers, branches out with quite a surprising change in style. The album creates a sense of delicacy through Beabadoobee's soft and airy voice, while simultaneously channeling the best parts of alternative rock music with her graceful vocals and grunge-style production flawlessly complimenting each other. The album's utilization of quiet-loud dynamics would make it the perfect soundtrack to a '90s coming-of-age movie.
Wachito Rico by Boy Pablo: To me, Wachito Rico is the definition of an indie album. Lyrically, it's very melodramatic, but Boy Pablo's voice is nearly devoid of emotion. However, his other albums have a similar ambiance, so perhaps that was intentional. Despite the angsty lyrics, the album's production is actually quite cheerful. Based heavily in percussion, the energetic beats and unique guitar riffs make the album rhythmical. While none of the songs particularly stand out from the rest, Wachito Rico is still a very catchy and delightful album.
Party Favors by Sir Chloe: A very dreary and mysterious-sounding album, Party Favors is a go-to for crying. This heavily-reverbed indie album is filled with grainy guitar riffs and dynamic vocals. The band's music is very bold, and lead singer Dana Foote's unique voice brings out a lot of emotion. For a debut album, it is definitely better than anticipated. All of the songs have a similar aura while maintaining a certain uniqueness in regard to lyrics and production, making the songs distinguishable and enjoyable.
Leave a Comment