The inevitable shutdown
Writer Mia Hail explores the potential of a longer shutdown, not just for schools, but all over the country.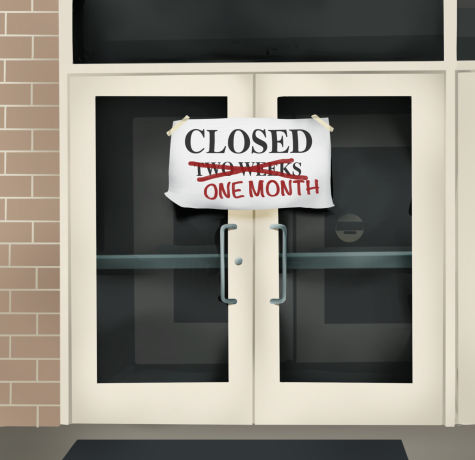 As COVID-19 continues to sweep the globe and US cases are reaching all-time highs, the virus reminds us that this pandemic is far from over. Many countries in Europe, in order to combat this "second wave," are switching back to a full country lockdown. Meanwhile, in the US, cases are skyrocketing with seemingly no end in sight; each day there are thousands of new cases and hundreds of deaths. Countries around the world are again closing shops, restaurants, theaters, and placing travel bans. Yet, they are doing everything they can to keep schools open. Shutting schools down for the entire end of the year in March was extremely challenging for all students, and in recognizing that, schools are going to cling onto in-person classes for as long as possible. However, as case numbers surge, schools are bound to become new epicenters for the virus, leaving communities to make their own decisions whether or not to close.
For LMSD, the question isn't if schools close, but for how long will they stay closed? With LM reverting back to online school after only four weeks of in-person instruction due to confirmed cases of COVID-19, the spread of the virus among the district seems inescapable. Everyone in the district is interconnected, with siblings in different schools, sports teams traveling to play other schools, extracurricular activities, and even people who disregard social distancing guidelines when with their friends. Although the LM community has had relatively good control of the virus since March, cases will rise, as they are around the country. At the time of writing this article, there are multiple confirmed cases of COVID-19 in almost all the LMSD schools, including four cases at LM. All it takes is one asymptomatic person to spread it across the entire district, and suddenly there is an outbreak. In March, we all experienced the rapid turn around the virus created, as schools initially closed for only two weeks, which then turned to four, and eventually to cancelling the entire rest of the school year. This was after only a few confirmed cases, and the precedent was set that the school board will take a similar approach in this second wave, which has already proven to be true with the recent closing of LMSD.
Not only are rising cases a concern for schools, but the imminent winter, which raises new concerns about COVID-19 cases rising once people are no longer able to spend time outside. The winter months are usually synonymous with flu season, and many scientists worry that this year, not only will there be the seasonal flu, but a rise in COVID-19 cases. Until now, people have found ways to spend time together outside while keeping plenty of distance and with a constant circulation of fresh air. The fear is that in the cold weather people are forced to spend more time inside in close proximity, consequently causing case numbers to drastically rise.
While it's important to remain optimistic about going back to school, it's hard to do so when reading the news of the rising coronavirus cases and the warnings that the worst is still to come. As cases continue to rise, LMSD has to prioritize their student's health over in-person education. After four weeks of hybrid in-person learning, LMSD has made the decision to return to fully virtual school until December 4, then they hope to return to the hybrid model for the remaining weeks leading up to winter break. Going online for these next few weeks isn't going to change the fact that COVID-19 cases are rising, and are bound to continue to do so. Schools are a dangerous breeding ground for COVID-19, and despite the district's efforts to enforce contact tracing, social distancing, and mandatory daily health checks, these minimal means will prove highly insufficient in the case of an outbreak. Although I hope LM will reopen soon, the harsh reality is that it's looking more probable every day that we will remain in fully online school for a long time. Unless things drastically improve while we're virtual, it seems extremely unlikely that we will be returning to school before January, and even that is an optimistic outlook.
Leave a Comment