Ranked: Best Holiday Songs
You know the holiday season is right around the corner when the festive songs start playing. Come to hear more about these popular tunes!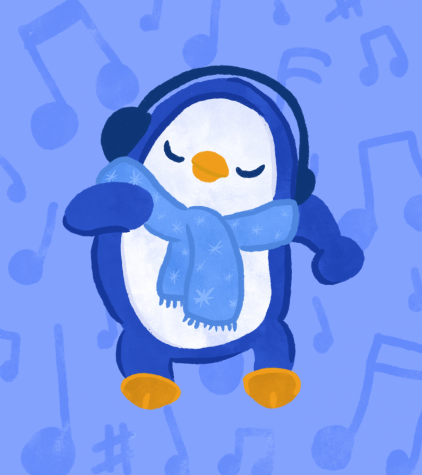 1. "All I Want For Christmas Is You" by Mariah Carey
"All I Want For Christmas Is You" is a Christmas classic written and sung by the queen of Christmas, Mariah Carey. When it was released in 1994, it instantly became a Christmas classic, and later on, became one of the most successful songs of all time. The song has sold over sixteen million copies so far, along with over 650 millions views on YouTube, and a peak position at number one on the Billboard Hot 100, 25 years after its release. Not only did Mariah Carey seem to have released one of the most joyful Christmas songs of all time, she gained extreme success through only one song, which will keep her legacy alive forever.
2. "Jingle Bell Rock" by Bobby Helms
Come on, we've all heard of the "Jingle Bell Rock". Don't act like you don't put the song on full-blast and do the Means Girls dance every time. "Jingle Bell Rock" became a Christmas classic due its joyful beat and fun lyrics. This song automatically puts everyone into the Christmas spirit because of its popularity! You cannot escape this song during the holiday season. It's playing in every TV show, every movie, every radio station and every store. Numerous hit movies play this song in them, including Mean Girls and Jingle All The Way.
3. "Rockin' Around The Christmas Tree" by Brenda Lee
During this time of the year, Christmas trees become the center of attention. Brenda Lee sings about how much meaning and joy a Christmas tree holds. Due to the song's positive, holiday feeling, it is used in many movies and TV shows, most noticeably in the Christmas classic, Home Alone. In addition, due to the song's success, it is still being covered and recorded by many artists today, such as Justin Bieber, Miley Cyrus, and Pentatonix. 
4. "The Christmas Song (Merry Christmas To You)" by Nat "King" Cole
"The Christmas Song" is commonly known for containing the line, "Chestnuts roasted on an open fire…" This iconic song has become one of the first Christmas classics since its release in 1946. The meaning behind the song is to wish with love, the people around you a Merry Christmas. As the years went by, this song gained more and more listeners, which eventually led to it becoming a Christmas essential for all Christmas radio stations and playlists.
5. "Santa Tell Me" by Ariana Grande
"Santa Tell Me" is a Christmas original written and sung by pop super star, Ariana Grande. Grande's success with this song is extraordinary. "Santa Tell Me" is the third most streamed Christmas song ever on Spotify, along with over 200 million views on YouTube. It is safe to say that this Ariana Grande Christmas classic has potential to become a Christmas essential in coming years.
6. "Mistletoe" by Justin Bieber
Justin Bieber's second studio album happened to be a Christmas one, titled Under The Mistletoe. The title was inspired by his own self-written Christmas song, titled "Mistletoe". This song gained popularity through his large, supportive fandom. Due to it being so popular in the newer generations, it will definitely become a Christmas classic in the near future. 
7. "I Saw Mommy Kissing Is Santa Claus" by Jackson 5
Jackson 5 released one of their first albums titled, which contained a generous amount of Christmas essentials. The album contained the hit song, "I Saw Mommy Kissing Santa Claus". The Jackson 5 really came through with this song, the beat is so catchy, the lyrics are so fun, and the vocals are just amazing! There is no doubt that this song will always be played during the holiday season forever.
8. "Christmas Time Is Here" by Vince Guaraldi Trio
"Christmas Time Is Here" is a slow, relaxed holiday song which was written for and included in A Charlie Brown Christmas. There are two versions of this song, one includes vocals and instruments, while the other only includes instruments. Either one, while listening to this song, it gives you a sense of joy, comfort, and warmth for the holiday season.
9. "Last Christmas" by Wham!
"Last Christmas" is a Christmas favorite in countries around the world, including London, France, Canada, and the United States. Wham! produced and wrote a hit song that will live on for Christmases to come. Although the genre for this song goes under "Alternative", the lyrics and meaning behind the song made it a special Christmas bop. "Last Christmas" became such a big hit that legends today like Ariana Grande and Taylor Swift, made their own versions and covers to the song.
Leave a Comment