The Four Gift Rule
Gabryelle Tepper-Waterman '23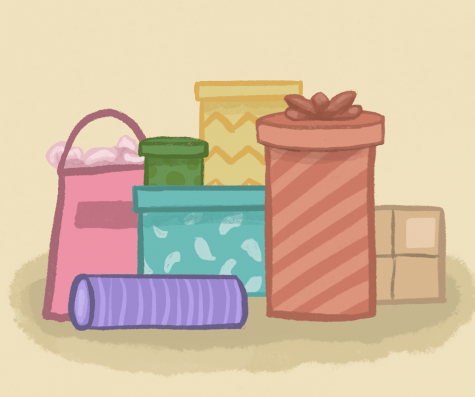 The holidays can be an extremely stressful time, and gift giving does not make it any easier. Whether you are looking for your mom, dad, grandparents, siblings, friends, or even that new special someone, this gift giving guide will help you through these difficult decisions!
The standard four gift rule is "something they want, something they need, something they wear, and something they read." This is an easy tactic to either narrow your gift options or give you ideas of what to buy.
For the first category, "something they want," you should start off by considering their interests. For example, a teenage boy who plays video games may want a new headset, controller, or the latest release of their favorite game. A teenage girl who loves makeup may want an eyeshadow palette, makeup brushes, lip gloss, or a mirror. These gifts can also be based on activities they participate in or the latest trends. Go for the items your loved ones would never buy for themselves.
For the next category, "something they need," think about items that we all need, but are fun and fulfilling to receive. This could be anything, big or small, used on a daily basis. Base these gifts on the recipients interests and needs. Gifts for a chef could include a blender or a new set of pots and pans, while a new parent may need a stroller or baby clothes. Some other needs are materials for school, winter outerwear, or equipment for sports. Because of the implementation of a virtual/hybrid school schedule, many students do not have the resources they need to learn at home. Gift ideas for this issue could include a computer, school supplies, or a desk or small workspace.
"Something they wear" is exactly what it sounds like it is, clothes! Clothes are a great but also easy present to pick out, no matter who your recipient is. If you are buying clothes for an adult, you may want to buy more formal clothes they can wear to work, meetings, dinners, etc. For a teenager, casual clothes they can wear to school, around the house, or with friends is the best option. The cold weather during the holidays is the perfect time to get warm jackets, sweaters, hoodies, sweatpants, fuzzy socks, and any other cozy and comfortable item. We are staying inside and bundling up more than ever in this cold weather, especially during the pandemic, so you cannot go wrong with loungewear of any sort.
Lastly, we have the "something they read" category. This can range from novels to magazines to comics. The type of reading material you give should depend on who is receiving the gift. Younger children might enjoy a comic or picture book that is easy to read and understand, while novels would suit both teenagers and adults. When you are deciding what book to choose, make sure it is age appropriate and pick the genre depending on what their likes and interests are. For example, someone whose favorite class is history might enjoy a non-fiction book about WWII, while someone who loves mythical movies might enjoy a fantasy novel about wizards. Choosing a book should be a quick and easy decision and is the perfect present for people of all ages. 
If you still cannot think of a gift to get your loved ones this holiday season, you cannot go wrong with a gift card! Good luck and get shopping!
The Ultimate Gift Giving List
Olivia Lee '23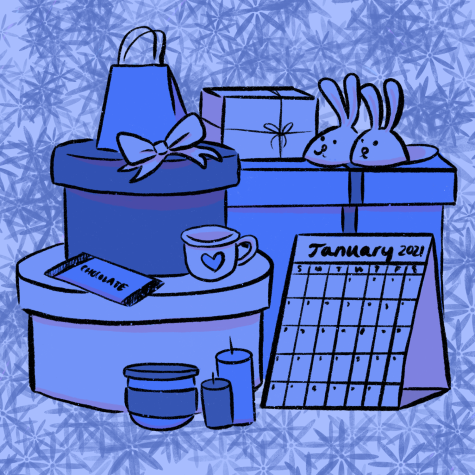 The year is finally coming to an end, and you know what that means! The holidays are right around the corner and we could all use some gift ideas. A gift guide is essential to this season, especially for the last minute people struggling to think of what to give their friends and family.  
1. Slippers: Winter has arrived and nothing is better than a new pair of slippers. Not only are they comfortable and stylish, but they're easy to wear and affordable for students! These shoes are perfect to wear both indoors and outdoors. 
2. 2021-2022 Planner: Are they always busy and running around? A new planner is a great gift! The planner is perfect as a customized gift, but even a simple color or pattern will do. The gift is practical for all because assignment books like these help people stay organized and on track with their goals for the new year! 
3. Chocolates: Sweet, rich, and savory, chocolates are all of the above! No one could be angry about a box of chocolates and they are (literally) the most sweet and simple gift to give. There are also an assortment of chocolates, so there are many options to pick from!
4. Spa Day Kit: With all the switching from schedule to schedule and having a ton of work to do, our stress levels are extremely high so a spa day kit is ideal for this time period. A few bath bombs and a robe can go a long way. Try it out! 
5. Backpack/Carry on: New year, a new bag! Backpacks and carry ons are both useful and stylish. Each bag is always unique in its own way, so there is no doubt that they will love it! 
6. Clothes: Who said clothes aren't a good gift? A few extra pieces of clothing never hurt anyone, in fact, they are one of the best gifts. It's an easy gift to pick out and especially now with more and more sales, it only makes sense to buy a few more shirts! 
7. Candles: A candle is perfect to create the ideal Christmas smells and looks. This gift is affordable and there are a ton of candles to pick from. A simple peppermint classic or just their favorite seasonal candle is just right for these cold days!
8. A Tumbler: A tumbler is perfect for all year around. They make morning coffee and afternoon tea easy on the go and can keep the drinks cold or hot. Who wouldn't love one? When work and school begins to open, this is a great item to grab and bring with you. 
9. Watch: Every day seems to be the same, which makes time slip away. A new watch is fashionable and a classic, classy and simple, making it the perfect gift for anyone! 
10. Gift Card: Last but definitely not least, gift cards. If finding a gift is too stressful or too time consuming, a simple gift card from their favorite restaurant, shop, website, etc. will work perfectly. A gift card may be simple and "basic," but it is a great option that allows one to choose whatever they like!