Christmas Crisis
A poem that reflects the holiday season of 2020.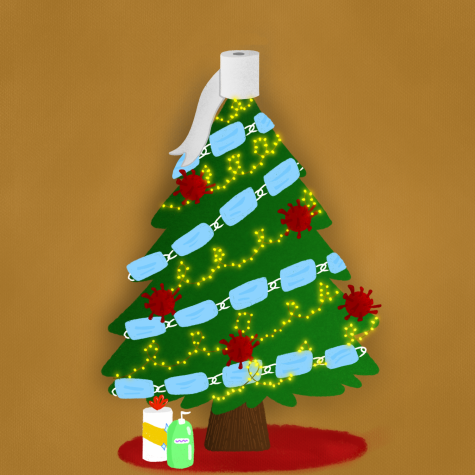 'Twas the night before Christmas,
the kids were lazing about,
For there was not much to do,
Besides pout.
"I wish we could see grandma!"
"I wish I could go shopping!"
"I wish you kids would stop complaining."
"Hey, stop eavesdropping!"
All they could do was stay up late,
Watching movies and doing Zoom dates.
The parents watched the news,
The kids out to play,
The relatives were on FaceTime,
The pets sleeping away.
To an outsider it may have been normal,
This Christmas night,
But to everyone else,
That was not right.
A virus was keeping families at bay,
Maybe a state apart,
Maybe a few doors away.
They all had to connect,
Through calling apps just like Zoom,
Discord, FaceTime, and duo,
With a static-filled room.
Maybe some were together,
Six feet apart.
Maybe some were struggling
And had an ache in their heart.
They couldn't see each other,
At least not in person.
It was definitely for the best,
To make the virus not worsen.
Some couldn't see a loved one,
Some couldn't visit the sick,
Some will remember to ask,
For a mask from Saint Nick.
2020 has been in such disarray.
It has really felt like some sort of fated
doomsday.
Cheers to the next year,
Cheers to the people.
Hopes for 2021,
Hopes not for a sequel.
Wish upon a shooting star,
For a plot-convenient Christmas miracle.
Write on your wishlist,
For something funny and satirical.
But I got off track from our story,
So I'll wrap it up quick.
The kids went to bed,
For they wanted to see ol' Saint Nick.
The parents left presents under the tree,
Of course they didn't know what was to be.
Late that night as if magic were real,
Santa left a special something to every
household since he's quick on his heels.
The children came down the stairs
Early the next morning.
What they saw they couldn't believe,
Since it wasn't quite what they were yearning.
There was a pile of masks,
As well as a note.
The family tried them on,
With their beautiful new coats.
The one child read the note aloud.
His family heard and started to crowd.
"We all miss each other,
Family and friends alike,
But let's look to the stars and remember,
This weird holiday night."
Leave a Comment