Wondrous Winter Activities
The article describes various ways which students can spend some of their spare time during the winter, with options ranging from cooking to sewing to redecorating.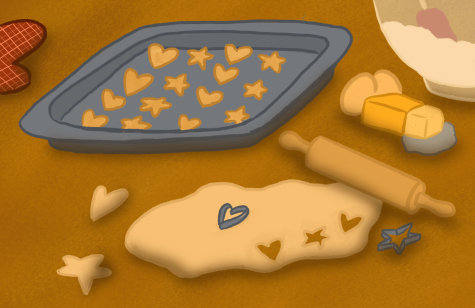 As the temperature drops and coronavirus cases spike, ways to spend time become more and more limited. While winter may seem to be cold, dark, and full of computer screens, there are many ways to avoid boredom. All of the trends that peaked in the spring and summer have phased out now, and new ones are surfacing. The snowy holiday season has rolled around quickly, and there are more ways to avoid the winter blues than what may initially come to mind.
Of the various cooking and baking recipes, this season features an opportunity to explore more unique foods in light of the holidays. Spending time working in the kitchen is an efficient and enjoyable way to experiment with new foods, especially putting into consideration that Christmas, Hanukkah, Kwanzaa, and more holidays are approaching. The Food Network published an easy-to-follow, twenty minute recipe for homemade peppermint patties to get into the holiday spirit. The instructions, posted on their website, call for only five ingredients and five simple steps. This festive recipe is one of many, including cheesecake squares, candy cane cookies, and peppermint bark. Besides delectable dishes, there are an array of seasonal drinks that fit the weather perfectly. BBC Good Food shared a five star rated, seven minute deluxe hot chocolate recipe created by Lesley Waters. As the snow rolls in and people begin curling up insides their homes, a reliable, go-to cup of hot chocolate goes a long way.
Besides preparing new foods, there are other options in order to keep busy. Sewing and knitting are achievable skills that will be beneficial in life. When clothes or furniture rip and tear, knowing how to sew becomes essential. As the weather becomes colder and colder, knitting a hat or scarf is a useful skill; not to mention a good gift for friends and relatives. There are clear and brief instructional videos on the internet that take only minutes to watch and can be helpful for years and years to come. Additionally, boredom during the winter in a pandemic is inevitable, and mending old clothes is an effective way of using this time.
Redecorating spaces, whether that be a bedroom, office, basement, or kitchen, for the winter, is always a valuable use of time. Festive lights, vibrant candles, and elegant wreaths are all small touches that can make a huge difference in the feel of a room. Aside from pleasing decor, there are other ways to stay occupied during the gloomy winter. Investing in a couple house plants is never a bad idea, especially since caring for plants can take some stress off of daily strains and clear the mind. NBC and The Sill publicized that house plants even improve focus and productivity by up to fifteen percent. Plants are also proven in studies to boost mood and help clean indoor air by absorbing toxins, increasing humidity and producing oxygen.
While Zoom, Blackboard Collaborate, and other virtual commitments seem to take over life, there is much more than the world of technology in today's environment. Daily routines require people to stay planted in their seats all day staring at screens, but these alternative activities are a safe and healthy way to stay occupied during the long winter season. Time spent doing new activities and interests leads to less time on screens, and will help make the most of your winter season.
Leave a Comment