Call out to the current clubs
Wondering what's happening within the various clubs at LM? Read this article to find out!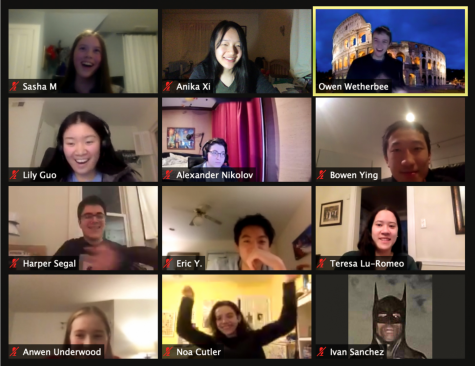 With over fifty different clubs, LM is filled with many different opportunities to pursue an activity you love, or even a chance to try something out for the first time. Many of these clubs involve competitions in which students must submit their work for judging, while others of a less competitive nature create a chance to connect with your culture or get to know other students. Even during the COVID-19 pandemic, clubs at school have still been active, though their meetings and events look different than they have in previous years.
The Technology Students Association (TSA) has successfully completed its first all virtual  Regionals  competition  ever.  TSA  students  needed to submit projects  virtually instead of bringing their displays and work to an in-person conference. Those with exceptional work received tickets to the next round of the competition, States, which, barring a significant change in the COVID-19 pandemic, will most likely stay all virtual as well.
Mock Trial is a club in which students develop their skills in understanding the law and courtroom procedure through "trial" competitions. Students have been working to prepare "cases" and are presenting them as the "Plaintiff" and "Defense" sides in courtrooms at the Montgomery County Courthouse. Professional lawyers and judges oversee the procedures. 
LM's robotics team, DAWGMA, allows students the opportunity to use their STEM and robotics skills in competition environments. They will be competing in an all virtual FIRST Robotics Competition which is built around a season experience that does not include in-person game play. The DAWGMA team will also be competing in the VEX Robotics competition. 
The community service club, BuildOn, has been busy the past couple of months doing a variety of COVID-19 safe service "activities, such as the 2020 LMSD BuildOn Gala, as well as continuing their yearly tutoring program held virtually this year. 
Science Olympiad is competing in invitationals, including the MIT, Solon, Harvard-Brown, and Duke invites. They are also preparing for their virtual Regionals competition and hoping to get into States and Nationals.   
Best Buddies has been working with students in LMSD with disabilities. COVID-19 makes it hard to do regularly scheduled events and have safe interactions between members. However, LM's gym program for disabled students, in which students play games and learn together, is still going on, although much of it is through Zoom.
Many cultural clubs have started up as well: Asian, French, Israel, Classics, and Spanish are all meeting via Zoom. Once back in-person, these clubs will be trying different foods in addition to the language learning and games that are being played over Zoom currently. Many of these clubs have also been hosting virtual movie nights to encourage club bonding.
The Computer Science Club is off and running over Zoom. Having finished their Teach Python season, current events that will be held through the next few months include coding competitions, CodeLM, and the Girls Hackathon. 
Try and support these clubs over the next few months by cheering them on, be it in person or virtually, and maybe even giving one of them a try yourself!
Leave a Comment