Light the lanterns
The Lunar New Year is a holiday that is observed in many households throughout the Lower Merion Township. This year however, due to COVID-19, traditions have been altered. Read this article to discover some of the ways the festivities have changed!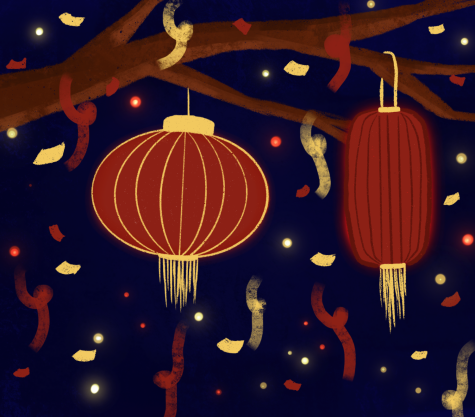 Lunar New Year is a time of the year when families and friends gather to celebrate the first moon of the lunisolar calendar. It is often celebrated between January 21 and February 20; this year, Lunar New Year is being observed on February 12. The holiday is celebrated all throughout the world by many people of Asian descent. On the day, many families take part in rituals and feast together as a celebration. 
As immigrants, my parents held onto this tradition and are passing it down as time goes on. My family often gathers together at my grandparents' house, where we fold tiny, square pieces of paper called "Joss" into burrito-shaped origami. Once all the papers have been folded, we gather bags of them to toss them into a big can, where they are then burnt. This tradition originated because the Chinese believed that the deceased have needs similar to those in the natural world. Burning the Joss paper is believed to help the deceased pay off debts, trade for goods and exist comfortably in the spirit world. After all has been burnt, we attend the lion dance. Dancers hold huge, colorful parts of cardboard cut-out lions and march around. Loud drums and crashes can be heard from blocks away as the dragon dancers make their way through the crowd. Families carry their small children as they cheer on the dancers. The dance is quite hectic and full of adrenaline. Chinese lanterns are hung glowing with a deep red that reflects everyone's smiles. Lunar New Year is a time  of celebration and coming together to wish everyone a lucky and happy year.
Food is one of the most important parts of Lunar New Year. It is believed that food brings good luck for the years to come. At my grandparents' house, lots of fruit and candy is displayed to be eaten. Special dishes like a whole fish, dumplings, roasted pork, a whole chicken, and sweet rice balls are made for dinner to celebrate. After dinner is when oranges and tangerines are handed out as a way of  giving good fortune. The word oranges in Cantonese sounds the same as good fortune, therefore we are being handed "good fortune." Food is a symbol of good luck and happiness. 
Nonetheless, 2021 will be a different story. With COVID-19, it is more difficult than ever to celebrate together with family members and the community. Large gatherings will not be an option and with the current situation, my family has decided to celebrate with only immediate family members.  Instead of going out, to watch the lion dance we will be enjoying dinner and visiting our grandparents to burn Joss paper and celebrate the upcoming new year!
Leave a Comment