Class Action Park
A new HBO Max documentary juxtaposes humor and danger to inform watchers about New Jersey's hazardous Action Park. Cutler analyzes the storytelling styles and informative nature of the film.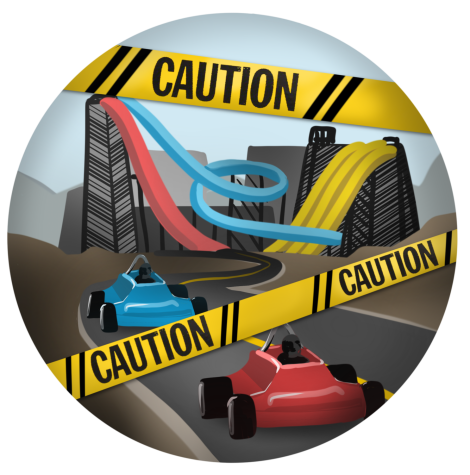 "In a world filled with people telling you 'no,' Action Park became known as the land of yes" (Class Action Park, 2020). What was Action Park? An amusement park? An emblem of childhood in the eighties? A death trap built by a shady insurance fraudster? Or all of the above? These are the questions Chris Charles Scott and Seth Porges seek to answer in their documentary, Class Action Park.
Action Park, nicknamed "Class Action Park" for its frequent legal troubles, was a New Jersey water park, and a place of excitement, mischief, serious injury, and negligence. Just hours away from LM, it was a cultural touchstone of life in the eighties and nineties in the tri-state area. Maybe your parents even attended in their youth! The park's design was so conducive to injury that the town of Vernon, where it was located, had to purchase extra ambulances. The pools were so dirty that the lifeguards often could not see struggling swimmers. People would steal go-karts and drive them on the nearby highway. Snakes, bees, and snapping turtles infested several areas of the park.
The film chronicles the park's history, looking at founder Gene Mulvihill's illegal business and insurance dealings, dangerously designed rides, unqualified teenage employees, and eventual downfall through interviews with former park guests and employees, animations, and insightful narration from humorist John Hodgman. The park guests and employees all shine in their talking head interviews, reminiscing about the fun and trouble they got into at Action Park, and how it impacted their childhood. The tone is pretty funny and lighthearted throughout the first half of the movie. The antics and danger were so unbelievable and ludicrous, how could you not laugh? Yet, in the second act, there is an important tonal shift that might seem unexpected based on the previous comedic content. The animations peter out, as the real-life dangers of the park become less and less of a joke. Having no rules and little oversight or responsibility was lots of fun, until it wasn't.
Six people died before the park's closure in 1996. For the people who escaped their Action Park visits relatively unscathed, the park is nothing more than a wacky, if troubling, memory. However, for people who lost a family member due to negligence and shoddy construction, and then received little or no compensation from Mulvihill or the park, it was anything but. The film did a good job of examining the park from different angles and perspectives. It would be easy to just make a fun and silly documentary, or just a somber one, but Scott and Porges combine the two tones in a way that is sensitive, and never too jarring. Parallels can be drawn between the Wild West environment of Action Park, which prided itself in the lack of rules, and the world we live in today, where people seem so eager to spurn the rules meant to keep them and others safe. The lure of an amusement park is that it gives the impression of risk and danger where there is none. Action Park only delivered on part of that unspoken agreement. Class Action Park is now streaming on HBO Max.
View Comments (1)