Privilege despite proximity
Community service should be centered upon helping those who need help the most.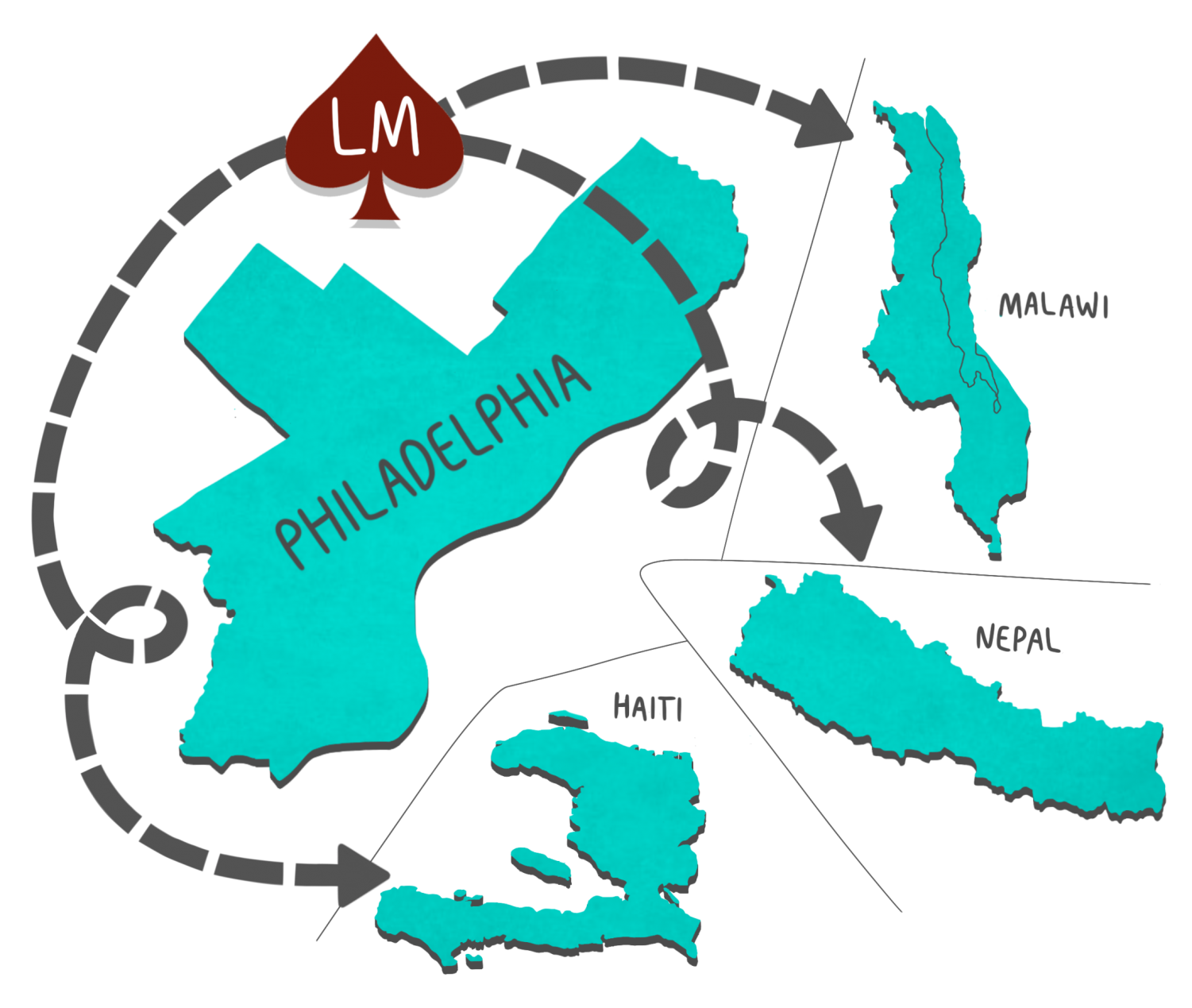 Like most high schools, certain events at LM have become a rite of passage for all students, such as basketball games, after-school trips to Suburban Square, and running to catch a class in the Administration Building. Among these inalienable LM traditions is arguably the act of joining buildOn. BuildOn, a service organization whose ultimate goal is to raise money for a trek to a developing nation to build a school, attracts students throughout their high school journey who aim to make a positive contribution to both their community and the world. Students may join buildOn with positive intentions but soon notice how the club's structure is inherently flawed in a number of ways. While buildOn acts as a community service club that seeks to further its service by building schools in third-world countries, to truly serve its purpose of improving the community, LM buildOn members should ensure that their local community service ventures extend to Philadelphia.
Before delving into the actual criticism of the club, it is important to first understand how buildOn operates. Since only a handful of the many buildOn members can actually embark on a trek every year, each potential "trekkie" must undergo an extensive application process. Important to this application process is the number of hours of community service each applicant has put in. Therefore, buildOn members dedicate upwards of one hundred hours each to attain a better chance of being picked for trek. Members who put in more hours are more likely to be selected to participate in the trek, and those who obtain over a hundred hours are rewarded with plaques of their faces decorating the hallway outside of the LGI.
While exchanging hours as a form of moral currency may seem functional, it is vital to consider what constitutes "community service." The buildOn website claims that 75 percent of buildOn service should be direct service, which consists of "serving meals in soup kitchens, tutoring elementary school students, and spending quality time with senior citizens, [to] connect students directly to their community members who are most in need." LM buildOn members regularly engage in activities such as cleaning up the Cynwyd Trail, showing parents around for Main Line School Night, or helping out with the Family Fun Fest. However, how much community service does LM really need? Is LM really aiding "community members who are most in need" to their fullest ability? While there are certainly issues present within the Lower Merion Township, an important fact must be considered: LM is only a ten-minute drive from some of the poorest parts of Philadelphia.
The socioeconomic divide is starkly apparent between Philadelphia and the Greater Philadelphia area. Although the outskirts of Philadelphia are a short drive from LM, it is as though much more than a stretch of City Avenue separates the two communities. Philadelphia is the poorest of the nation's ten biggest cities, with 26 percent of its population living below the poverty line. Philadelphia reports a poverty rate of 23.3 percent, the only major city in the U.S. to surpass a poverty rate of 20 percent. Furthermore, the Self Sufficiency Standard (which measures the ability to adequately cover all costs associated with living) found that 43% of Philadelphia families were unable to meet this criteria, and Philadelphia reports a median household income of $45,927. This is a level of poverty unimaginable to most LM students. In sharp contrast, Lower Merion Township has a 5 percent  poverty level and boasts a median household income of $136,288, nearly double the national average of $66,843. Lower Merion Township also houses eight of the fifty wealthiest areas in the Greater Philadelphia area. With finely paved roadways, well-funded schools, and a plethora of opportunities, LM students are at a blatant advantage when compared with children from Philadelphia public schools.
"
The socioeconomic divide is starkly apparent between Philadelphia and the Greater Philadelphia area.
 "
Given these statistics, why do buildOn members have to travel halfway across the world to perform community service when there is a great need right at our doorstep? By limiting community service to the LM area, buildOn blinds LM students to the true nature of poverty. If buildOn truly wants to make an impact, the LM chapter should embark on more community service ventures inside the city of Philadelphia. Of the ample service opportunities that exist in Philadelphia, LM students could volunteer at the food bank Philabundance, tutor struggling elementary and middle schoolers through the Philly Reading Coaches program, or help build homes for families in need through Habitat for Humanity. While engaging in JRA events and starting food and clothing drives for the LM community is important, it is evidently just as important, if not more so, to aid our neighbors in Philadelphia. 
Additionally, continuing community service in the Lower Merion Township will also harm LM students' perspectives. We may receive a quality education at school, but LM cannot expose us to the greater truths of the world. While getting a B in a class may seem like a travesty to LM students, that struggle remains incomparable to not knowing where your next meal will come from. Furthermore, while cleaning up the Cynwyd Trail may seem like a valuable use of time, those same hours could be put to use tutoring kids in Philadelphia schools or volunteering at a food bank. By instilling the idea that an already privileged area needs more community service, students may never recognize the real face of poverty. If students equate their struggles in class to those faced by thousands, if not tens of thousands, in the nearby Philadelphia region daily, it will damage their perspective for the rest of their lives. Educating kids in third-world countries is undoubtedly important, but buildOn must first recognize the need for help in the impoverished areas of Philadelphia rather than the mansions lining the lanes of LM. 
However, this is not to say that buildOn is completely ignorant to the needs of nearby Philadelphia. Of the numerous buildOn projects available to members, some Philadelphia-oriented projects include service with the Jane Addams kids and a Sox of Love socks drive. The club is evidently making strides to extend its service projects to the Philadelphia community, an important step forward towards making actionable change in the city. Furthermore, while the pandemic has hindered the potential for many new projects, the club remains hopeful that it can incorporate more service opportunities in Philadelphia in the coming years. This shift in perspective of the club could be a product of the times, but it is important to hold the club accountable to this new goal. It is only through an internal revampment of the club's norms that more service can take place in the underprivileged areas of one of the poorest cities in the nation.  
It is indisputable that buildOn serves to accomplish a necessary and ambitious goal: aiding the community and extending educational opportunities to children around the world. However, LM students possess the unique opportunity of being near one of the poorest cities in the nation. LM students should recognize and seize this opportunity, which would improve not only the LM community, but the already struggling communities in Philadelphia. By replacing routine JRA trips and Main Line School Nights with trips to Philabundance or stints with the Philly Reading Coaches, buildOn members can take actionable steps to improve their immediate area without traveling across the world to do so. Finally, exposing LM students to the undeniable face of poverty will hopefully help them recognize their privilege, and use this privilege for good. In order to truly benefit the community and fulfill buildOn's direct service goal, LM buildOn members should engage in more service in the Philadelphia area. 
Leave a Comment