Back in Business
This article covers Superintendent Copeland's plan for a return to in-person instruction. It explains the reasoning behind the shift as well as other school district actions on the issue.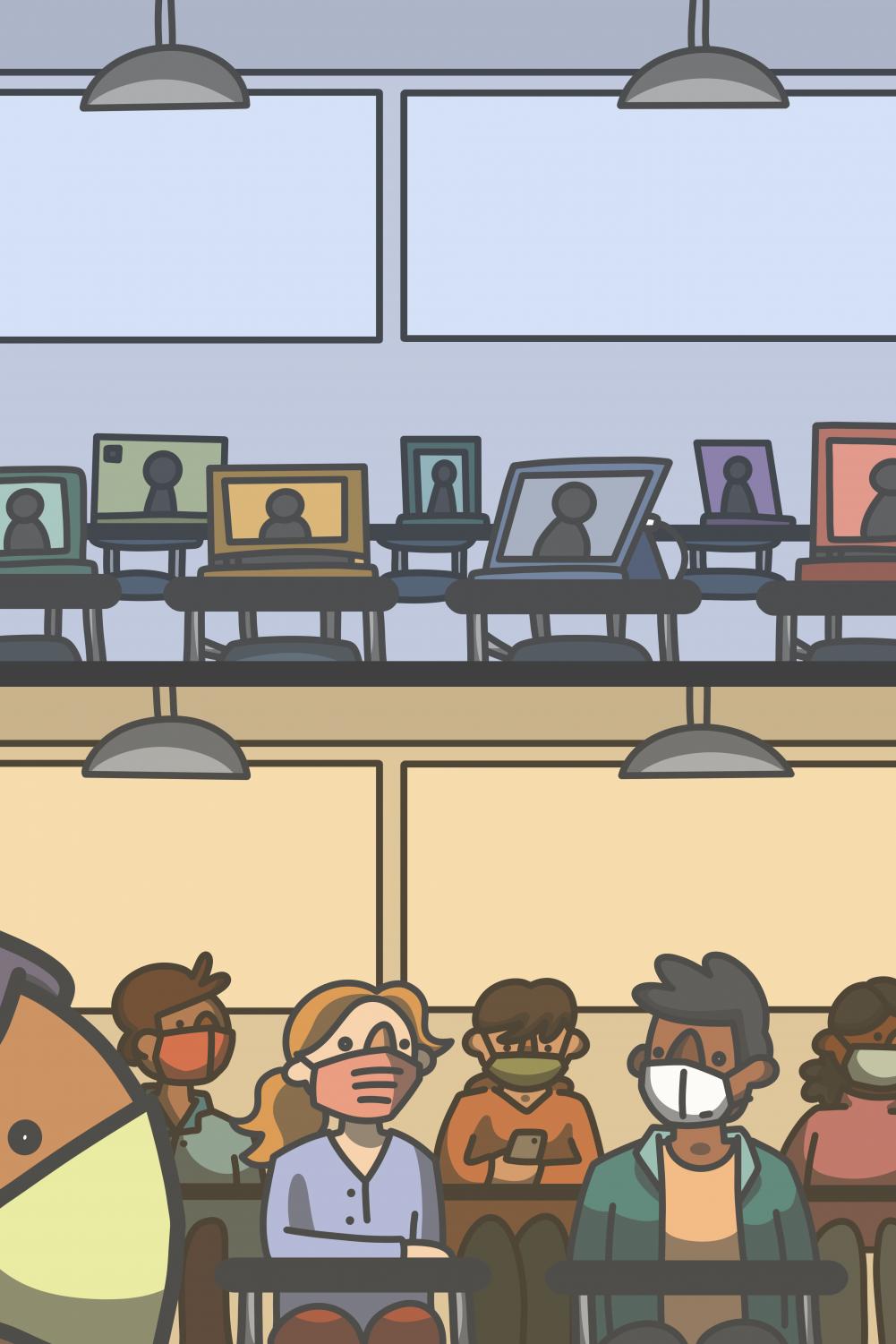 The pandemic still rages throughout the region but case numbers in Pennsylvania continue to decrease causing more restrictions to be lifted as positivity rates remain low. These restrictions could even allow for a full return to in-person instruction following spring break. On February 9, Superintendent Robert Copeland revealed a potential reopening plan that would allow for a full return to in-person instruction. Currently, cases in Montgomery County are on the decline and more of the population becomes immune as vaccines are rolled out. Many students cherish the prospect of returning to school full-time as it would mean a greater sense of normalcy; however, a more crowded building may lead many students to switch to the [email protected] program. Regardless of students' opinions, many hurdles must be overcome in order for the possibility of a full return to the building.
Lower Merion township ranks among the top areas in Montgomery County for low COVID-19 rates. Lower case rates in the district and surrounding areas make reopening safer. Currently, Montgomery County has the second most fully vaccinated residents in the state, second only to Allegheny County. These factors, coupled with LMSD having their own testing program makes a return to a full in-person model is much more realistic. Copeland details in his statement that if the ACE-IT testing program continues its success and expands along with low positivity rates and teacher vaccinations, a return for the whole student body becomes feasible. However, even in the best case scenario, many logistics still lie in the way. If a full in-person return does occur, maintaining six-foot distancing throughout the entire school is even more difficult. Copeland states, "Parents/Guardians who selected the hybrid model did so with the understanding that six-foot distancing would be maintained." Currently, some classes could have twenty or more students with the number of students in hybrid making it impossible to safely distance within the classroom. While one may think that this would lead to a surge of students opting to do [email protected], it would then create a burden for the school district in ensuring that enough teachers are available for elementary students. In the hybrid model, elementary students go to school for half of each day and an extra teacher is required to help students that are doing [email protected].
It seems that either too many students are in the building and proper distancing cannot be maintained, or an overwhelming number of students opt to stay at home and there are not sufficient resources to support these students. The school district is exploring other options to accommodate the possibility of more in-person students, including, "items such as tents, usable outside spaces, plexiglass shields/dividers, and additional [replacement furniture]." Regardless of logistical considerations, the district did take further steps to return fully by posting an update regarding a return to school on March 22. This post simply detailed a rough return timeline while addressing some FAQs and procedures for students to switch learning models. Copeland revealed that returning to school the week prior to spring break should allow for the proper adjustments to be made in case problems arise during the first week of being fully in person. Schedule changes are likely to follow for each school including the possibility of seven minutes between classes and four lunch breaks rather than three. The so-distant normal school life will be approaching as many are excited to go back to school.
The final factor that influences a full in-person return is the students and parents's reactions. Many students find that their days are more complete when they can go into the building rather than staying on Zoom. Joshua Huh '24 states, "I enjoy going to school sometimes because it takes up a large part of my spare time." Many students find that constantly remaining at home can be taxing on both their mental and physical health. However, this mindset of going in all the time can easily be offset by concerns related to COVID-19. Huh says that, "Right now, my answer is no." Huh came to his conclusion due to not enough people being vaccinated and still notable case numbers. He went on to mention that with completely available vaccines he would be willing to return to school, especially if a vaccine mandate was to be put in place. With COVID-19 spreading at a much greater rate in crowded, indoor spaces, schools at full capacity are likely to spread the disease much more easily. LM math teacher Mark Marion- Landais states, regarding the possibility of a full return, "I do think it is reasonable, and I do expect it to happen." Doubts still linger for teachers as Marion-Landais goes on to state that he feels it is, "unfair to ask that of us as teachers," when vaccines are not fully available. Governor Wolf did claim that all educators would be able to receive the Johnson & Johnson vaccine by the end of the month, however the March 22 return would be before all teachers would be able to receive a vaccine. Marion-Landais mentions that speaking from an educator's standpoint he does prefer more students in the building but in accordance with safety he would lean towards a less crowded building. 
The CDC hypothesizes that in-school spread is not rampant, yet many might still be reluctant to place their child in crowded buildings. As quoted above, Copeland mentioned how parents who enrolled their students in the hybrid model did so knowing that there would be social distancing in place. Copeland acknowledges fellow superintendents, " not reporting significant in-school transmission," even when fully opening up their schools. Possibilities of only four feet distancing have been floating to allow for more students in each classroom. The district plans on sending out surveys to determine how many children would attend school in-person and what issues are preventing parents from sending their students to school. Following the reception of all responses, the district plans to alleviate parent's stressors and tackle possible problems. The March 5 post, detailing the initial acknowledgement of a full in-person return, will likely lead to more surveys being sent out regarding future changes to the program and questions being answered. Therefore, students will be fully returning to the building starting March 22, the week prior to spring break. While many factors had to line up for a full return to school to occur, administrators still remain optimistic that the return to full in-person instruction next week will be successful.
Leave a Comment