Behind the scenes: Merionite's graphics team
Ever wondered how all the custom graphics make their way into the Merionite? It's all thanks to the mighty team of three who work tirelessly each issue. Hear how they came to love graphic design, why they joined the team, and the tips they have for future members.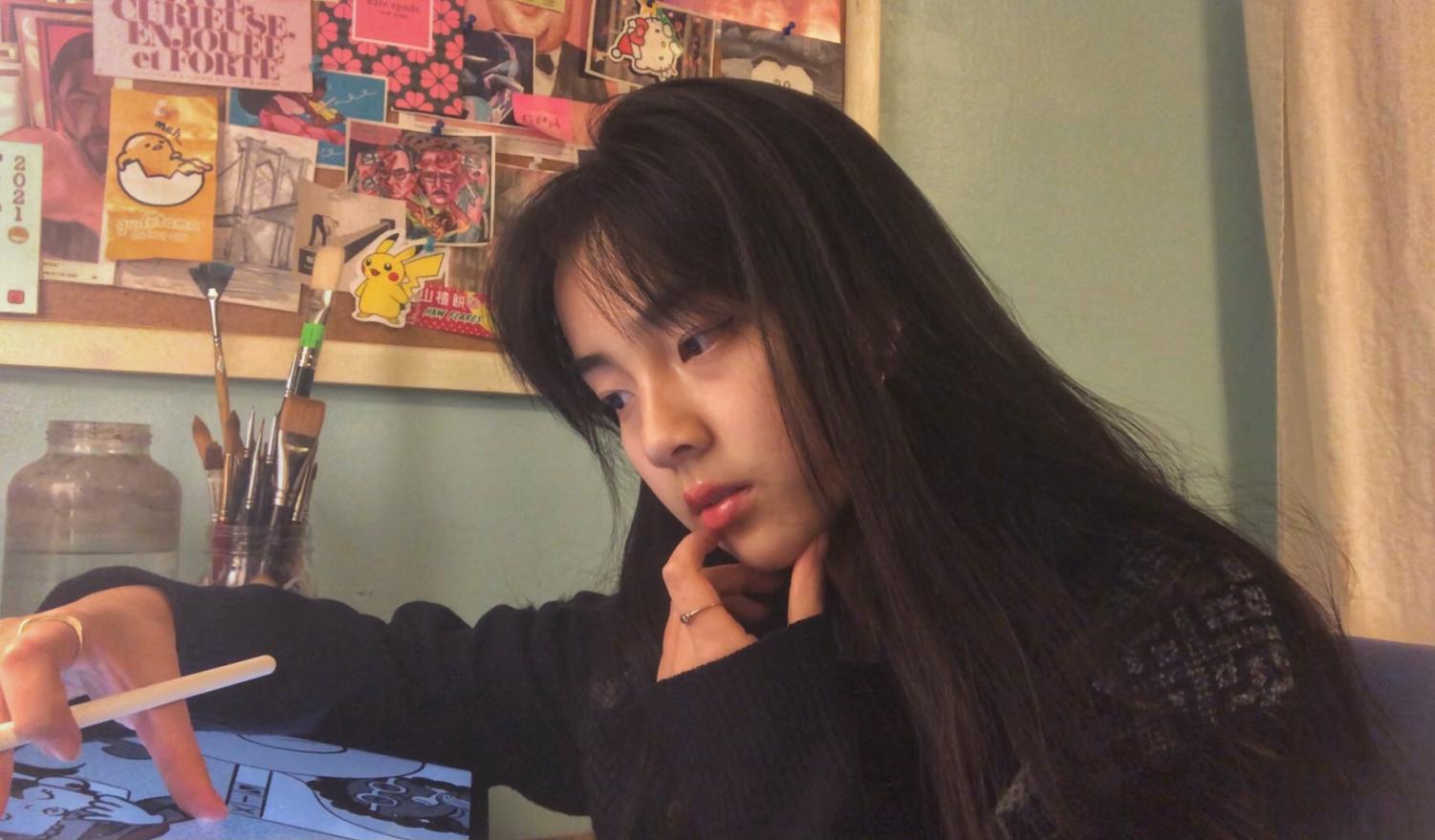 With each new issue of The Merionite, readers are presented with the latest news, opinions, and stories by our students about the community we live in. Incorporated alongside those words are graphic designs illustrating the topic of each article. No, they're not simply downloaded from online and plastered onto a page. They're developed by the graphics team. 
The graphics team is a small but mighty group of three: senior design editor Cate Roser '21, Emma Liu '22 and graphic editors Emmi Wu '23. Unlike editors who get time to plan out each article, edit them once, and then slowly format them the way you see it in print, the graphics team only works for a fraction of that time. Only after articles are completed can they start work. In that condensed time-frame, they have to make at least one graphic, potentially more, for almost every single article that is published in the newspaper. 
I sat down to talk to the graphics team about their passion for design, how they got involved, and the highs and lows of being a part of the team. Some of their answers are condensed for length and clarity. 
DG: How did you get into drawing and graphic design in the first place?
EL: I started attending art classes around the age of six but never really thought of it as something I enjoyed until high school. Since, I have started to try out more creative and conceptual pieces. I had actually never had experience with making graphics until the end of my sophomore year. I had always wanted to try a more digital art, but it wasn't until my parents got me an iPad and an Apple Pencil that I actually had the opportunity to practice more by myself.
EW: I got into drawing when I was really small, so it's always been a huge part of my life. I guess I just had a natural ability when I was a child so it was easy for me to pick it up. As for graphic design, I mostly got into it because I wanted to learn how to animate.
DG: How did you find out about the graphics team? What motivated you to get involved?
CR: My whole family is interested in art and design, and both my older sister and cousin were Merionite graphic editors before I came to LM. Once I did start high school, I was impressed by The Merionite as a whole, and I also wanted to contribute to it however I could.
EL: I found out about the graphics team after picking up an issue of The Merionite and reading it. My mom is a big fan of The Merionite and she thought that I would really enjoy creating art for it.
DG: What have you found to be the most challenging part of being on the graphics team?
CR: The most difficult, but also most interesting part, is that most of the editors for the other sections have never done any graphics, so the differences in experiences sometimes makes communication a little hard. 
EW: Probably trying to finish so many graphics in such a short time-frame. Last issue we got around forty graphics and many of them were very last minute.
DG: What do you enjoy most about designing for The Merionite?
CR: I enjoy the process of developing a graphic for an article, and it's a great feeling when a graphic works out in the end. I rework and rethink a graphic several times, but that only makes me more proud of the final product when I see how it enhances the issue as a whole.
EL: I really enjoy the creative freedom we get. With creating so many graphics, I have really been able to play around with different art styles and color palettes, which has undoubtedly diversified and improved my art skills.
DG: Has working virtually impacted your work at all?
CR: It was easier to connect with the section editors [in-person].  Being virtual has definitely made it a bit harder to experience that feeling of community, but in the end, we're still making a great effort and coming together online to produce a really cool final product.
EW: It hasn't impacted the creative process at all. If anything, I just get a headache from staring at my computer all day and during layout. 
DG: What advice would you give to someone hoping to join the graphics team?
EL: Don't be afraid to join! I started out really bad at creating graphics, but I would look at this as an opportunity to improve your skills and to be challenged with different prompts. With art, I think you can only grow through practice.
EW: Even if you have little drawing experience, there are always different things you can do for graphics. I'm sure we could help you develop your drawing style and creative process!
Leave a Comment