Wise words from Fiona Hill
On February 26, LMSD hosted Dr. Fiona Hill for a one-hour talk. In the talk, she discussed careers in politics, life experiences, advice, and many other interesting topics.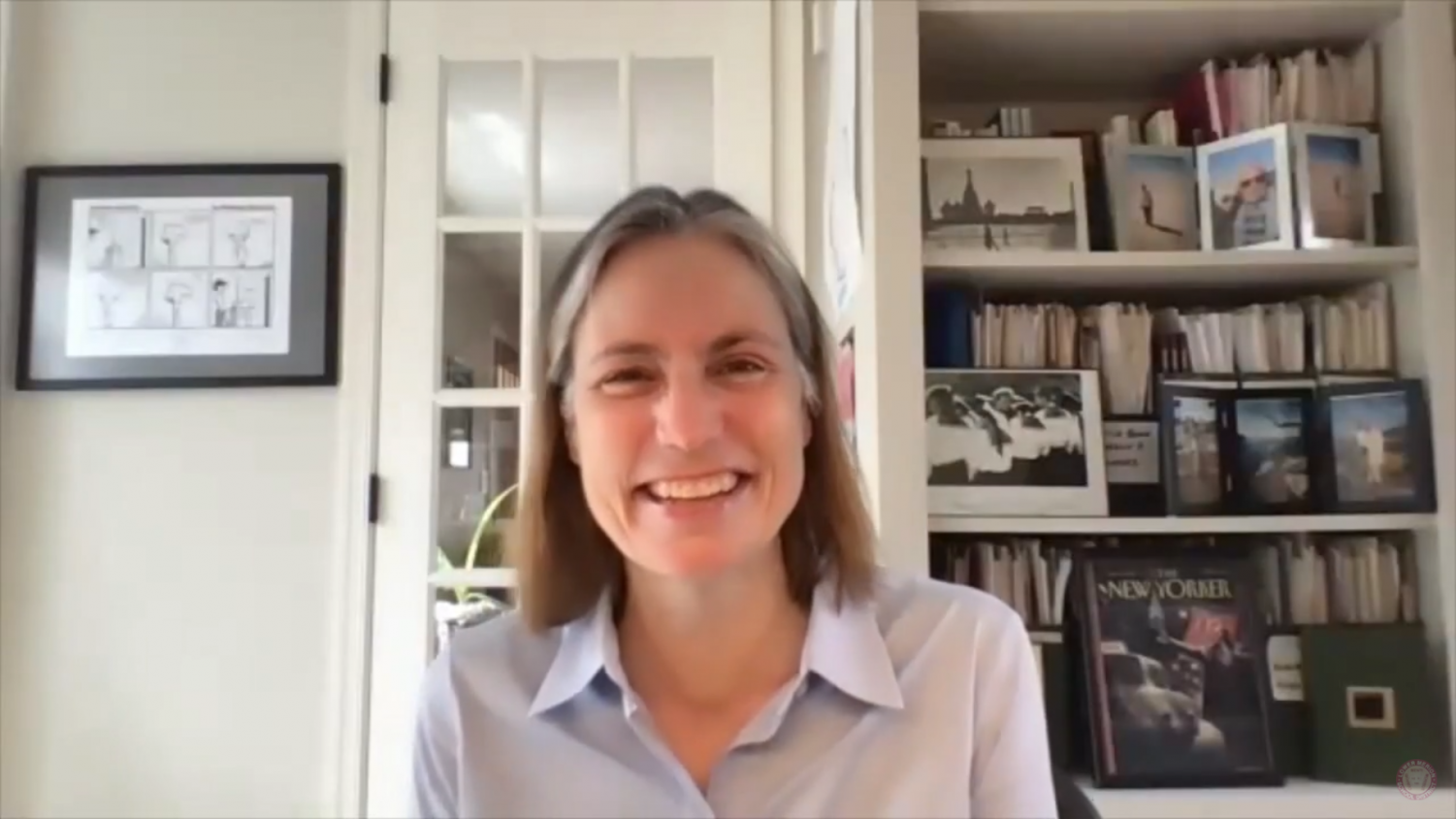 On October 14, 2019, a new face greeted the hawkish, stern visages of Washington D.C. lawmakers as they conducted closed-door depositions for the first impeachment inquiry of former president Donald Trump. One of the few women present in the room, Dr. Fiona Hill stood tall, wearing a calm, placid expression as she divulged her testimony regarding her knowledge and insight into Trump's communication with Ukrainian president Volodymyr Zelensky. Dr. Hill had been known throughout the inner circles of Washington D.C. as one of the National Security Council's foremost experts on Russia, having not only studied Russian at her alma mater Harvard University but proceeded to spend the next three decades studying Russian geopolitics, including as a national intelligence analyst for three consecutive administrations.
Nonetheless, even Dr. Hill, herself, could never have imagined that the spotlight of Washington politics would now be cast upon her as she imparted stunning new details of Russian interference in the 2016 election. 
On Friday, February 26, 2021, Dr. Hill once again took center stage before a host of interviewers, albeit this time members of LM and Harriton Model UN, as she answered LM students' questions about her experiences as a key official within the national intelligence community. Questioned about her background, having grown up from modest roots in northern England, Dr. Hill revealed that she found language as a means by which she could aspire for and attain opportunities abroad, including the Frank Knox fellowship to study Russian at Harvard. 
Despite facing discrimination for her "working-class" accent in her early years, Hill noted that moving to the United States enabled her to gain a fresh start and have the chance to pursue her education, occupation, and make a family—a fact that has reinforced her conviction that the "American Dream" is still relevant today. Cognizant of the myriad barriers impeding women in the workforce, Dr. Hill observed that she was only one of few women involved in national intelligence during the early years of her career at the Brookings Institution, and even the most senior woman at times, despite being quite young. Such experiences have shaped Dr. Hill's belief that diversity is critical to the success of national security; despite the prevalence of women having become far greater over the course of a generation, Dr. Hill opined that the fight to overcome barriers against those of low-income and racial backgrounds still remains unfinished.
On a broader note about public service, Dr. Hill acknowledged that there was a misconception of the federal government being untrustworthy and unrepresentative of average citizens, with only fifteen percent of individuals having faith in the government, and posited that the entry of new voices and fresh perspectives into the public domain could have the potential to change its reputation for the better.
On the subject that Dr. Hill perhaps knows best, Russian efforts to meddle in the 2016 election, the former intelligence official was keen on underscoring the intents of the Russian government to undermine the integrity of the 2016 presidential election, but she also offered her perspective that domestic political division has far exacerbated the debacle.
Regarding Russian attempts to intrude into electoral security, Dr. Hill remarked, "Initially, what Russia tried to do is … exploit the divisions that were already existing, but it also managed to inflame them, help to make them worse, in many respects." Russian security threats in the past two elections, Dr. Hill contended, have paled in comparison to the "political infighting in the United States" that has threatened to jeopardize elections from the inside, with "our own divisions, our own partisan fighting, our own inability to focus on governing the country rather than fighting with each other, actually enables Russia … to exploit [us]." Notwithstanding, Dr. Hill remains optimistic about the future of the American electoral process, noting that increasing voter turnout, among other changing factors, are a sign of progress in the right direction.
Questioned about how she has remained politically unbiased as a foreign policy expert, Dr. Hill asserted that the dilemma of national security rests on "whether it's a threat to your country or it's not … and if it's a threat to your country, it's a threat to all of us." Citing the COVID-19 pandemic as an example, Dr. Hill remarked that the pandemic "doesn't discriminate … doesn't care if you're a Republican or Democrat, or where you live," and reasoned that the same holds true for foreign adversaries, in that "they only care about our divisions inasmuch as they can exploit them." Such being the case, Dr. Hill asserted that it has always been her view that foreign policy should remain outside the sphere of partisan conflict, commenting that it is possible for one to be politically active and "really engaged in the issues" without taking a partisan stance as a government official.
Returning to subjects closer to a student's experience, Dr. Hill also touched upon the importance of history as a means to guide policy and decisions for the future. With history having been such an integral component of her career, Dr. Hill shared her belief that the former can be critical to "inform[ing] you where you got to," and, perhaps more importantly, "where you might be heading."
On a more personal note, when asked about how students can find their own voices in the modern age, Dr. Hill remained adamant that one should not be concerned about what they sound like for fear of being seen as less than what they are. "Make sure you are your authentic self when you speak," she advanced, "And … speak out when [you] think something is wrong." Facilitating communication, building enduring friendships, and engaging in open conversations with those that have different experiences than you do, Dr. Hill counseled, is the best way to "find your own voice and your own story as well."
As a principal foreign policy expert under three administrations, Dr. Hill never fell short of maintaining the integrity of American foreign policy in the face of daunting challenges both domestic and abroad. As a woman involved at the highest tiers of national security over the course of decades, Dr. Hill broke innumerable glass ceilings and paved the way for countless more to follow in her path. And speaking before LM students, Dr. Hill has inspired the next generation of American youth with the confidence to become the leaders of tomorrow.
Leave a Comment