St. Patrick's Day
St. Patrick's Day is coming up soon! Learn about the traditions followed by many members of the LM community.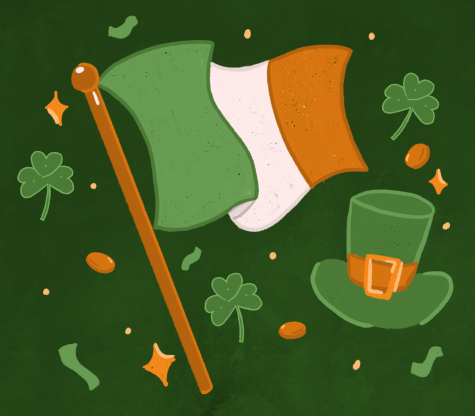 On March 17, St. Patrick's Day is celebrated. It's a day to commemorate Irish culture and remember one of Ireland's patron Saints, Patrick. There are many St. Patrick's Day traditions and ways to celebrate. 
One way people celebrate worldwide is by wearing the color green, because it is supposed to make you invisible to leprechauns, who are a large part of Irish tales and are said to go around pinching people who they can see. Chicago famously celebrates this Saint Patrick's Day tradition: every year, officials turn the Chicago River green to honor the Irish immigrants who helped settle the city and to celebrate the holiday. Spectators line the bridges and walk along the river in order to see the green water.
Food is an additional way people celebrate this holiday. Many people add green food coloring to their meals on St. Patrick's Day to add a festive twist, and the traditional Irish-American meal of corned beef and cabbage is a popular one on the holiday. Corned beef was eaten by Irish immigrants who lived in New York City because, for many, it was all they could afford. McDonald's celebrates Saint Patrick's Day with their shamrock shakes, a tradition LM students love to partake in. Emma Burke '23 said, "Almost every year, my friends and I get shamrock shakes from McDonald's." Shamrock shakes are festive milkshakes dyed green and are only available for a limited time in March. 
In our community, there are also many St. Patrick's Day celebrations to participate in. In a normal year, Narberth has their annual St. Patrick's Day scavenger hunt. This has been a tradition since 2008. Kids would go to Narberth and get a game card with clues, then search throughout the town and use their clues to find leprechauns. Once they had found all of their leprechauns, they would receive a dollar coin. Julia Russel '23 said, "Growing up I loved Narberth's St. Patrick's Day scavenger hunt. It was such a fun event and brought the community together to have a fun day." Another Philly tradition that is not happening this year due to COVID-19 is the St. Patrick's Day parade. During this parade, a band marches down Market Street from City Hall to Penn's Landing. There is not only a parade in Philly, but all over the world, which include live music, Irish dancers, vendors and fun activities. St. Patrick's Day is a festive holiday with many traditions and ways to celebrate; just remember to always wear green to keep the leprechauns away!
Leave a Comment