Grammys or Scammies?
The Grammys are always the topic of much controversy, and this past year was no exception. From contentious performances to discussions of racial bias, it certainly was a night to remember.
The Grammys are debatably the most important night of music. Every year, thousands of people gather around their TV sets to watch their favorite artists perform and receive awards for their music accomplishments that year. From rock to country, the ceremony celebrates and recognizes a wide variety of artists from many genres. Just last month, the Grammys held their 63rd annual awards show featuring an incredible set list including music superstars such as Taylor Swift, Billie Eilish, and Harry Styles. Though widely watched and famous throughout the music world, the award show isn't without controversy. 2021 is no exception to the annual slander of the event. Across social media and news stations alike, the Grammys created many ripples. 
One of the biggest Grammy upsets this year focused on K-Pop international sensation BTS. Since its debut in 2013, the Korean boy band has exploded in popularity. Over the past eight years, the group has released an astounding nineteen albums and 27 singles. BTS's recent hit and first song in English, "Dynamite," has launched their career even farther, especially in the US. "Dynamite" became the most streamed song of 2020 on its debut day with 7.8 million streams. The music video amassed 100 million views on the day of its premier, making it the most viewed YouTube video in one day. "Dynamite's" international fame granted the song its Grammy nomination for Pop Duo/Group Performance. This nomination, however, fell short when the hit lost the award to "Rain On Me" by American superstars Ariana Grande and Lady Gaga. BTS fans (often called the Army) took to Twitter by storm, smearing the voting committee, award show, and "Rain On Me" alike. Much of the outrage focused on the Grammys long time reputation of giving little to no recognition to international artists particularly from Asia. Fans claimed the Grammys were using BTS's nomination and performance for viewership, something that didn't last long after their loss. The Grammys' viewership dipped from 1.1 million to an astonishing 400,000 only minutes after BTS was snubbed. The Army didn't hold back for the rest of the night, however, keeping the term "scammys" trending in Twitter's top five the whole night long.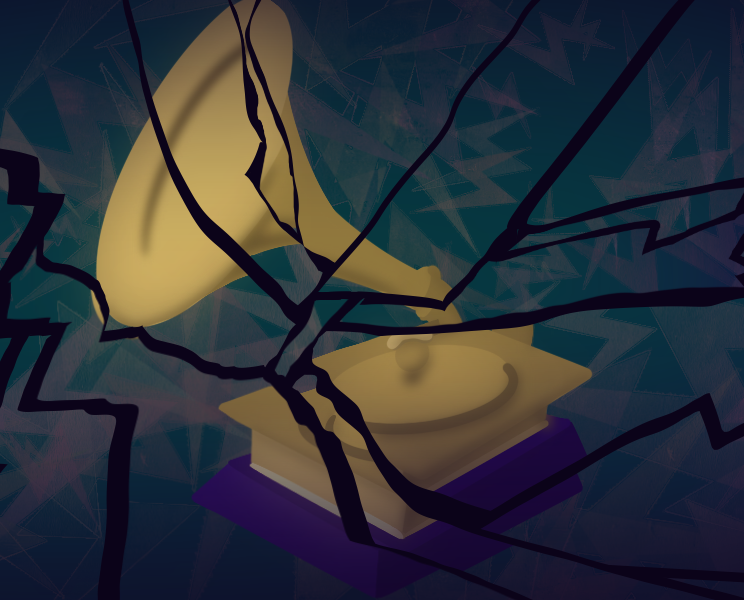 International artists weren't the only ones who people thought were unfairly judged this March. Annually, the Grammys are criticized on the grounds of giving less recognition to black artists. This year, The Weeknd, a black, canadian pop star, released his wildly popular album After Hours. Despite the album's incredible success, it didn't receive a single nomination. The Weeknd was quick to call out the committee for its decision and joined the numerous other artists who are boycotting future award shows. Other artists of color were quick to recall past signs of believed prejudice against their community in the music industry. Rapper Nicki Minaj, one of the first women to break the gender barriers of hip-hop and rap, recalled when white folk artist Bon Iver received the Best New Artist award, for which Minaj was also nominated, at the 2012 Grammys. She was joined by Teyana Taylor and Zayn Malik, both of whom have stated they believed racial biases came into play when the committee chose their nominations. That being said, several black artists did extremely well at this year's awards. Artists like Megan Thee Stallion, who won three Grammys, and Beyoncé, who won four, are leading this unprecedented change in diversity of Grammy winners. Despite the potential progress being made, many bring up trends seen in the Album Of the Year category, as only ten black artists have ever won since the Grammys were founded in 1959. This year, Taylor Swift won.
Though awards are a big part of the Grammys, an equally famed part has to be the performances. Every year huge performances are seen with large sets, bands, and usually, live audiences. While there were no live audiences this year for obvious reasons, artists maintained their usual over-the-top productions. One of this year's biggest headliners was Rap breakthrough artist Megan Thee Stallion and 2019's opening performer Cardi B. The two released the wildly popular rap song "WAP" in August. The song pushes the limits of hip-hop, featuring explicit lyrics and imagery which was widely criticized by many and praised by others upon its release. The song did incredibly well, having been streamed over 100 million times and becoming one of 2020's biggest hits. The duo performed the song after Megan Thee Stallions's set of "Body," Grammy winning "Savage Remix" featuring Beyoncé, and Cardi B's 2021 single "Up". The performance had an elaborate set complete with money raining from the sky, a huge stripper shoe, and oversized bed upon which both rappers danced. The performance sparked extreme backlash for its explicit nature. Though the clean version of the song was performed, the imagery and lyrics
set many people off. Many people expressed the two women were bad role models and glorified harmful ideals to children across twitter and TikTok. However, social media wasn't the only platform on which "WAP" was ridiculed. Conservative commentators Tucker Carlson and Candace Owens dragged the performance on Fox News calling it an "offensive spectacle." Carlson states without hesitation that it was "without a doubt intended to degrade our culture and hurt our children" while Owens calls it a "spectacle" and states it looks like a "lesbian sex scene" that it is "an attack on American values" and "traditions". In opposition many people stated that Cardi B and Megan Thee Stallion weren't trying to be role models and the Grammys isn't a kids program anyway. Democrat Congresswoman Maxine Waters praised the women on taking back woman sexuality and many supported the artists in their pursuits to address double standards in hip hop. These double standards can be seen again as male rappers Bad Bunny, Post Malone, and DaBaby all performed explicit rap songs with similar meanings as "WAP" though they were not criticized  for it. 
The Grammys spark a lot of opinions that often reflect things going on on a much larger scale. It is clear that the lack of respect for artists of color was amplified by the Black Lives Matter protests last March. The outrage at the Grammys shows yet another strong outcome of the societal awareness caused by these protests. Though there is a lot of controversy around the award show, many widely recognized achievements have come out of these awards. The Grammys helped sponsor and advertise local music venues, women dominated the country categories, and Beyoncé became the singer with the most Grammy wins, even in an underrepresented demographic. Despite the varied opinions on the Grammys, they clearly have great effect on many people and will likely continue to do so in their pursuit of music appreciation and recognition.
Leave a Comment