Looking for a win
Boys' volleyball is one of LM's newer teams, only having been around for a few years. After last spring season was wiped out by the pandemic, the team has come back eager to prove themselves.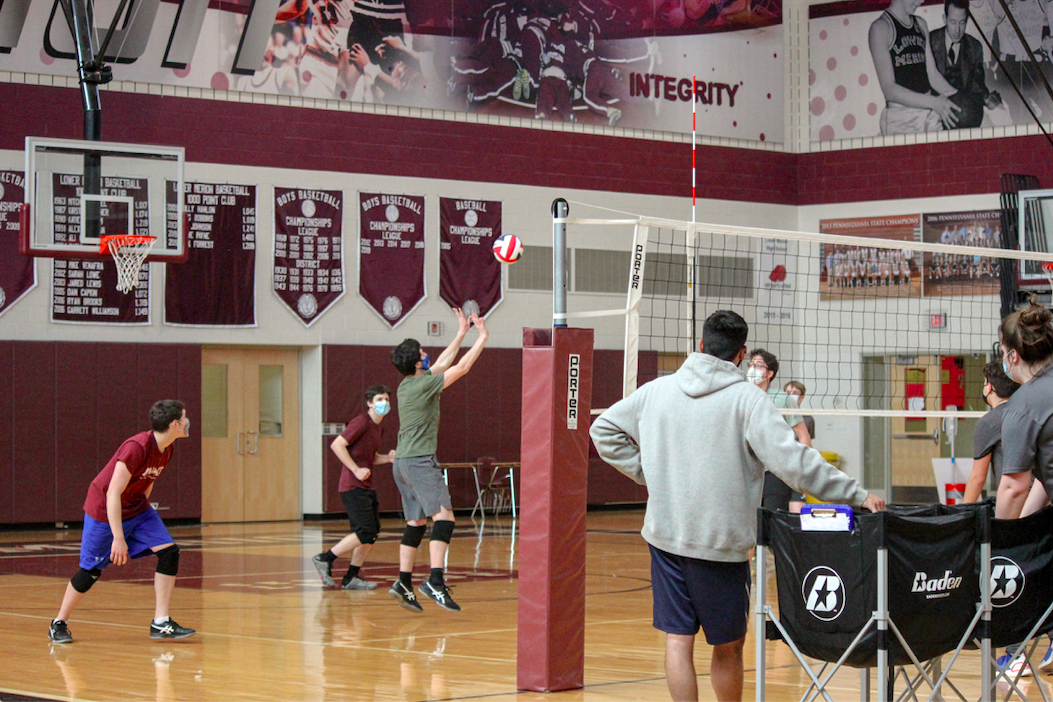 The boys' volleyball team is eagerly awaiting competition after not playing any games in their abbreviated 2020 campaign. Led by captains Isaac Frank '21 and Zev Charlson '22, the team seeks to bring a winning culture back to boys' volleyball. The team consists of only ten players, most of whom have only started playing the sport this year. Every day, the student-athletes improve and learn new skills to bring to their twelve matches. With the unique assortment of talents they have, Coach Marie Hamilton is looking to fasten all of the pieces together and put the team in the best position for success. The athletes are relatively small compared to the opponents they face, but what they lack in stature, they make up with hard work and tenacity.
The team has gone winless in its inaugural two seasons, but the players believe that will change this year. The team libero, Bram Schwadron '22, is confident in their potential. "We are gradually getting better and used to playing with each other. I believe in the next couple of games this season we will pick up the pace, be more offensive, and work more as a team," he reasons. Despite three-set losses in each of their first two matches, there is reason to believe things are trending upward. Following each match, Coach Hamilton has a film session reviewing the statistics from the game. The Aces look at highlights and lowlights, trying to improve. As many in other sports, film study is crucial in volleyball; it allows players to see the miniscule errors they make with their hits, approaches, and serves that they were unaware of in the moment. For young players, going back through these mistakes allows them to make critical adjustments, often leading to triumphs in future matches.
This season is particularly meaningful for Isaac Frank, the team's setter and its lone senior. Frank is involved in every play, running the offense by deciding who will be the recipient of his sets. His leadership and energy bring light to the game no matter the score, and as their most experienced teammate, his fellow athletes often turn to him for advice. His repertoire of skills makes him a vital part of the team's success; he can pass, set, hit, block, and serve at a high level—abilities that the rest of the team works to emulate. Middle hitter Luke Barnett '22 has been building chemistry with Frank for weeks. Barnett explains, "The biggest reason I've been able to improve my hitting throughout the season has been repetition. Daily practices let me work on timing and approach a great deal, preparing me for in-game action." This development is evident through Barnett's signature throw, which is quickly gaining a reputation as an unstoppable force. On the court, everyone enjoys themselves. Zach Craig '22 is constantly laughing, cracking jokes, and making sure the team is energetic and smiling. 
With the team's attitude and natural talents the time to win is now. They know that they have the pieces to do so, and it's just a matter of time before they can mark one down in the win column. The team will play three games per week until their last game on May 10. The home games are all broadcasted and students are encouraged to watch! 
Leave a Comment