Dancing into the school year
The Lower Merion Dance Team is currently one of the largest student-run clubs at LM. Read about what they're up to this year!
The Lower Merion Dance Team is currently one of the largest student-run clubs at LM with over 35 members. Student captains choreograph hip-hop dances that are performed at the Radnor Week pep-rally, Maroon Madness, Amazing Ace, and the home basketball games. In addition, the captains create the senior dances for the pep-rally and the Amazing Ace contestant opening dance number. The student body will witness new dances this year and get a chance to see their friends and peers do what they love most. Last year, due to the outbreak of COVID-19, rehearsals were strictly over Zoom and dances were filmed due to the inability of having a live audience.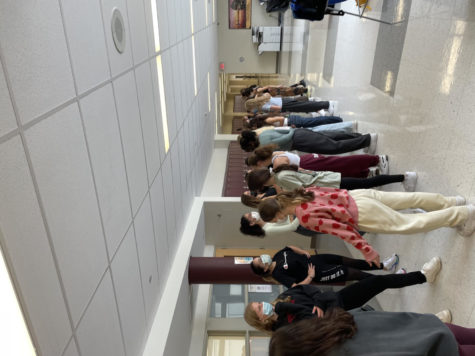 The dance team missed out on almost all their performances, and didn't get the chance to experience the community that the dance team creates. We are ready to return to a sense of normalcy and are really looking forward to returning to live performances . LM Dance Team captains: Inbal David '23, Zoe Agiv '22, Sammi Murray '22, and Annabel Slogoff '22, have in-person practices planned as well as expertly choreographed routines. While continuing to be socially distant and wearing masks, the team will rehearse after school twice a week and perform in front of a live audience at many of LM's highly anticipated events. The dance team is not only a highly spirited and energetic group, but we also create a safe space for students from all types of backgrounds.
LM is fortunate to have many sports teams and competitions year round, and the dance team is happy to spread LM spirit. Agiv,  explained that she is "super excited to have as close to a normal season as possible, since last year was spent mostly on Zoom. The fact that we are practicing in person is already such a big step forward! I am looking forward to our performances coming up and making sure that this is the best dance team I have ever seen!"  Junior Gabby Tepper-Waterman  exclaims, "I can't wait to actually perform at the pep-rallies this year and have the experience of performing in front of the LM student body!"
As a first-time captain, I am extremely excited to have an awesome year with a great group of dancers, and to represent our school in the best way possible. Rehearsals are in full swing and our dancers are already preparing for all the exciting events coming up this year.   Our first of many live performances will be in early November  at the Radnor Week Pep Rally.
Leave a Comment