2021 Met Gala: The good and the bad
The Met Gala witnessed many various looks from celebrities, contributing to fashion history.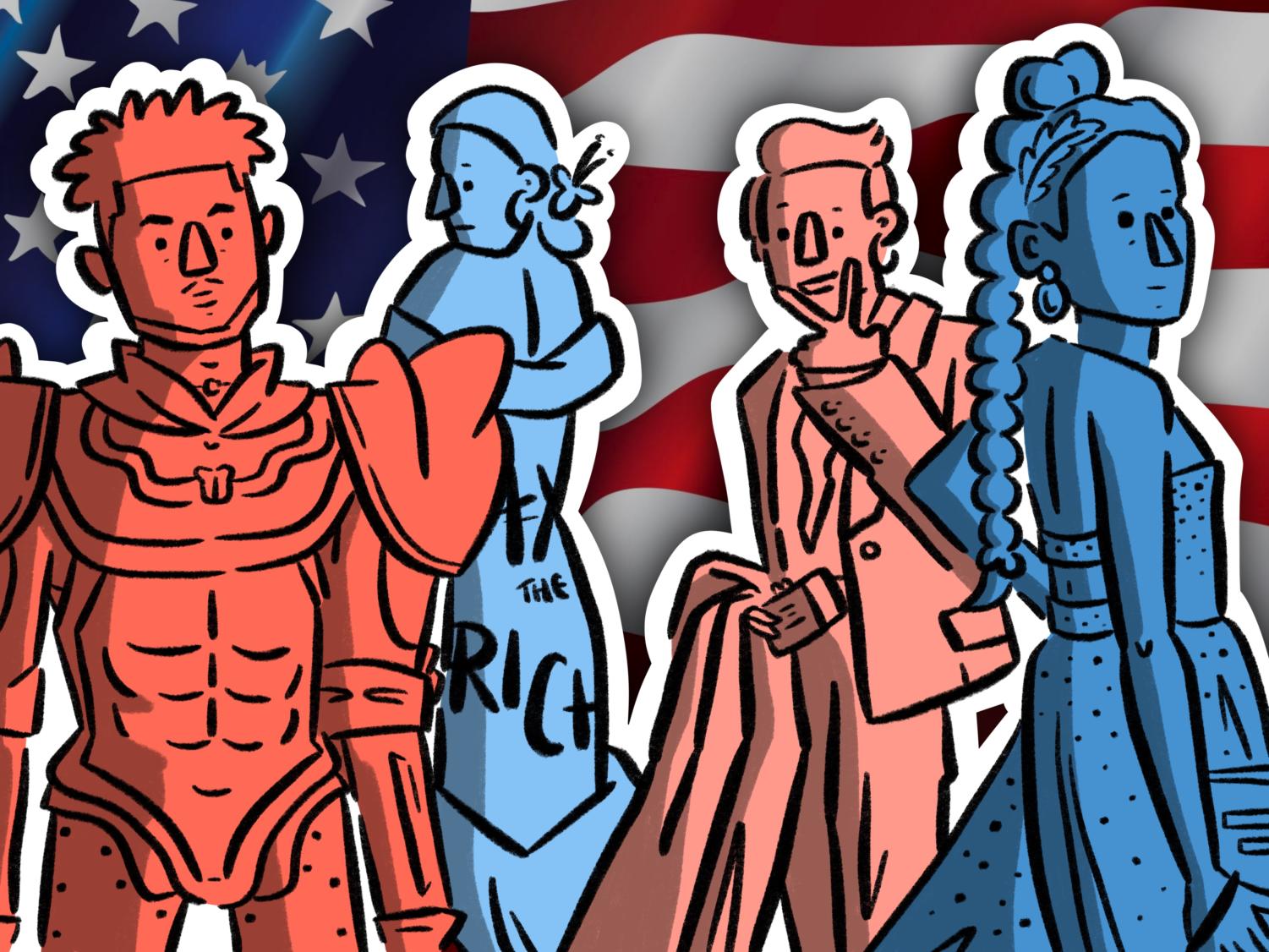 An anticipated disappointment
The annual Met Gala is the most anticipated exhibition of fashion, where designers get to showcase their creations as the scarlet carpet is rolled out onto Fifth Avenue, Manhattan, New York City, at the Metropolitan Museum of Art. Designed to raise funds for the Met's Costume Institute, the Gala has been held every year since 1948 (except 2020), inviting Hollywood stars, models, and the social elite to celebrate and fund- raise at a new exhibit at the museum.
The cancelation of the 2020 Met Gala brought great disappointment to both viewers, guests, and designers who lost their opportunity to advertise their avant-garde designs of the season. This year, numerous stars returned from past years and many new faces were seen walking the daunting velvet steps, including Emma Chamberlain, Amanda Gorman and Lil Nas X.
Chosen by curator Andrew Bolton, this year those invited were given the theme American Independence, corresponding to the new exhibit "In America: A Lexicon of Fashion." Some questioned this theme, thinking that celebrating American Independence seemed to disregard the state of our country and the countless injustices still seen today. Most stars remained tone- deaf to the significance of this theme given the state of the world, and few managed to achieve the assignment.
One of the stars that brought fashion and substance to the car- pet was Congresswoman Alexandria Ocasio-Cortez. She sashayed up the velvet steps in a white off the shoulder gown with the phrase "Tax the Rich" written in stark red letters across the back. This bold statement quickly sparked controversy among both stars and social media. Some thought it was hypocritical of her to express such a message while at the same time attending such a frivolous event. In response, Cortez claimed that now is the time to bring awareness to healthcare, child- care, and other issues America faces, thus "taxing the rich" was an appropriate statement. Furthermore, Dan Levy was seen sauntering in a suit that highlighted an art piece by David Wojnarowcz, artist and activist. The image is of two men kissing, depicting a statement of queer, love. Ocasio-Cortez and Wojnarowcz were able to adhere to the theme presented while still making meaningful statements about our country and its issues. They represented American independence in a way that was relevant, constructive, and also fashionable.
As for the stars on the opposite side of the spectrum, Emma Chamberlain stunned audiences with a beaded gold dress. Unfortunately this dress was designed by Louis Vuitton, and it made no reference to American Independence. Emma was among the majority of stars who showcased stunning garments but failed to follow the theme.
This lack of cohesion con- fused many. When surveying LM students about what they would have thought the theme was giv- en the outfits presented, some responses were "Wealth," "Throw- back," "Futuristic," and "Sci-fi."
This lack of commitment to the theme isn't something new or unexpected for the Met Gala. Year after year stars disregard the theme leaving the public and artistic institutions to question the purpose of the event and what revisions need to be made to it. "Fashion's biggest night out" has transformed into fashion's biggest night of disappointment.
As one of fashion's biggest events of the year, the Metropolitan Museum of Art Costume Institute Gala, also known as the Met Gala, takes place in New York City, where celebrities walk the carpet in style. With the theme of this year's gala being "In America: A Lexicon of Fashion," many guests took different approaches to match their outfits to the theme. Whether it was paying homage to old Hollywood celebrities, making a strong political statement, or quite literally wearing an American flag, these fashionable stars made history with their unique looks.
One of the most iconic looks of the evening was worn by, as predicted, Kim Kardashian West. Walking onto the carpet in an all black Balenciaga gown with a mask covering her whole face, gave the fashion community a new way of looking at what the red carpet really means. Her all black bodysuit made almost a silhouette of her body, creating an avant garde look. After her iconic ensemble went viral, West released an explanation stating "What's more American than a shirt head to toe?" Hollywood spectators suggested that, "For someone who is always criticized for being overly sexual, West showed that she can cover every square inch of her skin and still find a way to be criticized and ridiculed." One fan wrote in a tweet that West reposted on her Instagram story onSeptember 14, "THAT is American culture."
Also making an appearance at the Met Gala was Billie Eilish with an old Hollywood Marilyn Monroe inspired look. With her over exaggerated fit, the dress she wore definitely made a statement. According to Eilish's fanbase, "This look was very unexpected" because she is more known for her "goth" looks and not a nude colored ball gown. What also surprised fans was the designer of the dress. Eilish usually leans towards looks by Louis Vuiton and Burberry but instead went with the unexpected choice of Oscar de la Renta. She also made history at the Met Gala, being the youngest chair of the gala ever. Not shying away from making an activist statement, Eilish agreed to wear Oscar de la Renta on the carpet if the company would terminate all use of fur in their designs and they agreed.
With not one, not two, but three looks on the red carpet, Lil Nas X sure knew how to make an entrance. With his first look being a caped gold gown with intricate designs, he looked like royalty. His second look was an all gold suit of armor, and was quickly taken off to reveal a black and gold sequined bodysuit. This look was designed by Donatella Versace. For his first Met Gala ever, the rapper sure did bring it.
Not afraid to make a political statement was Congresswoman Alexandria Ocasio-Cortez. She wore an elegant, off the shoulder, white dress with "Tax The Rich" written in bright red lettering on the back. The entire look was made by Brother Vellies. In an interview Ocasio-Cortez explained, "I think it's time to bring all classes into the conversation." And while many were big fans of AOC's look that evening, there was a lot of backlash towards it. Political commentators stated that, "going to an event for the super-rich with 'tax the rich' written wouldn't change a thing. It's a stunt to justify her presence at a fancy shin-dig that doesn't match her political persona." With many superb looks the Met Gala was a memorable night. With symbols towards American culture, political statements, and an ode to Marilyn Monroe the night was a huge success with many  outstanding looks.
Leave a Comment