Marvel Cinematic Universe: Phase Four
Marvel's planned releases that are upcoming in the next few years.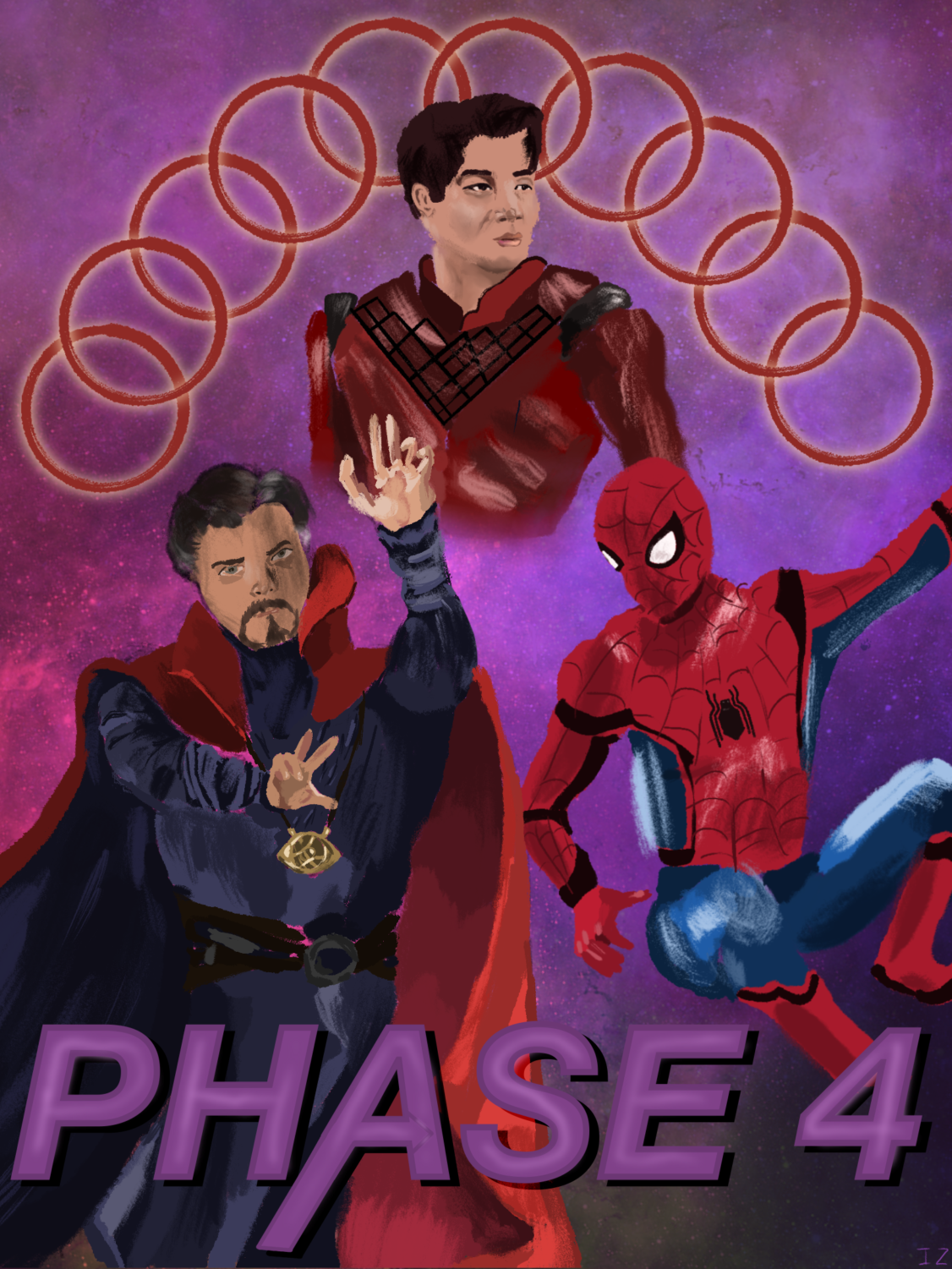 The next two years are packed with new and exciting Marvel Cinematic Universe (MCU) projects. Marvel's long awaited Phase Four is finally in full swing. This phase features all of Marvel Studios' productions set to be released from 2021 through 2023. Phase Four is the first phase in the MCU to include television series'. It began with the release of the series Wandavision, at the start of 2021, and the theatrical film Black Widow, in July of 2021. Phase four welcomes the return of your favorite marvel characters as well as new faces and storylines. 
Released this past September, Shang-Chi and the Legend of the Ten Rings is Marvel's first Asian-led film. This film was made with a predominantly East Asian cast and creative team, inspired by Chinese folklore, and includes many martial arts action sequences. Shang-Chi is a huge step towards redressing anti-Asian racism on screen. The film impressed Marvel fans from all over, collecting $71.4 million at the box office in its opening three days. If you have not had the chance to see Shang-Chi, make sure to hit the theatres soon, or see it on Disney Plus, starting November 12.
Over the next few months, fans can look forward to the films Eternals, releasing on November 5, and Spider-Man: No Way Home, hitting theaters on December 17. Eternals takes place after Avengers: Endgame, and follows the Eternals – an immortal alien race created by the Celestials – who have secretly lived on Earth for over 7,000 years. The Eternals reunite to protect humanity from their evil counterparts, the Deviants. This film stars Angelina Jolie as Thena, Richard Madden as Ikaris, and Gemma Chan as Sersi. Immediately following Eternals is the release of the long awaited and highly anticipated film Spider-Man: No Way Home. No Way Home ties up loose ends in Spider Man: Far From Home, and also ties into Doctor Strange in the Multiverse of Madness, which is set to release in March of 2022. Other upcoming MCU films include Thor: Love and Thunder, Black Panther: Wakanda Forever, The Marvels, Ant-Man and the Wasp: Quantumania, and Guardians of the Galaxy Volume 3. 
Along with these exciting films, there are many new MCU television series on the way, all of which will be released on Disney Plus. Hawkeye, releasing November 24, is set where Clint Barton must work with the young Kate Bishop to confront enemies from his past. Bishop, played by Hailee Steinfeld, is a new face in the MCU and emerges throughout this series as the first female Hawkeye. Yelena Belova, played by Florence Pugh, will return in this series from her debut in Black Widow. In addition to Hawkeye, Ms. Marvel, Moon Knight, She-Hulk, Secret Invasion, The Guardians of the Galaxy Holiday Special, Ironheart, Armor Wars, and an Untitled Wakanda series are all television series set to release on Disney+ throughout the next few years as a part of Phase Four.
Phase Four will undoubtedly bring many exciting films and television series to the MCU over the next few years. Expect new and familiar faces, the introduction of entirely new concepts, and some unexpected connection points to be made. So, keep up on your release dates and stay tuned for these new Marvel projects!
Leave a Comment