Students – Not Numbers: The Switch to Better Grading
Max Fishman, '21, proposes a new system of grading that doesn't cause students to obsess over a letter.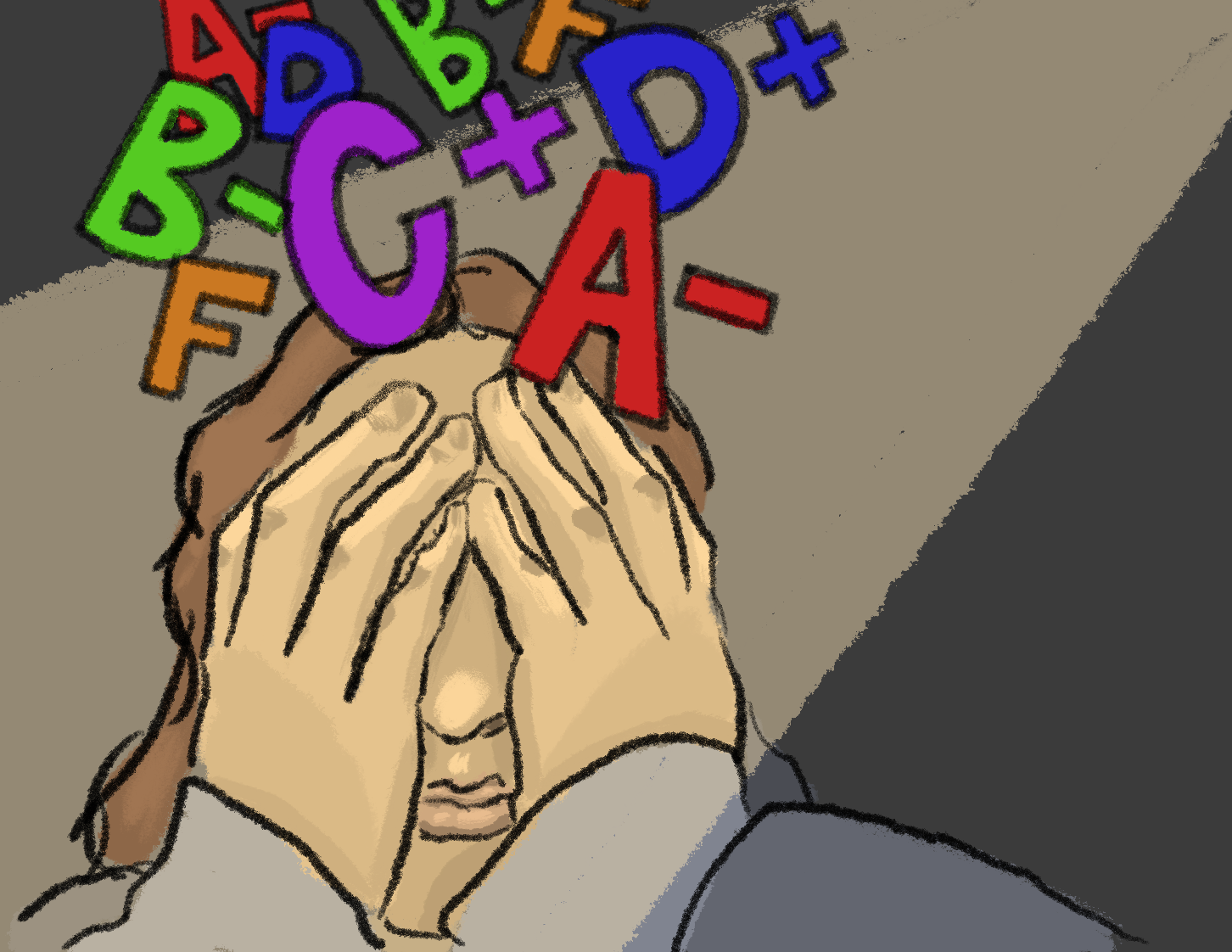 LM and the wider community are finally beginning to stabilize from perhaps the most irregular year any student, teacher, or administrator has ever faced. Now, after the pandemic laid bare the components of our education, some of those working to reassemble our school experiences are searching for improvements. The Weekly Planner represents the kind of simple changes that can make student life vastly more navigable. But more significant shifts in the basis of our learning are just beyond the horizon, even before the pandemic sent us home, a group of teachers were working to reshape a fundamental part of education: grades. 
From the student perspective, grades are everything. Is this for completion or accuracy? How many points is it and will it go in as a quiz grade? Questions like these follow an assignment as consistently as Kilpatrick's bolt cutters follow a misplaced bike, and for good reason. Our GPAs are a critical piece of the puzzle that literally determines the rest of our lives. So between teacher, parent, and intra-student expectations, the weight of grade averages influence our approach to learning. The stress of traditional grading pushes many students to find the fastest way to an A, often without regard for retention and skill building. When an unforgiving number drives our work, homework and tests stop becoming measures of knowledge and start becoming hoops we're meant to jump through to ensure a "successful life." As Spanish teachers of many years, Sean Capkin and Allison Mellet have grown quite familiar with the misguided pressures that the present grading system places on their students. So, in an attempt to reduce stress and foster better education, they set out to implement a measure of learning focused on skills, understanding, and growth. Thus, Standards Based Grading at LM was born.
"It emphasizes students' ability to grow in their learning over time," answered Mr. Capkin when asked about the goals of the Spanish Department's grading transformation. Capkin and Mellet intend to discover, measure, and reward growth through a scale that clearly details four proficiency levels for specific standards like "presentational speaking" or "ability to infer meaning from a text." Standards Based Grading means that as you improve, your overall score does as well. So a student who starts the year with twos (approaching standard) but ends the year with threes and fours (meeting and exceeding standard), receives the equivalent grade (an A) for their threes and fours, not a yearly average (a B or B-) that includes the twos. By avoiding averages and choosing to report education through growth, those who work hard to improve aren't simply looking to balance their grade by maximizing points. Instead, they must seek mastery to reach higher standards. 
At face value, that might seem to induce more stress with each assignment, but by replacing arbitrary point values with a standard grade out of four and by rejecting grade averages, assignments transform into opportunities for growth. Of course, if you make no effort in a class, you'll still receive a poor mark, but bombing a unit test after a restless night no longer permanently drops your grade several letters. Instead, the onus is partially shifted onto the teacher, who is responsible for collaborating with underperforming students to work through solutions. After individual help during office hours or more class time devoted to grammar review, you're always provided with additional opportunities to demonstrate growth and reach higher standards. 
From student pressures to teacher feedback, Standards Based Grading flexibly reworks the inputs and outputs of education to healthily encourage complete understanding. Yet, for now, Standards Based Grading only affects some Spanish courses. After all, the change in my Spanish 4H class is the first culmination of a years-long initiative created by teachers in the pursuit of superior education. It was the teachers themselves, not the College Board or some indirect committee, who used what they knew about their students to forge the first sets of standards and get the ball rolling on educational innovation. 
Yet, Mr. Capkin doesn't "want to assume it's going to be great or everyone is going to love it." He firmly believes that the growth he expects from his students must be reflected in his own adaptation throughout the year. Assimilating a new practice into our everyday lives will take an army of dedicated teachers constantly willing to adjust and strive for better. So if after a year with the Spanish department, Standards Based Grading is shown to reduce stress and clarify goals – much like the Weekly Planner –  I'd look to our teachers to develop their own growth focused models and enhance our learning.
After the pandemic shredded the meaning of achievement, school leaders need to reflect on our archaic system that often over-stresses and undereducates students. By empowering teachers to develop custom criteria for their courses and pushing students to achieve growth over numerical perfection, Standards Based Grading could transform LM into the best possible educational community. We've been entering to get the "A" for years, but with a new approach, we could finally Enter to Learn. 
Leave a Comment