Activities back in action!
After a year that was anything but normal, LM students are more excited than ever to dive back into clubs and sports.
Much to the delight of students and faculty members alike, we were able to return to school in person this September. After a year apart, everyone at LM was desperate to reunite and form new connections. One of the best ways to accomplish both of these goals was to host an activities fair. However, things were a little different this time around. Activities and Athletics Director Jason Stroup mentioned, "We partnered with Student Council to do the activities far, which I don't think we've done in the past." Back in June, as Student Body President Leo Solga '22 recalls, Student Council began planning the return of the activities fair, an annual event that helps clubs recruit new members and allows students to see the wide range of what LM offers. to help students get involved in the LM community.
This new partnership benefited all parties involved, since Student Council was able to reach out to student leaders and Stroup could handle the logistics and staff advisors. This organizational harmony was one of the key factors in the fair's success.
The Activities Fair garnered more positive feedback than ever before. Stroup reported that, "Overall, the feedback was very positive from the club side and participant side." Student Council advisor and Spanish teacher Sean Capkin also spoke to the benefits of the fair from both the club perspective and the student perspective. "With two grades of students who haven't had a normal high school experience yet, [the Activities Fair] was necessary to help them integrate into the school." Capkin emphasized, "We needed that formal way to connect the LM community, and it was great to see kids enthusiastically walking around, listening to music, and enjoying LM culture." The student DJ, Mark Riggio '22, was a huge hit and boosted the energy of the event, helping to maintain the flow of the fair as students explored and socialized. New and old students joined as one community, bringing back the some of unity lost last year.
In terms of club signups and member rates, the Activities Fair exceeded all projections. Solga stated, "I think it impacted member rates extremely positively in possibly every club and activity. Student Council was definitely positively affected and it helped demonstrate the things that Student Council can do." In comparison to the drought of new students from last year, this influx of members was enormous. High-level STEM clubs such as Technology Student Association (TSA) sometimes have trouble recruiting younger students because of a perceived learning curve, but this exposure at the Activities Fair allowed new and old students alike to approach TSA with enthusiasm. TSA officer Katie Fang '23 noted, "We had around seventy sign-ups and we have some extraordinary new members in TSA this year." 
In addition to well-established clubs like TSA, newer clubs had unprecedented success gaining new members. For instance, the LM Fishing Club was a huge hit. According to club vice president Aidan Friedman '23, "One-hundred fifty-five people signed up. So far, we've seen very active participation and we're happy to have all of our new and old members together this year. We look forward to an exciting year of LM Fishing Club." It turns out that the Activities Fair was more
beneficial to smaller clubs than larger clubs, according to Solga: "This was the best opportunity for smaller clubs that don't have the same outreach as larger clubs." The accessibility of this event made it so easy for every type of club to shine.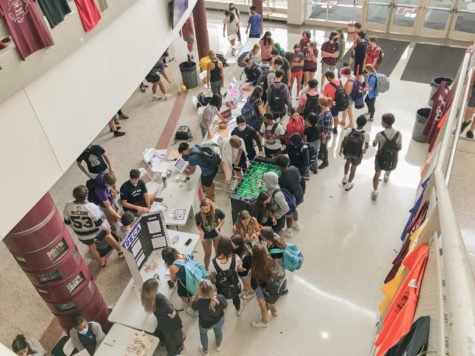 Looking back on the event, Stroup recalled, "We probably had more clubs, sports, and activities represented than we ever have had." More than eighty clubs started on the right foot thanks to the success of the Activities Fair this year!
Leave a Comment