The ultimate question: Spotify or Apple Music?
Ava Cohen '23 dives into the end of the year highlights the top two music streaming services offer.
What streaming service do you use: Spotify or Apple Music? Undoubtedly, there has always been a big debate over which of the two most popular music streaming services should reign superior. When it comes to the age-old argument, people become extremely passionate about the service they prefer. One of the biggest differences between the two services occurs every December with the release of the annual music rewind. People look forward to getting to see what music they were listening to throughout the entirety of the year and eagerly share their music tastes on social media. With both having different versions, the question now becomes, which one does it better: Spotify Wrapped or Apple Replay?
Spotify Wrapped seems to be the clear winner considering the whole idea started with its release of a "Year in Review" back in 2017. Apple Music users became adamant that they get something similar, so Apple then released the Music Replay two years later in 2019. One thing that Spotify Wrapped does better is that it goes into much deeper detail about users' listening habits as compared to Apple Music. Spotify goes above and beyond to tell them how many total minutes that they listened to their top artist, their rank among other listeners of their favorite artists, their top genres, and so much more. In addition to this, Spotify Wrapped creates specific playlists for users to enjoy. Some include "Missed Hits," top songs, and "On Record," which allows users to indulge deeper into their kind of music. This year, Spotify Wrapped was more advanced than ever before. There were a couple new features, one of which being a listening "aura." Additionally,  the newly updated Spotify Wrapped included a feature where users can make combined playlists, so you can listen to an array of each of your friends'  music tastes combined into one playlist. It also shows the similarity between music tastes as a percent. Personally, I found it really interesting to see how my friends and I matched up. 
Apple Music Replay is much less complex. Users are able to see a pre-made playlist of all of their top songs, but not much else. In addition, Spotify Wrapped makes the appearance of this long awaited rewind more aesthetically pleasing than Apple Music. It is almost like a gallery where users are able to swipe through different slides with colorful patterns. Apple Music Replay does not offer anything this advanced. Overall, it is just more plain, boring, and less informational. All things considered, it is fair to say that Spotify users won't miss out on a single detail about their year in music, and Apple Music users will never know what certain aspects of their music taste, like their musical "aura," was like throughout 2021.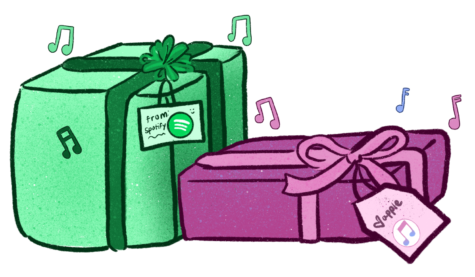 Leave a Comment