I'm feeling 2022
Taylor Swift finally released her anticipated re-recording of her fourth studio Red. Read below to learn more about the importance of Taylor's Version of Red and how the Vault track "All Too Well (10 Minute Version) (Taylor's Version) (From The Vault)" completely changed her career.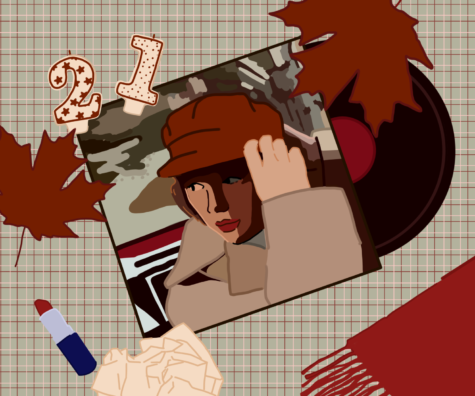 The anticipated re-recording of Taylor Swift's fourth studio album Red was finally gifted to us on November 12th, 2021, and all I have to say is that I forgot how to breathe. 
When Swift originally released Red in 2012, it was apparent where her career was heading. From the chart-topping singles, to the records broken, to the extravagant album sales, to the over-the-top music videos, it was clear that Swift transformed a heart-breaking era for her into something beautiful. Thus, Red not only became a fan favorite, but a cult classic. Almost a decade later, the world visibly showed Swift how much they still cared about this album as anticipation and excitement only grew greater throughout the five month period from the announcement of Red (Taylor's Version) to the release of it. 
Similar to Fearless (Taylor's Version), Red (Taylor's Version) stays true to the original piece. With all original 21 tracks re-recorded, with an addition of 9 new never-heard-before "From The Vault" tunes—all primarily portraying the 21 year old heart-broken Taylor—we re-enter a world of pure nostalgia as we once again feel "happy, free, confused, and lonely at the same time."
The inclusion of new material added to the original tracklist became the dominant reason as to why Swifties were so excited for the re-release of Red. With the new Vault tracks, Swift was given the opportunity to collaborate with artists such as Chris Stapleton and Phoebe Bridgers, and finally release her first song written with Ed Sheeran. Although all songs "From The Vault" contribute to the storyline of Red, one does stick out from the rest: "All Too Well (10 Minute Version) (Taylor's Version) (From The Vault)." The extended version of the original "All Too Well" track resulted in not only Swifties, but the public praising Swift to a soaring status of brilliance. The 10 minute version of "All Too Well" gave listeners a deeper understanding of how Swift truly suffered at the time. She wanted to convey the pain of true heart-break to her listeners, and so she did. With dug-up lyrics like "You kept me like a secret/But I kept you like an oath," and "I'll get older, but your lovers stay my age," it is hard to believe that Swift would scrape such brutal, yet personal lyrics from the original cut. With an addition of new choruses, bridges, and viruses, when listening, it is unusual to notice that the song is even 10 minutes in length. For fans constantly trying to prove how much of a genius Taylor Swift is, the 10 minute version of "All Too Well" is the only evidence they need to prove it. It is safe to say that with the release of Red (Taylor's Version), Taylor Swift is not only a musician, but businesswomen as well. She turned the media into her audience. 
If you have not yet listened to Red (Taylor's Version), it is worth the listen. From the lyrics, to the production, to the vocals on all of the tracks, you will see why Swift is constantly labeled as the artist of our generation. Take advantage of the blessings in life—Red (Taylor's Version) being one of them. The conclusion to this article is simple: stream Red, but Taylor's Version, of course. Oh, and if you even happen to be heart-broken, just remember that entering your Red era may not be the worst thing in the world—you will have this album to help you through it.
Leave a Comment