Why does Netflix remove popular shows?
Learn about why Netflix removes some of its users favorites shows.
There is nothing more heart-breaking than rewatching your favorite TV show or movie on Netflix and suddenly seeing a notification pop up in the corner informing you that the show is leaving the site soon. Netflix, an international video streaming service, is one of the most popular places to stream shows and movies and was one of the first companies of its kind. To understand its popularity, one must first understand its history. Founded in 1997, the company started out selling and renting DVDs and mailing them to the doorsteps of their subscribers. Ten years later, they began streaming TV shows and movies on their online platform, and the company has grown exponentially ever since. Today, they have evolved to become an "all access" online streaming service with over 13,000 titles spanning every possible genre and featuring titles of their own.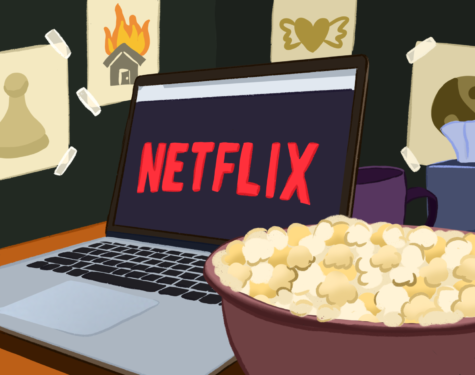 If this concept seems almost too good to be true, maybe that's because it is. Recently many shows and movies have been disappearing from the site, including some of the most popular ones such as The Office, Gossip Girl, Family Guy, and Friends. The list goes on and on, growing as each day passes. So why does Netflix remove these beloved shows from their platform? To answer this popular question, Netflix issued this statement: "Netflix licenses TV shows and movies from studios around the world. Though we strive to keep the titles you want to watch, some titles do leave Netflix because of licensing agreements." Once a license expires, a show or movie has the possibility of being renewed. There are many factors that go into the decision of whether or not to renew a license, coming from both Netflix and the studio that licenses the show. Netflix must consider what's popular with their viewers and what's not. Netflix pays for almost all of its titles, so it is important for them to assess this. If a show isn't doing very well, they might consider removing it from their platform. From the studio's perspective, there are other reasons why they might not renew their license– such as the rise in popularity of competing streaming sites. 
In recent years and during the height of the pandemic when movie theaters closed down, Netflix has received an overwhelming amount of subscribers. Competitor studios saw Netflix's success and modeled their platforms after it: NBC's Hulu, Warner Bros HBO Max, Disney's Disney Plus, and newly, Paramount's Paramount Plus are just a few examples of the companies in the now flourishing industry. These sites have become extremely important sources of revenue for studios. When opening new streaming services, studios choose to remove their films and shows from Netflix and exclusively stream them on their own sites, making it a more desirable and popular option to subscribers. This created a source of irritation for many. In order to watch their favorite shows, viewers must now purchase subscriptions to each different service. The situation doesn't seem to be getting any better in the future. The spread of streaming sites is rapid and an increasing number of companies are joining the trend. Start savoring the time you have with your favorite shows now before they get taken off of Netflix for the benefit of another studio or streaming service.
Leave a Comment