A Winterfest Wonderland
For the first time in two years, LM's beloved tradition of Winterfest returned, in which the school community embraced the season of giving.
December is known for family get togethers, holiday traditions, good food, fun vacations, and of course, a refreshing break from school. However, last month also marked the season of giving: the time where we as a school community come together and give back to those in need. LM's famous Winterfest encompassed all the necessities for a charitable and cheery holiday season.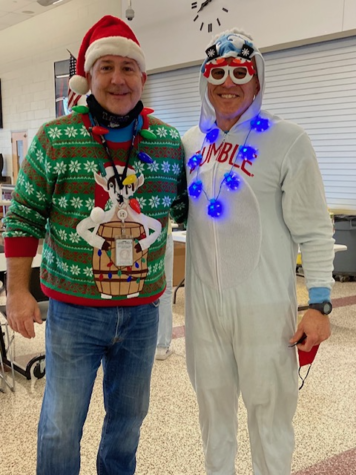 Winterfest is a long-running LM tradition. Due to last years' COVID-19 restrictions, LM was unable to hold the classic Winterfest celebration of pre-pandemic years. This December, however, the festivities were in full swing, with planning from Physical Education teacher Thomas Kline and Math teacher Brian Feeney. Other LM groups were also involved with Winterfest organization including BuildOn, which took on the vital job of gathering up all of the donations found throughout the different classrooms.
LM students and teachers kicked off Winterfest in early December by bringing in non-perishable food and supplies and collecting them in their various classes. The canned goods, cooking essentials, and toiletries will benefit the Saints Memorial Baptist Church food pantry in Bryn Mawr, an organization that provides relief to families in need in our community and nearby areas. Throughout the school, teachers developed a variety of tactics to increase their donation piles and convince students to give back in the spirit of Winterfest. Some offered extra credit points, pre-winter break parties, special breakfast foods, or a variety of prizes, like Feeney who held his weekly Prize Patrol to award students who brought in multiples of eights in donations. Another successful collector, History teacher Phillip Laubach, expanded his donation box by asking each of his students to bring in at least one can in exchange for extra credit on their latest test. Laubach explains, "I've seen Winterfest a lot over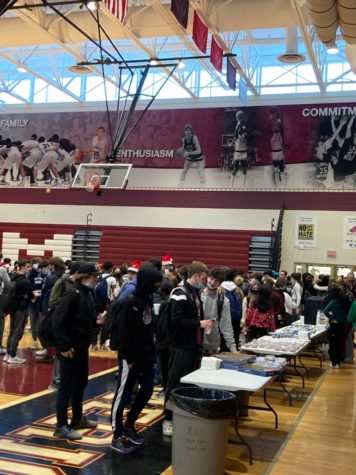 the years and it is a great opportunity to build school spirit and more importantly help people in need." When further describing the benefits of Winterfest, he details, "it allows kids to get extra credit in my class and also allows for motivation to give to people that need it." Overall, LM has proven to be committed when it comes to acquiring an abundance of goods to assist our fellow community members. 
The charitable atmosphere at LM has also led to reflection about the true meaning of the holidays. Aniah Gagliano '23, for instance, comments, "I think Winterfest is a really great cause. It's important to give back since we live in a very privileged area." With college acceptance letters rolling in, vacation packing, and last minute tests and project scores being added into Powerschool, it is easy to lose sight of an important part of this time of year: giving back. Gagliano explains, "People don't always understand what other people are going through, so helping out is the least we can do." While LM is often known for its affluence, it may be surprising to some that there is still a very real threat of food insecurity in our township. Many rely on food banks and the need for donations only increases as the weather gets colder and the holidays approach. Similar conversations have also emerged in the form of classroom discussions. In Spanish teacher Sean Capkin's class, for example, students discussed the purpose of bringing in cans, and many agreed that it was an easy way to do something good for others.  
Leave a Comment