Pre-Collegiate Covid
College applications continue to adapt amid the pandemic, with seniors and juniors adjusting the way they apply and how they decide on a school.
The college application process has always been an extremely stressful period for high school seniors, but in recent years, the COVID-19 pandemic notably amplified that stress. Many colleges shut down in-person visits, instead choosing to provide virtual opportunities that remain an inadequate replacement for students to truly experience what a campus would feel like.
Fortunately, this years' seniors find a small reprieve amid the hectic pandemic application process. As vaccination rates increase and infection rates decrease, many college campuses are opening up for in-person visits. However, most of these re-openings include placing limits on the number of participants and a complicated signup process where spots fill up quickly. Seniors and juniors at LM have finally been able to attend college visits in-person and prepare for their college application process. According to senior Roya Reese, "In-person tours are definitely a better option than the virtual tours, but the whole application process has still been very stressful." Junior Abby Braslow, who has started her college visits, is grateful to be able to visit in-person despite her unusual experiences. Braslow recalls, "I was the only one on tour with three tour-guides, it seems people are reluctant to go back to in-person tours, but I honestly preferred having a private tour."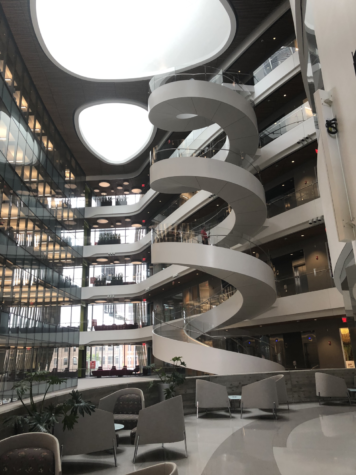 As many colleges are starting to revert back to online courses, at least for a few weeks, it begs the question: What will happen with spring college visits? Many students plan to utilize their spring break to travel to different campuses, but uncertainties still surround in-person tours. If students cannot visit in person it will be extremely difficult for another round of upperclassmen to make decisions about their future. 
Aside from the uncertainty surrounding college tours,  the new wave of test-optional applications has severely increased the amount of applicants to many prestigious schools, narrowing the slim acceptance rate even further. While test-optional poses many benefits to students, it also makes an already competitive environment even more cutthroat. Colleges will now focus more on extracurriculars, essays, and recommendations rather than standardized tests, which can help diversify the incoming student body by opening up the campus to a wider pool of applicants who previously would not have been considered. Reese believes that the rise of test-optional admissions is definitely beneficial, but is still choosing to send her scores to schools in hopes of improving her application. 
College applications were already stressful without the pandemic-related complications. Seniors and juniors can only hope that campuses remain open for in-person tours and that colleges continue to amend application processes for incoming students. 
Leave a Comment