Gift giving ideas
From gag gifts to group presents, learn how you can brightened your loved ones day for the holiday season.
Nothing else is a better present than spending time with the ones you love during the holiday season, but, undeniably, everybody loves opening presents. While you could simply buy an item from a retail store, to really nail the holidays, you must be more creative than that.
Group presents are easy: just find something that everyone would enjoy and get that same gift for everyone. They will love being able to embrace with others over the amazing gift you got them, but be prepared to spend a lot of money as you will be buying for everyone.
If you would like to go the less expensive and more nostalgic route, a homemade present has its own special charm. Homemade gifts are cheap since little to no money needs to be spent, and they can also be customizable, so the person receiving the gift can truly enjoy it. A popular homemade gift is framing a picture of you and the person receiving the gift. Everyone always has room in their house for a nice framed photo. You could also make a scrapbook that encapsulates the many moments you have experienced with that person. Giving a homemade gift is also seen as more thoughtful, with more meaning to it opposed to buying a store item.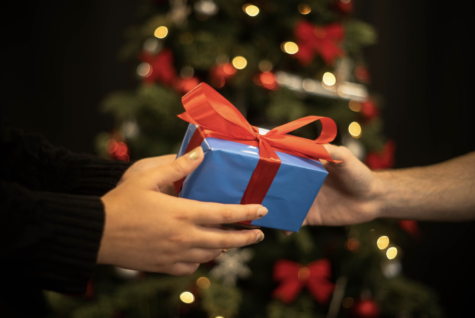 Nothing is more relaxing than going to see a sporting event (maybe not if you're a Philly sports fan) or a show. For some people, it's always been their dream to go see Hamilton or go to the Wells Fargo Center for a Sixers game. Basketball tickets can often be particularly cheap, with bad seats starting at just $10 for all the thrill of the game. Dreams can come to a reality when you buy these tickets. The receiver of the gift will be jumping with excitement as you reveal tickets to their favorite show or sporting event.
Two undeniable facts about the human species is that we love to laugh, and we love to receive gifts. On the less serious side, gag gifts can be exchanged for pure comedic purposes, giving everyone a laugh during the already chipper holiday season. However, you must take in mind that the gift receiver could get angry if the gift is poking too much fun at them. When purchasing a gag gift, you want to get something that shows that you know the gift receiver. If not done in a group exchange, gag gifts also make great stocking stuffers as they are cheap and playful. 
For all you book lovers, the gift you most look forward to is an interesting, long read. Even if you aren't the type that finds joy in books, purchasing a magazine subscription is bound to please your grandma or great aunt. A magazine subscription is a gift like no other, as it holds a unique element: the gift that keeps on giving. Not only will the gift receiver get one copy of their preferred magazine, but they will also get copies throughout the year, raising their spirits even when it's not the holiday season. 
Most importantly, giving back to your community is a prominent factor of the holidays. In addition to gifting presents to your family and friends, you should also try and support charities and people in need. The Narberth Food Bank is a local non-profit organization on Montgomery Avenue that distributes food to those in the community that need assistance. The LM toy drive is an effort run by the district to collect new toys and distribute them to kids whose families don't have the resources to purchase them gifts. There are boxes in the front office of LM to drop off gifts. Lastly, the Sean Hughes GoFundMe supports our recently passed principal's family and kids. Donating to any one of these causes helps someone who may not be in as good of a situation that you are in.
Any of these gifts would bring smiles to the person receiving them and prove the old adage: it's the thought that counts.
Leave a Comment