A forum to forge change
Max Fishman advocates for a student forum in order for LM to undergo needed changes.
Every inch of LM's foundation is ostensibly wrought to provide us, the student body, with the best possible education. Fierce school board elections, sweeping administrative policy, and teachers' union initiatives are forged by the heat of that task. Despite our direct experience with the effects of educational choices, we the students are formally left out of these negotiations. Recent student polls and feed- back forms signify a step in the right direction; how- ever, to truly help students soften the edges of this abrasive system, we need a forum that takes an active role in educating students and pushing for change.
Since the very nature of a tiered school system quickly moves students out of the building, it's difficult to build lasting and nuanced support for new policy. After all, each of us only care, and only need to care, about the often dissatisfactory portions of our high school experience for four short years. Considering that LMSD is unfathomably well endowed and frequently showered with national accolades, it feels almost contradictory to question its educational approaches. Consequently, it likely takes until sophomore year to begin to grasp why many students feel so dissatisfied. By the time juniors and seniors identify specific ways they'd like to see the school changed, they're just about packed for college. Maybe they write an Op-Ed article, but soon enough, they'll be off to Pitt or Penn. In a conversation last month, Kevin Grugan joked about the ever repeating cycle of The Merionite articles on important topics that he has witnessed throughout his tenure at LM. I asked him then–as I ask you now–to imagine a student-run forum, per- haps solidified by a dedicated time slot like that of Lunch and Learn or advisory, and how it could serve to coalesce and advance ideas to transcend the typical short-lived bursts of student support that accompany an ever-changing student body. As campaigns and knowledge of their status pass from upperclass- men to underclassmen, issues normally discovered too late could quickly bubble to the surface. What's more, by bringing students together to actually dis- cuss issues at hand, we could solidify our collective understanding and focus our strategies for implementing change instead of simply writing about it.
Through research and argument driven debate, a student forum could help achieve a primary goal of the educational forge: critical thinking. In my experience, AP English Language and Composition (AP Lang) was a formative class not simply because of its intensive course in argumentation, but because it challenged me to deeply understand relevant issues like systemic racism, climate change, and educational practice. Principally, LM should provide their students with opportunities to be critical thinkers in the most immediate way possible, i.e., by encouraging them to challenge the system that they navigate nearly every- day. A pervasive student-run forum could emulate AP Lang's critical process of research, discussion, and fabrication of ideas in an environment with tangible stakes. Tasked with uncovering avenues of educational improvement and presenting clear evidence for their proposed changes, students would put their skills to the test in real life. Now, apart from a world of hypothetical essays, if a policy proposal gains ample support, the forum would also need to air student, parent, teacher, and administrator concerns–thereby forcing proponents of an idea to understand and disseminate the nuance attached to a specific change, like that which accompanies later school start times.
Furthermore, by enlisting those most invested in the day-to-day of education to help discover and push for ideas, a wider range of thought would be uncovered, and it would be mulled over by a far greater number of individuals. Here lies the fundamental issue with LM's present strategy: when the school depends on observational surveys, it merely samples a small population that is often poorly versed in educational strategy. However, by purposely encouraging self-education and student-led discus- sion on the most pressing issues, a student forum stands to vastly increase general knowledge and will.
Though our high school has certainly made great strides towards a fairer, less stressful education for students, much remains on the table. Just last year the school board postponed a proposal to push back our start times, citing the need for lights on Arnold Field to accommodate sports. Meanwhile, the Council for Racial Equity and Inclusion (CREI), as well as the administration itself, are striving to improve racial disparities within the district. While start times, lights, and CREI initiatives are the subject of sporadic discussion by students and teachers alike, other potential improvements often fly under the radar.
As I mentioned in my previous essay, fundamental alterations to the grading system–changes that could be expanded by student involvement–are in the works. Even less discussed are the advances made by other schools. Some are vastly expanding and improving upon their academic seminar/individualized learning programs to improve students' motivation. Others have begun dropping AP classes, choosing instead to develop their own flexible yet challenging high lev- el courses–a fact I first learned from an article I read in my AP Lang class. Many of those same schools are weighing the effectiveness of homework and reevaluating certain class structures, all while further emphasizing student mental health as they experiment with alternatives. Such a list of possible alterations is nowhere near complete and not necessarily full of programs that we want or need. However, the present system will, more often than not, allow the worthy among them to remain unconsidered. If a student-run forum were properly implemented, the issues at hand—and those beyond—would undergo far more intense ideation and scrutiny.
A formal student forum would serve to stabilize the ebb and flow of support for potential changes; encourage students to practice critical think- ing, research, and argumentation skills; and more efficiently share a multitude of complex ideas throughout the student body. By further empower- ing students to polish the rough edges of our experience, we could finally alleviate Grugan's woes of a Merionite Groundhog Day. More seriously though, a student-run forum would ensure LM alumni "Go Forth to Serve" with practical experience in hammering out changes within the systems around them.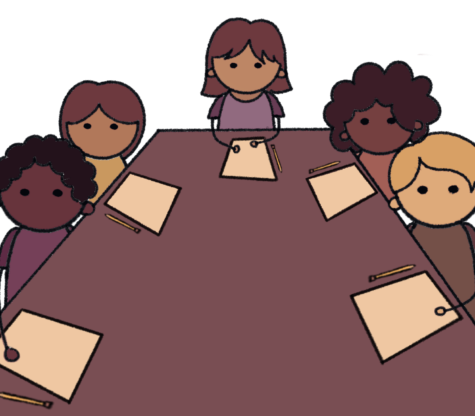 View Comments (1)