Swingin' in the season
Senior Ben Wolf provides a thorough analysis of the Aces' baseball team before they take the field this spring.
After an inauspicious conclusion to the 2021 season, the LM baseball team is eager to begin a new era for the program. A fresh, dynamic coaching staff hopes to lead the way with the emergence of younger players, while the Aces' veteran upperclassmen look to rewrite the story of their careers thus far.
The team's preparation for this spring started early, as players of all grade levels met for their first practice of the fall program on the first day of school. The Aces have met the autumn season of practices, games, and biweekly indoor winter workouts with an appropriate level of intensity, which, in addition to getting them physically ready, has fostered a notable change in attitude. Pitcher, outfielder, and co-captain Ilan Tauber '22 cites "a palpable energy to this season that there wasn't before" as evidence of this shift. "We're all really excited to get going and we think we can do really well. The overall excitement motivates us more and brings us together as a team."
The Aces boast a tremendous talent level this year, including four returning All-Main Line team members: Josh McCormick '22 (Second Team), Jake Krimsky '22 (Second Team), Matt Rinaldi '23 (Honorable Mention), and Tauber (Honorable Mention). They are headlined by their formidable pitching staff, composed of four members who might as well be nicknamed Hearts, Spades, Clubs, and Diamonds. Tauber, Krimsky, and Everett Whalen '23 each sported sterling earned run averages—below 2.40—last season, and will welcome Danny Wellner '22 back into the fold, a 6'2", hard-throwing right hander committed to pitch at Vassar College next year. Meanwhile, Alex Frankel '22, typically an infielder, has emerged as a late-game option on the mound.
The Aces' "aces" will undoubtedly give them a chance to win game in and game out, but their lineup is nothing to scoff at either. McCormick, who thumped two home runs in 2021, and Rinaldi, a fixture atop the batting order and the program's all-time leader in times hit-by-pitch, have both signed on to play collegiately at Queens University of Charlotte and Stetson University, respectively. They will be joined by Drew Hollowell '23, who, although unlikely to pitch this spring due to injury, has a lightning-quick stroke at the plate. This trio, surrounded by a strong supporting cast, has every reason to believe they will build off of their 4.75 runs-per-game average last season. 
With speed and athleticism permeating throughout the diamond, the coaching staff is confident in their ability to sculpt a lineup that is both defensively sound in the field and strategically aggressive on the basepaths. If all of these factors come together to meet their potential, the well-rounded Aces will prove to be a tough opponent to face.
The skill level is undeniable, but this year's team approaches the season with an unprecedented sense of unity. "I think that our guys are just a lot more focused on the task at hand," explains Frankel, one of the many seniors to whom the difference from past teams feels clear. First-year Head Coach Colin Quinn adds, "We've got a great group of guys who just want to play together, and we have a lot of talent. When you put that together with hard work, the possibilities are limitless."
Do not be mistaken: these Aces work hard, but they certainly know how to have fun. The meshing personalities make the otherwise tiring, often monotonous repetitions of practices a joyful experience that every player looks forward to. Hollowell, for instance, dabbles in TikTok superstardom, as does outfielder and pinch-runner Caleb Epstein '22. The youthful exuberance and constant chatter of Jack Scholz '24 are quite antithetical to the much more reserved tendencies of Nate Pearson '23, who is rumored to have once gone nine consecutive days without uttering a single word as a young child; yet, their friendship is one of many close ties between team members. The upcoming spring break trip to Myrtle Beach, South Carolina is a thrilling prospect for team bonding, as COVID-19 prevented the previously annual opportunity in 2020 and 2021.
Many Aces—including Frankel, Rinaldi, Whalen, Scholz, Hollowell, Pearson, outfielder Henry Rendle '23, and catcher Cole Tickle '23—are loyal members of the Dawg Pound, having cheered on their fellow student-athletes at dozens of soccer, football, basketball, and hockey games this fall and winter. The Aces hope to receive reciprocal attendance at South Ardmore Park, where a small yet vocal crowd rattled opposing left fielders in 2021. That handful of five or six supporters helped contribute to the team's excellent .571 winning percentage in home games (as opposed to .222 away from South Ardmore). Fans are strongly encouraged to take the five-minute ride after school to enjoy some beautiful April and May weather and some quality Aces baseball.
Talent, effort, and chemistry are all reasons for optimism surrounding LM baseball in 2022. If this season proves a success, each will likely have a case for being the most compelling storyline of the year. The balance
between high-performing upperclassmen and LM's younger players radiating with potential is encouraging for the future of the program, but at the moment, the team has set their eyes on lofty goals in the short term. How lofty? Just ask Rendle to share his expectations for this year: "Win the Central League, win States."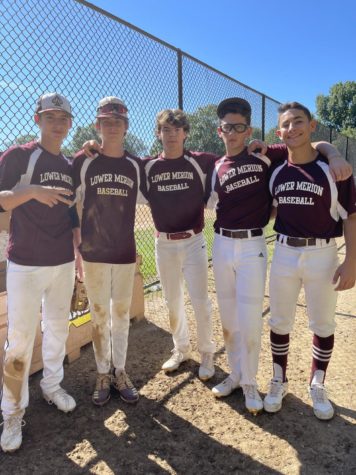 Leave a Comment