Dawg Pound on the rebound
Julia explores one of LM's most iconic spirit traditions: the Dawg Pound.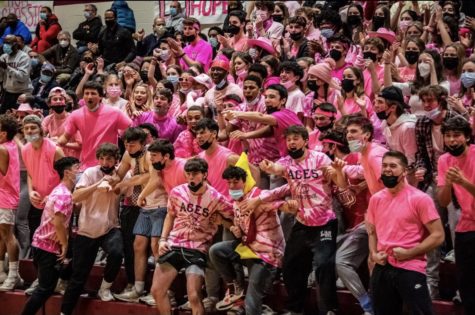 The Dawg Pound is a student-based cheering section that enchants positive motivation during various sporting events, bringing all the grades together through spiritwear and roaring chants. From football and soccer games in the fall to basketball and hockey games in the winter, students have come together to show support of LM student-athletes every season so far this year. 
Each game there is recommended attire that is worn amongst the packed section. Some student section themes include the famous baby-blue Dawg Pound shirts, tie dye, maroon & white, and white-out, among many others. With a wide array of spiritwear, the Dawg Pound delivers positive visual energy as well as verbal encouragement. 
Recently, a conflict with an opposing team led to Dawg Pound members receiving temporary bans or full season penalties. One student involved in the conflict elaborates, "I was pretty upset when I found out that I have a full season punishment. It felt a little too harsh because it wasn't just a few games, it was all the games for the rest of the year so it is upsetting for me." This student's actions have unfortunately cost his participation in the Dawg Pound for the rest of the season. He expressed that even though he still has his senior year to cheer with the Dawg Pound, this year also feels personally crucial for school spirit. All his friends continue to support the basketball team by attending the games and he wishes he could too. As a player on the varsity boys' basketball team, Sam Brown '23 offers a different perspective: "The Dawg Pound does benefit the team. The energy given from the crowd is something that motivates us. Aside from any incident, the fans who were banned definitely contributed to the energy as a whole of the Dawg Pound." 
Additionally, there is an Instagram account that highlights exciting moments from each game and shares photos of the lively student section. Although the account is informational—notifying students of game locations, dates, and attire—it is not affiliated with the school due to recent controversial activity. As there are a high number of banned students, the Dawg Pound is definitely less extreme than it had been before. This has not defeated school spirit though: LM athletes continue to look forward to the rowdy cheers and flashy clothing at their games!
Leave a Comment