STEM spotlight
LM's STEM clubs crush the competition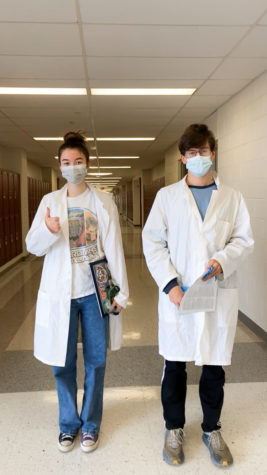 Last year, trekking through the deserted hallways of LM after school, you might find the only sound to be the lone echo of your voice. Fast forward to a year later, and those same hallways are buzzing with life. LM STEM clubs are back in business, eager to make up for lost time and reach new heights.
A virtual Regional Conference was the last thing students in the Technology Student Association (TSA) had been looking for, but amidst a surprise snowstorm over competition weekend, LM TSA members came prepared to give their all from the warm comfort of their homes. Following a day of
interviews, presentations, and project demos, LM TSA emerged victorious, earning 42 event placements and nine first-place finishes in events such as Architectural Design and Tech Bowl to soundly dominate the conference. Through hosting a series of robotics workshops for students at local elementary schools, LM TSA members also hope to inspire the next generation of young learners, while "having fun with these tech-savvy kids" in the process, as club officer Eric Yang '22 fondly recounts.
TSA's perennial partner-in-crime, Science Olympiad, has also been grinding hard throughout the last few months in preparation for competition. "Scioly" members compete in events ranging from Anatomy and Physiology to Codebusters, bringing together a community of aspiring scientists, engineers, and problem-solvers. In their competitions so far, they have had stellar results: in addition to a litany of top ten placements at several invitationals over the past few months, the team placed first and second in Cybersecurity at the virtual BirdSO Invitational among 160 challengers.
If Scioly members thrive in the sciences, then LM's Math Club excels when it comes down to the numbers. Despite weathering an early loss to their Radnor counterparts, Math Club members keenly look forward to continuing their season with a matchup against Marple Newtown. Now, LM's best and brightest—Nathan Donagi '24, Andrew Slattery '25, and Bole Ying '25—take on the nation's most prestigious math test in the form of the American Invitational Mathematics Examination. Wish these boys luck!
An update on STEM clubs wouldn't be complete without the Dawgs—or, more formally, FIRST Robotics Competition (FRC) Team 1712. This past fall, during the offseason, Dawgma reached victory in the winning alliance at the Ramp Riot competition among 40 FRC teams. Dawgma is now going full steam ahead with their robot for this year's game, Rapid React, which involves shooting oversized tennis balls into different-sized goals. On January 8, Dawgma hosted their kickoff meeting at LM to introduce the game and commence their build season. Director of Operations Macy Donahoe '22 notes Dawgma has also been busy spreading their passion for robotics at Judith Creed Horizons for Achieving Independence (JCHAI), an organization that provides vocational needs to adults with disabilities.
Dawgma isn't the only club in town taking a deep dive into robotics. As part of their annual Program.IT event in 2021, the LM Computer Science Club brought in faculty from the University of Pennsylvania's IoT4Ag research center to give up-and-coming LM coders insight into the advanced applications of their field. Heading into the spring, Computer Science Club is now focused on preparing for its biggest events, Girls.hack("LM") and CodeLM, which will unite students from across the nation to compete for the chance to win enticing prizes.
Amidst the ongoing success of LM's established STEM clubs, a new contingent of LM students dedicated to business fundamentals is on the rise. LM's DECA chapter, led by junior brothers Cam and Eli Gordon, is a club focused on preparing students in marketing, finance, hospitality, and management. At DECA's most recent showing at Districts in January, the club captured
four district championships and seven placements in events such as Financial Services and Entrepreneurship. The DECA team now enthusiastically awaits its return to the State competition in Hershey on February 17, where they'll be sure to put on a show.
Leave a Comment