Midterm week or week off?
Read about different Midterm week experiences and what your LM peers think about Midterm week.
For some, midterms week is filled with stress and lots of studying, while for others, it is a week that can be taken advantage of, due to the limited amount of midterms they have combined with shorter school days. Midterms week consisted of a four day schedule in which there were two ninety minute testing sessions in the morning from 7:45 a.m. to 11:00 a.m. Students were given the afternoon off as a time to study for their midterms. Freshmen and sophomores both experienced their first midterms week this year, and their thoughts on the unique week varied.
Taking a test is already a stressful and difficult part of school, but having to take multiple tests in the same week can be extremely overwhelming, especially two on the same day. In prior years, if a student did not have a midterm, they didn't have to come into class. However, this year, students were required to attend every class besides study halls and PE. Sam Serruya '24, reports, "Midterms week was definitely something out of the ordinary and caught me off guard. The ridiculous amount of studying I had to do was nothing I have ever encountered before in my academic career." While midterms week has definitely taken off the stress of having to deal with other classes, for students with many midterms, it still was stressful.
Although taking many tests in the same week was challenging for a lot of students, midterms week proved to be a lighter load compared to a normal schedule. Gideon Wolf '24 describes his experience by saying, "I thought it was pretty easy because the short school days gave me plenty of time to study and most of my classes didn't have a real test." The situation Wolf mentioned was common, as the new mandate on class attendance shied many teachers away from giving out a formal midterm. Nathan Grunfeld '24 similarly agrees: "I only had a few midterms and the half days gave me plenty of time to study. Additionally, some days I was able to leave school early because of study halls and PE classes." This extra time out of school is nice for students to recoup after two long test-taking periods. 
Personally, as a sophomore, my midterm experience was filled with endless studying, a surplus of tests, and busy work every single day. When I wasn't studying, it was hard to find something productive to do during the long hours outside of class. I feel that LM can find a better system for midterms week, trying to balance the free time and the endless studying while still making it as least stressful as possible. Instead of closing school at eleven, adding an option to meet with teachers or hold club meetings could be a more productive way for students to spend their day. These improvements will benefit both students who thought midterms week was effortless and those who thought it was too tedious. Whether or not midterms week is a grind or a vacation is all in the eye of the beholder… or perhaps your teachers.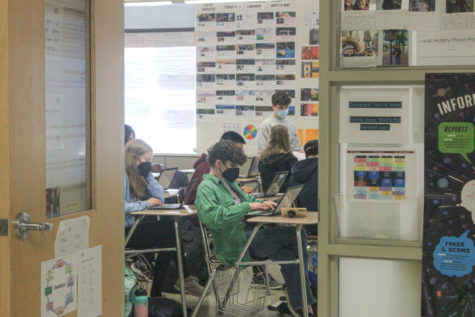 Leave a Comment