Winter olympics
Read about the 2022 Winter Olympics.
The Winter Olympics are back! Starting on February 4, the 24th Winter Olympics will take place in the beautiful city of Beijing. People from across the world will anxiously watch as their favorite athletes compete for the gold. As we get closer to the opening ceremony, there are some things you should know. The 2022 Winter Olympics will feature seven new events: womens monobob (bobsledding), mixed team aerials (freestyle skiing), men's and women's big air (freestyle skiing), mixed team relay (short-track speed skating), mixed team event (ski jumping), and mixed team snowboard cross (snowboarding). These events were added in an effort to increase gender equality. The mixed team events will consist of equivalent amounts of male and female athletes who have already qualified individually, or through relays. Additionally, the monobob is an event added just for women. The National Hockey League and NHL Players' Association have come to the decision to not participate. Due to the surge in COVID cases and the fact that fifty games have already been postponed in the regular season, it is no longer possible to attend. It is difficult to schedule this multitude of games considering the five week quarantine period that players would have to spend in Beijing if they were to test positive while
there. Players are upset especially since they have now missed out on two consecutive Olympics. Penguins star Sidney Crosby, although lucky enough to have competed in two Olympics thus far, says he "feel[s] for the guys who have missed multiple opportunities." Some of these players will not have this opportunity again and it is simply out of their control. No spectators will be allowed at the games. Once again, COVID has put restrictions on our lives and it has been decided that only a select group of people from within the country will be al-
lowed. These people will have to abide by China's "countermeasures" which are more strict than the protocols for the 2021 Summer Olympics. So far Norway is leading in most winter olympic and paralympic medals at 368. In second place is the U.S. with 305, and then Germany with 240. We will see how this changes by February 20th when the 2022 Winter Olympics come to a close. Students at LM are super excited to watch! Ju-nior Delaney Sill says she "can't wait for the ice skating where they do a bunch of partner flips," one of the most popular Winter Olympic events. Others are also looking forward to watching their favorite athletes compete, such as junior Andrew McCann, who will be cheering on Canadian hockey player Owen Power, along with the Unites States hockey team. I know that I will be watching the winter Olympics in Beijing, and you should too!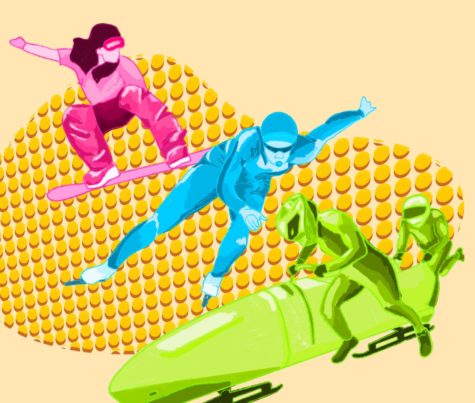 Leave a Comment