Why mask? It's time to ask
Mr. Swope discusses various reasons why we should not wear masks.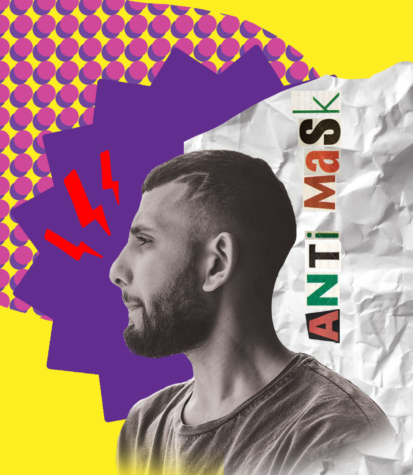 On March 8, 2020, during the early stages of the COVID-19 outbreak, Anthony Fauci stated during an interview with 60 Minutes that "there's no reason to be walking around with a mask." On April 3 of that year, the CDC updated its guidance on facial coverings, recommending Americans wear facial coverings "in public settings when around people outside their household, especially when social distancing measures are difficult to maintain." Dr. Fauci also appeared on Fox & Friends and stated that viewers should "wear some sort of facial covering when you're in public and can't socially distance, because of new information that the virus can actually be spread even when people just speak as opposed to coughing and sneezing." In July of 2020, the CDC said "cloth face coverings are a critical tool in the fight against COVID-19 that could reduce the spread of the disease, particularly when used universally within communities." Dr. Fauci and the CDC have credited a growing understanding of the virus and new evidence for these changing guidelines.1
The CDC's website cites nine studies as evidence for the efficacy of wearing masks to slow the spread of COVID.2 The first study cited was done in Bangladesh in late 2020. In the study, approximately 340,000 individuals from 600 villages were broken into a control group and an intervention group. Over an eight-week period, the study did find increased occurrences of COVID in the non-masked control group. The control group had 1,106 symptomatic individuals. The masked group had 1,086. There was a difference of 20 cases. This represents 0.0059% of the study's population, or a 1.8% increase in infection rate.3 Additionally, the CDC failed to mention that the masked group also socially distanced and received additional education, while the control group did neither. If we were to apply the change in spread that was seen in the Bangladesh study to our school, we would see an increase of approximately 0.09 COVID-19 cases over an eight-week period based on the Bangladesh population's infection rate. Extended over the school year, there would be 0.44 more cases of Covid-19 if the school did not socially distance or wear masks. Alternatively, you could multiply the number of COVID cases by 1.018.
A recent study in Denmark which consisted of 3,030 participants wearing masks and 2,994 not wearing masks found that "the difference observed was not statistically significant."4 A study conducted by the University of Louisville College of Arts and Sciences, which made use of data from the CDC, found that "case growth was not significantly different between mandate and non-mandate states at low or high transmission rates, and surges were equivocal."5 A May 2021 study from the CDC from 160 Georgia schools found that incidence of COVID-19 for students in schools mandating masks "was not statistically significant compared with schools where mask use was optional."6
In addition to the growing evidence that mask mandates do not slow the spread of COVID in any meaningful way, experts have increasingly begun warning about the side-effects of masking students, citing negative impacts on social, emotional, and mental development. These side effects should not be understated or ignored. Doctors Neeraj Sood and Jay Bhattacharya recently asserted, "Masking is a psychological stressor for children and disrupts learning. Covering the lower half of the face of both teacher and pupil reduces the ability to communicate. Specifically, children lose the experience of mimicking expressions, an essential tool of nonverbal communication. Positive emotions such as laughing and smiling become less recognizable, and negative emotions get amplified. Bonding between teachers and students takes a hit. Overall, it is likely that masking exacerbates the chances that a child will experience anxiety and depression, which are already at pandemic levels themselves."7 There can be little argument that teens have been heavily impacted by the interventions that have been put in place to fight COVID. Increased isolation and stress has led to a 22.3 percent increase in ER trips for suicide attempts in the summer of 2020 compared to the summer of 2019. There was a 39.1 percent increase during the winter of 2020 compared to the previous winter.8 An NWEA study showed that the average student was three to six percentiles behind in reading and eight to twelve points behind in math, which translates to being four months behind in reading and five months behind in math.9
The CDC's guidance on masks has continued to change throughout the pandemic. On May 13, 2020 they advised that fully vaccinated people can stop "wearing a mask or physical distancing." CDC director Dr. Rochelle Walensky told reporters that "anyone who is fully vaccinated can participate in indoor and outdoor activities, large or small, without wearing a mask or physically distancing. If you are fully vaccinated, you can start doing the things that we have stopped doing because of the pandemic." In December, she also tweeted that "cloth masks are little more than facial decorations and should not be considered an acceptable form of face covering."
We're now almost two years into what was initially billed as "two months to flatten the curve." During these two years, businesses and schools have closed. We've been told to socially distance and wear masks. At LM, we've canceled field trips, graduations, and sports seasons. We now have vaccines that greatly reduce the severity of COVID. Ninety-nine percent of new infections are currently Omicron, whose main symptom is a runny nose. COVID is not going away; it's here to stay, just like the flu. We need to decide how we should address it moving forward. Emotions and fear should not drive such important decisions; instead they should be made based on science and data. The science is clear—it's time to end the mask mandate.
Leave a Comment