School spirit – more vocal and more visual
Joy Donovan discusses the pros and the cons of the recent developments of the dawgpound.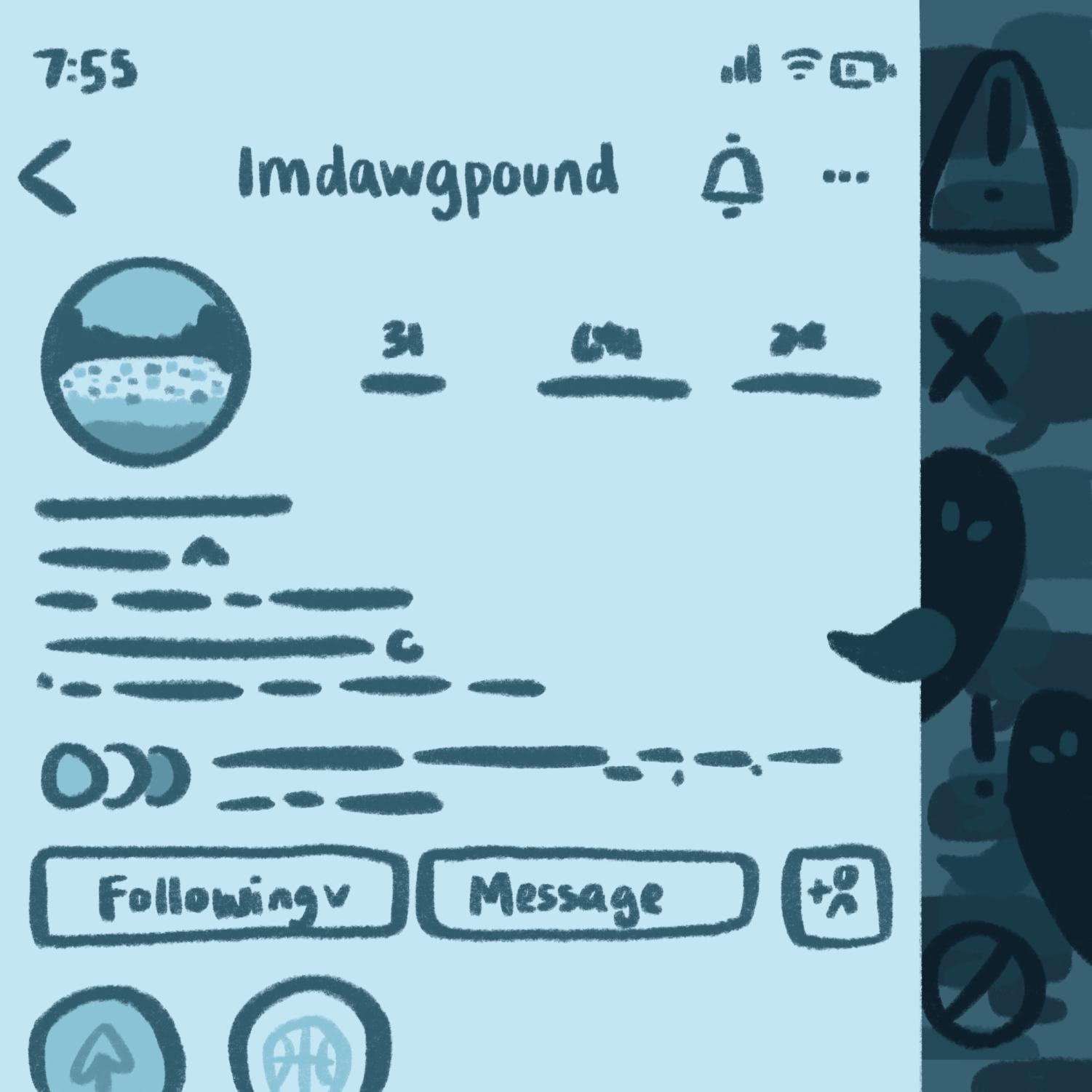 Seventy kids pack into four rows of bleachers at 7:00 PM on a Tuesday night. They don matching face paint, Santa hats and Halloween costumes alike, all for the chance to watch the state championship-hopeful Lower Merion Boys' basketball team send another Central League rival out the KBG doors with their tails between their legs. Lower Merion has a lot to brag about, and for upperclassmen who haven't had any in-person games since winter 2020, there's a lot to celebrate. The student section, infamously dubbed the Dawg Pound, has been a staple of school culture at LM for years now, and with the introduction of social media, Aces can now join in on the school spirit more easily than ever before. The student-run fan account @lmdawgpound, first posted on September 21st of this past year, boasts nearly 600 followers on Instagram, and receives upward of 300 likes per post. The account is powerful, more so than rival accounts on Instagram, and it's due in no small part to the unwavering dedication of its followers. For each disgruntled comment the account receives, ten comments of support spring up in its place, like a maroon and white-blooded hydra spitting out tongue-in-cheek remarks. This isn't the act of the managers of the account, nor a few die-hard keyboard warriors—this is the act of something far greater: community. This is the Lower Merion pride and school spirit that we've missed out on these past few years, and frankly, I think it's overdue.
I've never been a school spirit person. When friends from Haverford and Garnet Valley tried to drag me to football games, I feigned migraines and evil exes just to avoid being crammed onto metal bleachers in the cold. This year, however, I had a sudden change of heart. Maybe it was the months in quarantine, or the weeks upon weeks of changing schedules and closures; maybe I just longed for the nostalgia of high school memories I never made. Regardless, the theme of that first football game in September was whiteout and for some reason—be it the toxic fumes of the communal face paint that had been spread across my cheeks by a person I'd never talked to before or some other act of God—I embraced the overwhelming sense of camaraderie that came with being all together again. I know there's talk of restorative healing, of the collective trauma induced by the lockdown, particularly on teenagers; quite frankly, this is healing. Doing normal teenager things is healing. 
All that being said, we need to take a look at the way we talk about sports at LM. The Instagram account is quoted as saying that "the LM Dawgpound stands for gender equality in all ways possible," but when women and girls close to players on opposing teams become bigger targets than the athletes themselves, it puts the whole idea into question. The people running the account are doing their part, but regardless of the nice sentiment, commenters will still make lewd remarks about a player's mom from the sidelines and suggest that the girlfriends of Marple Newtown athletes perform sexual favors to compensate for a 62-32 loss. This is shockingly tame for high school bleacher banter, and to most of these comments I didn't even bat an eye. Unfortunately, misogynistic language is inherent to the way we talk about high school athletics. This "locker room talk" is pervasive and it hurts us more than we may realize. Sure the Dawg Pound is open to all students, but when girls tell me how uncomfortable they feel walking to their car after a night game, I'm reminded that the bubble of camaraderie won't protect me from the pointed needle of reality, nor will it protect the rest of the girls attending these games. At the end of the day, whether you're an Ace or not, you're still a girl in a high-intensity, male-dominated environment, and unless something changes about the dialogue surrounding sports culture at LM, the Dawg Pound will never truly be for everyone. 
How are we any different from the people we argue with in comment sections when our only distinction is the color of our t-shirts? I'm not saying that we can't make fun of other teams or revel in our wins. I'm not even saying that we have to stray from offensive remarks and jests at opposing teams' expense. I'm no saint. Some of you have seen my comments on the Instagram account or heard my remarks during games. At the end of the day, I'm a basketball fan first and an empathetic person second. All I'm saying is that it's hypocritical to act like we're exempt from criticism. I'm saying that we're better than the way we're acting. 
That being said, it's clear that the Dawg Pound Instagram page isn't going anywhere any time soon, and it's time we embraced its potential for good. After talking with the people behind the account, I think they agree. 
I have immense faith in the students of LM. I saw you all in the Marple Newtown comment section. Not only are you upsettingly funny, you support each other tirelessly, even people you don't know. I commend the Dawg Pound IG founders for fostering a space of community like no other at LM. I haven't seen this level of shared passion in quite some time. It's clear that this account has the power to connect Aces like no other, and I think that we should do it the right way, so that we can create a more inclusive, more spirited, and more passionate Dawg Pound for classes to follow. "Well being a senior, I think we have to set an example for the younger classes and just instill more school spirit into them because we've noticed that it has been lacking in recent years. I don't think there's pressure because we love running the account, although we do acknowledge our large following and we try to set a good example," says one of the founders of the account. If you ask me, I think they're doing a hell of a job.
Leave a Comment