Euphoria High
Read about all the ways HBO's Euphoria is impacting LM's student body.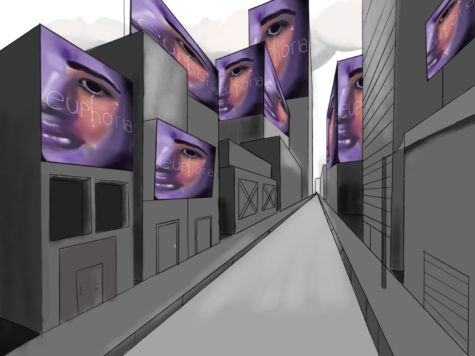 Every Sunday at 9pm EST, another episode of HBO Max's Euphoria reaches audiences around the country. Euphoria's first season gained traction for its shockingly explicit material, harsh portrayal of mental health, and drug abuse. Now, Euphoria's second season has reached all new heights of fame, especially within LM. 
Euphoria has been harshly criticized for its overt statements relating to drug use within high schools. Throughout the first and second season, seventeen year old protagonist Rue, played by Zendaya, grapples with addiction and withdrawal. Many say it is far-fetched from the true experiences of students. However, the imagery still holds an impact over LM's student body. An anonymous student compared the use of cocaine, painkillers, and opiates in Euphoria to use of alcohol and weed at Lower Merion. This comparison only exacerbates the direct impact drug use in Euphoria has on the student body. But is that impact a good thing? Many say, no.
The show features several scenes showcasing over the top parties with the characters abusing alcohol and drugs in a "euphoric" setting. Aliyah Brownstein '25 remarks, "The show definitely glorifies drug abuse and addiction to a certain degree" but adds that "it also shows the repercussions of drug use." Many believe that the unique way Euphoria portrays addiction might make the show more discouraging than encouraging for student viewers. 
Intrinsically connected is the discussions the show opens about mental health, as the harsh portrayals of depression and suicide outraged groups of viewers. While some say those are commonly experienced by high school students, others argue that it once again glorifies and desensitizes teens to these subjects. However, Juliette Arany '25 believes that " Euphoria helps people who struggle with mental health feel heard and represented." Many have found that Euphoria helps destigmatize those who struggle with mental health. The show has become a long overdue shift in the way the media portrays mental health. 
Beside the content of the show, Euphoria's main selling point seems to be its aesthetic. Everything from the show's fashion to makeup to music seems to be single handedly reinventing art in the 21st century. The characters wear everything from street fashion to contemporary couture. While most of the outfits throughout the show cost more than most high school students can afford, the general aesthetic is making impactful ripples in the media. In addition, several members of the cast have been showing up all over the beauty and fashion world. They can be seen modeling at fashion shows, interviewing with Vogue magazine, and even attending fashion's biggest event—the Met Gala. Their influence is everywhere, and with it, the show's fashion. The iconic graphic eyeliner and rhinestones look is now popping up all over social media. Even at LM, Emmi Wu '23 remarks, "clothing and makeup seen in Euphoria has begun popping up around the school." 
Euphoria's soundtrack has also been gaining multitudes of traction. Music stars such as Billie Eilish, ROSALÍA, and Labrinth have collaborated with Euphoria to create music that matches the intensity and vibe of the show. Season one's official soundtrack boasts over a billion streams on Spotify. Mental health, drug use, fashion, music the list of things Euphoria seems to be impacting is long and expansive. One student may have stated it best when she said' "Euphoria is modern culture." 
However the question remains: is Euphoria a destructive catalyst for teens and an end to classic culture or an ingenious work of art that helps people every day? Despite differing views and answers to these questions, one thing is clear-—Euphoria isn't going away any time soon and neither is it's impact. 
Leave a Comment