Off to the Oscars
Get updated on the 2022 Oscars ceremony and what the public is saying in response to this years nominee list.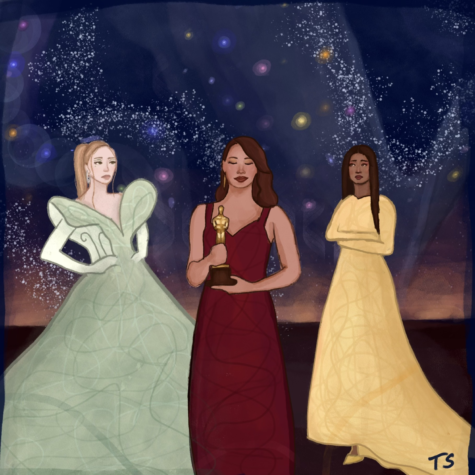 The Oscars are an annual event that draws more than 10 million celebrities, fans, directors, and more each year. Many of the films nominated for this year's Oscars have created discussion on who will win the prestigious accolade and who will unfortunately loose. Various categories for awards including Sound, Hairstyling/Makeup, Film Editing, Original Score, and Production Design, will not be aired this year. According to Thomas Hornberger, who wrote in a recent CBS article, that the reason why some of these categories will not be aired on national television is because the Academy wants to keep the viewers engaged due to last year's viewer count. Hornberger includes a quote from the Academy President, David Rubin, stating that, "We must prioritize the television audience to increase viewer engagement and keep the show vital, kinetic, and relevant." These decisions have left many feeling frustrated and quite angered. Patton Oswalt, the witty and popular stand up comedian responded to Rubin's announcement by saying that it was "dumb" and "disrespectful". During last year's ceremony, there was a noticeable drop in the amount of people who tuned into the program. Only 9.23 million people watched the Oscars, which was a major decrease compared to 2020, where approximately 18.69 million people tuned in to see the event. 
In addition to various categories not being aired, many people are unhappy with the nominees for this year's ceremony. One instance includes the Netflix film, Don't Look Up, starring Leonardo DiCaprio, Meryl Streep, Jennifer Lawrence, and other Academy Award winning actors and actresses. This sci-fi dark comedy film about astronomers alerting the public about the end of humanity has brought a mixture of reviews from various critics and audience members. Many audience members found the film to be "watchable, yet tedious and dull". Don't Look Up has been nominated for four Academy Awards, including Best Picture and Best Original Screenplay. Many audience members believe that the film, Spider-Man: No Way Home would have been a much better candidate than Don't Look Up for the Best Motion Picture category. Another film that got nominated for an award which many people are unhappy with, is the independent film, Spencer, which stars Kristen Stewart (who has been nominated for her first Academy Award in the Best Actress category). The film revolves around Princess Diana struggling with her mental health as she spends the Winter Holidays in a palatial estate with Prince Charles and her two children. Much of the public found Kristen Stewart's impression of the beloved princess to be "inaccurate" and "quite inappropriate." One viewer claims, "This might have been one of the worst performances in her career, despite her earning an Oscar nomination." This viewer continues to write that Lady Gaga was robbed of the Best Actress nomination for her role as Patrizia Reggiani in House of Gucci. Although many people believe that Lady Gaga's Italian accent was "inaccurate," there has been much positive feedback regarding her acting skills in the acclaimed film. 
Overall, the Oscars have certainly created a vast amount of frustration across the U.S. However, it is almost certain that this frustration will not prevent anyone from watching the exciting and long awaited award ceremony.
Leave a Comment