Fresh Films
Read about all of the most anticipated films and TV shows of 2022.
Despite the fact that critics are already raving about 2022 movies, there is still much more on the way for entertainment this year. From action packed adventures to heart wrenching love stories, here are some of the upcoming, highly anticipated movies of 2022:
Minions: The Rise of Gru
Coming to theaters July 1, Universal Pictures returns with one of their most beloved characters, Gru. Taking place in the 1970s, we see young Gru as a superfan of the Vicious 6, a supervillain group. While on his evil adventure to join the Vicious 6, Gru befriends some unlikely sidekicks, the Minions. The movie is produced by the original Despicable Me creators, and delivers the same laughs, smiles, and high level of overall enjoyment as its predecessors. With an outstanding new cast, consisting of Taraji P. Henson, Russel Brand, and Julie Andrews, this group cast is sure to impress and draw crowds over the holiday weekend and after
Black Panther Wakanda Forever
Black Panther Wakanda Forever returns! This movie is expected to land in theaters November 2022 with its famous "Wakanda Forever." While the movie's main actor, Chadwick Boseman, passed away in summer 2020, this story navigates the sequel without him. T'Challa, who Chadwick Boseman played, will not be returning to the screen, but instead this movie will focus on the world of Wakanda and continuing the stories of the characters from the first movie. Not much about the main plotline is known, but viewers can take a sigh of relief because famous characters will be returning, including Shuri, played by Latisha Wright, Nakiya, played by Lupita Nyong'o, Okoyay, played by Denie Yugeera, and Mmbaku, played by Winston Duke. Sequels of blockbuster movies are generally a bust. In light of the first movie, Black Panther, becoming one of the biggest blockbuster films ever, Black Panther Wakanda Forever has to make great strides in order to live up to the success of the first film!
Elvis
Elvis is an upcoming drama on the life of Elvis Presley, an outrageously famous American singer whose music remains popular today. This movie will take the viewer on a rollercoaster story of his life as the "King of Rock and Roll." The movie begins in the singer's early childhood years, and transitions into his history of becoming an American sensation. Elvis Presley will be played by Austin Butler, and the movie will feature renowned actor Tom Hanks. Expect sensational music, outstanding dancing, and beautiful acting! Elvis' expected release date is June 2022!
Knives Out 2
"It's better than the original," said Daniel Craig, star of Knives Out. Get ready to be blown away for the sequel of Knives Out, which is expected to hit Netflix in the fall of 2022. Featuring Daniel Craig as the lead detective, this movie will maintain the mystery style from the original movie but with many new cast members! This new star studded cast will feature Kate Hudson, Leslie Odom Jr, and Madelyn Cline. Also, the movie is shot in a new location. Knives Out 2 wrapped up filming in Greece on September 13, 2021, despite filming interruptions caused by the pandemic. With little footage released to the public about the movie, except for a little clip in a Netflix video on upcoming movies hitting their platform in 2022. However, this movie's exact storyline, as expected, still remains a mystery…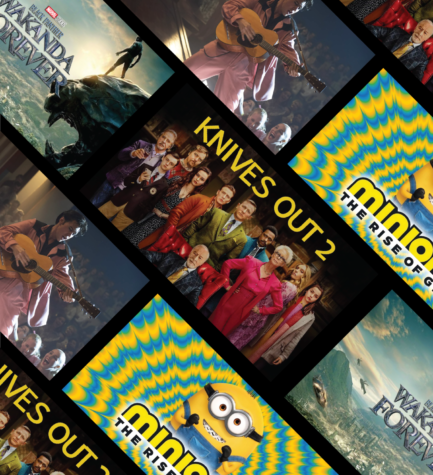 Leave a Comment