LM: Lunch Munch
LM's favorite places to eat for every meal and occasion.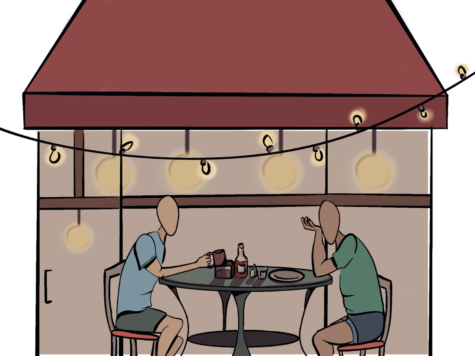 The best part of back-to-back free periods and half days is getting food right when you leave school, but there's always the question of where to go. There are so many restaurants, cafés, and food shops all around the LM area, so it can be overwhelming to choose. To help with this decision, here's a list of LM students' favorite places to eat.
If you're looking for a sit-down meal, Not Your Average Joe's serves a menu full of comfort food, featuring their famous bread and olive oil dip. Movies and sports games are constantly playing on the big screen TV for entertainment, adding to the already welcoming and cozy ambience. Dandan is a fairly new restaurant, but even though it's new to the restaurant game, their Sichuan-Taiwanese cuisine has already won a place in everyone's hearts. For breakfast, brunch, or lunch, First Watch is the place to go. Their endless menu options allow for you to try something new every time, from classics such as waffles and bacon, to new and adventurous foods like their quinoa breakfast bowl or lemon ricotta pancakes.
For those times that sit-down dinners aren't the top choice or you are in a rush, this area has an abundance of amazing fast food restaurants. Shake Shack serves burgers, milkshakes, and other American classics in a modern, counter-serve style. M2O is another great burger restaurant, but with a different way of ordering. Their menu consists of several types of burgers and salads that customers can customize to create their ideal meal. Jules Thin Crust is the perfect place for creative and original pizzas. As they advertise in the name of their restaurant, Jules serves thin crust pizzas, with one of a kind toppings that you're guaranteed to only find there. If you're craving a good burrito, Chipotle has what you need and more. The Mexican style chain has a menu of tacos, salads, and burritos that employees construct in front of you as you order.  Finally, a Philly favorite is Wawa. It's a classic 24-hour convenience store, which serves breakfast, lunch, dinner, and their delicious hoagies, along with a variety of snacks and drinks. 
If you're looking for a more healthy take on fast food, Hip City Veg is a vegan restaurant with unmatched sweet potato fries and refreshing banana whips that are hard to find anywhere else. They also serve burgers, wraps, salads, and more, all made with vegan ingredients. Right next to Hip City Veg is Sweetgreen, which serves different types of salads, including a create-your-own option. Similar to Chipotle, they make the salads right in front of you. They have almost every base, topping, and dressing imaginable. Cava, a Mediterranean restaurant, has wraps, salads, grain bowls, hot and fresh pitas, and fillings and toppings of every kind, such as hummus, tzatziki, falafel, tabbouleh, tahini, and more.
Dessert is a must have to top off any meal. Kilwins, located in Suburban Square and close to many of the restaurants on this list, is an old-fashioned dessert shop. They sell everything, from ice cream to chocolates to drinks, and of course, their famous house-made fudge. Another popular option for dessert is the newly opened Crumbl Cookies. They serve freshly baked cookies with new original flavors each week, prompting customers to return weekly.
Come back to this list if you are ever in need of some suggestions of LM's favorite and best local restaurants. Whether you're looking for a quick bite to eat, a fancy restaurant, or just dessert, LM has it all. 
Leave a Comment