Alumni spotlight: LM grads in action
The Merionite staff caught up with three alumni who are applying their LM experience to the real world in bold and unique ways
The Merionite caught up with three alumni as they each made national headlines for achievements in their respective fields. Let's find out what some of LM's former students are up to now!
Michael Cheng '18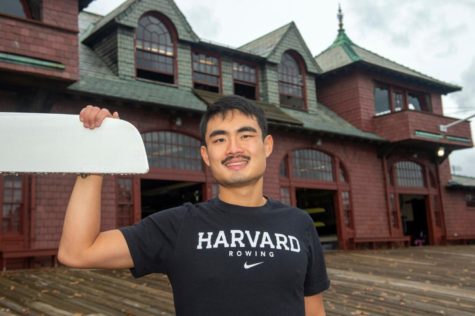 All eyes in the educational community turned towards Michael last fall when he won the prestigious Rhodes Scholarship as one of only 32 recipients in the US, a scholarship that will give him a full ride to pursue his graduate education at Oxford University in the fall. Michael currently attends Harvard University, where he engages in a double concentration in history and mathematics. He also serves as the university's Undergraduate Council president and rows for its lightweight crew team.
Q: Last fall, you won the prestigious Rhodes Scholarship. How does it feel receiving such a special distinction?
A: I'm very grateful for being in a lucky position where I can spend the next years pursuing an education in what I love. I'm looking forward to exploring a new country, meeting new friends, and continuing varsity sports. I'm incredibly lucky to have all the people who helped get me here—it wouldn't have been possible without them. After three months, it definitely has started to settle in and feel normal, and I'm really excited about what lies ahead.
Q: With the scholarship, you plan on continuing your education at Oxford University. What do you plan on pursuing there and do you have any career plans in mind?
A: A doctorate in computer or engineering science—I haven't decided exactly what yet. I'm also interested in climate technology and energy systems and algorithms that can predict what a transition to clean energy will look like. I'm not sure about long term career plans yet, but I'm excited to explore new territory for a few more years.
Q: How did your time in college come to help make those decisions?
A: In the beginning, I did have a tough time acclimating here because I came from a family that never had these same opportunities. But I was always willing to ask the hard questions and explore new things, whether by going to random professors' office hours, trying out different academic fields, or even joining the varsity lightweight crew team. That was where I found a community of people who cared about me and who I could care about, and I could invest myself in doing something not just for my benefit but for its own sake. I've learned from college that it's important to have the right mindset: you're supposed to fail, supposed to figure things out. People often present themselves as perfect, but you don't get much out of that. I think people should care more about what you do and not what title or award you have. What you do for others. Finding your values and sticking by them. That's the message I've come away with from my education, and I wish it was more commonplace today.
Q: At Harvard, you study history and math. How did you come to find your passion for both and how do you think those disciplines intersect, if at all?
A: I really just wandered into those classes in my first year. I discovered this amazing history seminar on Europe's twentieth century, with a professor who was eighty years old and retiring, and that was his last class. It was in this beautiful classroom with Roman statues and only eight students, and it helped me fall in love with history. As for math, I had a great freshman math experience, and my professor kind of just encouraged me to pursue it. Ultimately, I found a way that they could work together because history is about understanding the past, while math is about understanding the present and future. I've also found other passions to pursue, including taking negotiation classes at the business school, maker classes at MIT, and studying philosophy, climate engineering, and Buddhism, but history and math are my primary focuses.
Q: At Harvard, you are also the president of the Undergraduate Council. How has this experience been?
A: It's been fine to be honest. The biggest thing I've learned is that some people care about titles and positions and don't actually care about getting things done, while others are unrecognized who get a lot of things done for students. I've come to realize that you have to understand your values and why you do what you do. I've tried to live by that, running on a platform for radical reform, which the Council clearly needs as it has a three percent approval rating and is seen as financially corrupt and everything people dislike about government. I knew I was going to get pushed back for taking on the system, but I figured nothing worth doing in life involves no pain at all, and you just have to stick by your values.
Q: You were also the target of racist attacks and election interference from other Harvard students. How did this affect you?
A: When I got elected, there was an anti-Asian hysteria campaign against me based on stereotypes. It was run by the old guard who tried to overturn the election, which I found frankly ridiculous. They tried many things, including making amendments, holding emergency meetings, and undermining election results. But that's only just foreshadowing the real problem, which is that many members in the Council were corrupt in the first place, using their allocated budget for things like parties, retreats, and ramen. It's completely unbecoming of people who call themselves leaders. Student government doesn't mean that much, but if you're going to pretend to be in a role of public service, you shouldn't use it to enrich yourself. So when I fought for radical changes, there was pushback—some of the establishment felt pretty afraid that they were getting exposed.
Q: So what have you done to help push for change?
A: One of the things I've done is launched an app called Crimson Open Government, which is basically a direct democracy app. Students can anonymously answer campus life questions and vote on certain issues like mental health, COVID, and dining hall usage, so student government can see what responses are most supported. There's space to express what you really think and see what consensus there is. I hope to use this new digital platform to increase transparency, by giving data to administrators and working with them on policies. One of the new policies that will be implemented starting next year is allowing double majors, which previously Harvard students could not do. I hope to use my position to help develop relationships with people who can change policy, instead of doing nothing and just waving my hands around.
Q: Returning back to LM, what was your favorite class here?
A: AP English Language with Mrs. Flynn. She really taught me how to write, to think about things in terms of ideas and arguments. Most importantly, I learned not to be fearless with things that are worth fighting for. We really honed in on values in that class.
Q: What were some of the clubs and activities you did at LM?
A: My three main activities were Science Olympiad, cross country, and track. For Scioli, we brought LM from being ranked seventeenth in the state to second and got to Nationals, and I think it has been a pretty good team since. It was rewarding to help turn around the team and develop a better community. As for cross country and track, it was a great place to develop athletically and a super positive time. I still talk a lot to Coach DVH. Looking back on it, it was really impactful. I primarily ran the 1600m.
Editor Note: Michael was also an Opinions Editor for The Merionite in his junior year.
Q: What and who do you remember most about LM?
A: A couple things. Obviously, Science Olympiad getting to Nationals. Hanging out in Mrs. Minecci's room; I was really close with her. She was a really good person who cared about you and your character development and was always open-minded. Mr. and Mrs. Flynn, I really loved, along with Becky Bowlby. She and Mrs. Gesacion spent countless hours with me senior year helping me figure everything out. I also really enjoyed literature in Dr. Hobbs' class. I'm currently taking a class with Henry Louis Gates Jr., a seminar in African American literature, and there is a straight line between lessons in my high school class and what I'm reading now.
Q: What similarities and differences do you see between LM and Harvard culture?
A: Believe it or not, I think people at LM are a bit more open-minded and willing to be tolerant of others who are different. I think you see self-segregation in both Harvard and LM, but in the former it can be really intense. I would say that I found little pockets to fit in and found some incredible friends and that made up for it.
Q: What would you advise to any current LM students who are interested in history but aren't sure about how to pursue it as a career?
A: I think that's the wrong question. I don't think you should be thinking about how academics can be turned into a career. Instead, figure out what you really like doing, whether academic or not, and how you enjoy spending your time. Maybe it's not academic at all, but just focus on what you find interesting and see where it takes you.
Q: What would you say is the most important lesson you learned through high school?
A: Find things to believe in. Be critical and question a lot. Just because a lot of people think one way does not mean it's right. Be willing to expose yourself to different ideas, things you might not agree with at all, because you grow from putting yourself in uncomfortable situations. Sometimes you have to experience the world to see what it's like before making a judgment.
Q: With regard to geopolitics in the world right now, does history repeat itself?
A: History doesn't repeat itself but it rhymes. That's all I can really say.
Emma Saltzberg '09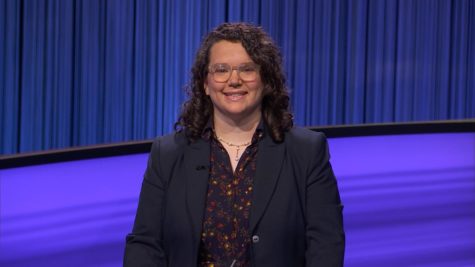 Emma pulled off a stunner recently when she won Jeopardy on February 2, taking home a sweet $22,000 prize with it—and pulled off several more stunners by defending her title two more times in the ensuing rounds, collecting a final total of $58,799. Outside of Jeopardy, Emma is the cofounder of IfNotNow, an American Jewish progressive activist group, as well as a senior fellow at Data for Progress, a progressive think tank.
Q: How was winning Jeopardy?
A: It was so much fun—really everything I could have hoped for.
Q: How was the whole process of going through the show?
A: So between taking the open online test and filming, it was about a year. I took the online test, which anybody can take in December 2020, and I didn't hear anything until about June; that's when I was invited to a group audition, where you play a mock game of Jeopardy, tell a story about yourself, and do a test run. Before the pandemic, those were all in person, but I had mine on Zoom. Afterwards, I was put into the pool of candidates, and they told me they could call me at any time. I finally heard back in August, when they asked me to come film at the end of September, but I couldn't go because a friend was getting married. Looking back, I realize I would've been there with Amy Schneider, who would have stomped into the ground, so I'm lucky in a way it worked out the way it did. I filmed my segment at the end of November, and the episode aired in February.
Editor Note: Amy Schneider is a former Jeopardy champion who had a forty-game winning streak from November 2021 to January 2022, the second-longest winning streak in the program's history.
Q: How was the experience since being on the show?
A: It definitely wasn't easy to keep it a secret. I was allowed to tell a few people, but for the most part I had to keep a poker face. As Amy's streak went longer, I actually started getting some dirty looks from people, as they would ask, "Is it you who takes down Amy?" It was sad when her last episode aired a week before mine, but I'm also very relieved that it was not my fault.
Q: How do you think you will spend your earnings?
A: I'll put away almost all of it for a down payment on a place to live—New York City real estate is no joke. I think I'll take the remaining few thousand dollars and buy an original piece of art.
Q: How did being a journalist in high school help what you do now?
A: Being a high school journalist, reporter, and editor served as incredible preparation for the work that I do—especially getting into the practice of emailing and talking with people who you don't have a prior connection with, asking to speak with them, thinking about angles on stories, and how to tell a story in a way that will resonate with an audience. Also being curious, looking at something and asking why it is like that. All of that is relevant to what I do now.
Q: What do you do right now?
A: I consult for a few different organizations—my work involves fighting anti-Semitism as part of a broader movement against white supremacy and white nationalism. One of my roles right now is as a fellow with an organization called the Western States Center.
Q: Where do you think the crossover is between journalism and advocacy?
A: Journalists and advocates have related but distinct roles. One thing I learned about myself after high school is that I'm more comfortable and happier being in an advocate role, and I know people who are more comfortable in a journalist role, and both jobs have a responsibility to speak the truth, but there are pros and cons to each approach.
Q: What do you do for fun? What are some pastimes you enjoy in your free time?
A: I love just walking around and exploring Brooklyn, especially this beautiful neighborhood called Crown Heights. Over COVID, I wasn't able to do this, but now I love throwing potluck dinners with friends as well. I also watch a lot of dating reality TV, which I always thought was a distraction from studying for Jeopardy, but then I had a reality dating category in one of my Jeopardy games. I guess the lesson there is to never rule anything out and that all knowledge is useful. I also enjoy embroidering and have a garden. Typical millennial stuff.
Q: So back when you went to LM, what was your favorite class? What was your least favorite class?
A: There's tough competition but my favorite class was AP English Language with Mr. Segal. We read really beautiful and challenging texts, and Mr. Segal took us really seriously as writers and thinkers and held us to a high standard, which was intimidating but very rewarding. On the other end of the spectrum, I wasn't much for gym class, and I would try my best to get out of gym.
Q: Any other teacher shoutouts you'd like to mention?
A: Shoutout to Mr. Kaczmar, Mr. Henneberry, who I had so much fun with, and Magistra Alexander, who is now retired. Those were my favorites.
Q: What were some of the clubs and activities you did at LM?
A: The Merionite was my main thing—I was a reporter for the first two years, then a Features Editor in my junior year, and finally Managing Editor in my senior year. I spent a lot of time with the newspaper. I also did Players in my first year, as well as Environmental Club, and did a few other things here and there—mostly trying to get a lot of stuff on the good old résumé. My advice would be to not do that, because I don't even remember much of it.
Q: You graduated right before LM transitioned to the new building. What do you remember most about the old LM?
A: I remember that it was very pretty, and there were so many places where I had fond memories. I also recall it being super crowded and getting up and down the main stairwells was quite challenging. It is really strange now though because the place I remember so vividly doesn't exist anymore—it's hard to wrap your head around the fact that you were the last class in the building.
Q: What would you advise to any current LM students who are not sure about how to pursue their passions right now?
A: I would say that it's really important to figure out what you care about. It could be any number of things: you could really love watching TV and then transform that into becoming a cultural critic or TV writer. I remember being taught that there was a difference between serious academic pursuits that are relevant for a future job and other interests you might be passionate about but are frivolous, but that's not really the case. You should just really learn as much as you can, go deep into the things that draw you in. High school is just a time where you can absorb so much—and you should do that while also having fun.
Q: What would you say is the most important lesson you've learned throughout high school that helped your career and future pursuits?
A: Being part of The Merionite staff and being responsible in a meaningful way for something the student body would be looking at was both a tremendously fun and often silly experience, but also a real responsibility, something that took us seriously. And feeling like what we wrote mattered, whether it was arguing over what would be in the editorial, was really informative, as it allowed us to feel trusted and allowed ourselves to fully express ourselves in that way.
Q: Who is your inspiration? Who do you look up to?
A: I'm inspired by people who take incredible risks and put themselves out there for the things that they believe in, but also who are open about the fact that they are just normal people and prove that being brave and speaking the truth are not things that only special heroic people do, that in fact we can all do them and we need to. I really am inspired by Alexandria Ocasio-Cortez; she's someone I really look up to, in part because she's so willing to be vulnerable and imperfect while she is so skilled and so oriented for justice.
Aneesa Ferreira '00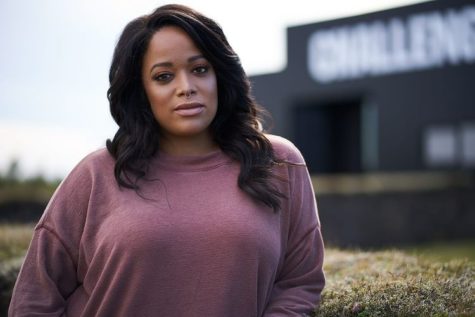 In a game of elimination, few people last very long. That's what makes Aneesa so special, as someone who has dominated the reality TV scene for the past two decades since being in high school. Aneesa's biggest roles have been starring in the MTV reality show The Challenge and its spinoff series. Aneesa currently holds the record for most Challenge seasons by a female contestant at fifteen and shows no sign of slowing down any time soon.
Q: You've had a long and illustrious career as a reality TV star, beginning right after you graduated from LM. How did your time at LM help you find your passion for what you do now?
A: I think LM helped me in terms of how social and self-aware I was at nineteen. However, at that time, I wanted to be a teacher. I actually never expected to be on reality TV.
Q: Your career began right as reality TV began to take off. How would you say reality TV and TV shows in general have evolved in the years since then?
A: There's basically a reality show for everything. One thing about ours is that it's never been scripted. It has, however, become increasingly more difficult in order to keep viewers interested.
Q: Who is your inspiration? Who do you look up to?
A: My inspiration is my mother. She raised my brother and I, and her strength alone is admirable.
Q: What was your favorite class at LM? What was your least favorite class?
A: My favorite class was English with Mr. Quinn. He made reading fun, and his classes challenged me. He was so kind and really cared about his students. I didn't like trigonometry, but I had to take it.
Q: What were some of the clubs/activities/sports you did at LM?
A: I was a four-year varsity cheerleader. I played lacrosse my freshman year.
Q: What was one thing you wished you would've done if you were back in high school?
A: I wish I would've focused a bit more. I also wished I would've talked about being bullied a bit more. It would've made life a lot easier.
Q: What was it like being bullied? How did it affect you? How did you overcome it, and what ways can students develop better self confidence?
A: I was bullied for about eight years. It was awful. In the halls, I would hear screams of "white girl" and "slut" amongst other things. I was threatened. I was scared every day. However, I wouldn't tell on them out of fear of retaliation. I had an amazing support system though: my mother, brother, and friends. I was so loved outside of all of that hate. I persevered. It gave me a thick skin, which helped me to navigate other situations in life.
Q: Did you develop your confidence for being in front of a camera naturally or was it something you taught yourself to do?
A: I've always been a performer and always had a carefree attitude.
Q: What would you advise to any current LM students who want to get into acting and the TV show business
A: For those who want to go into acting or reality, please know that it's not always going to be pretty. It's a fun and unique experience, but the trolls are out there. You have to develop a thick skin and be sure of who you are. Keep a level head, remain humble, have a solid core group of friends, and try to laugh often, even if it's at yourself.
Leave a Comment