Bang for your buck
Cam Gordon weighs the true costs of a college education.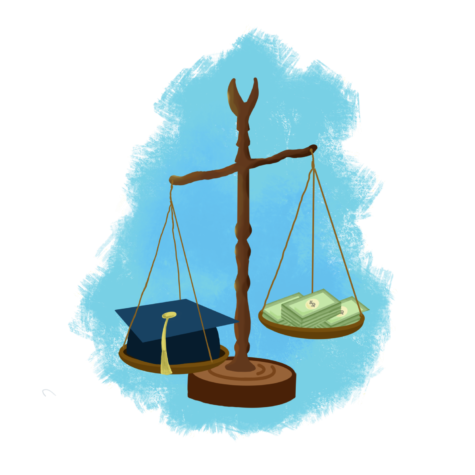 $37,288—the average cost of tuition every year for a private college in Pennsylvania. Add on room/board and that totals to around $50,000 a year. Four years of that, and you owe $200,000. No doubt this is a large check to write, but is it worth it?
To answer that question, I am going to take a financial approach. Yes, financial gain is not the only reason to go to college, but there are much less expensive alternatives to the college experience. So, if we're looking at college as an investment, how are you getting the best bang for your buck?
The answer: it depends. In engineering, for example, it does make financial sense to go to the best university possible. In fact, the top ten highest paying majors are all forms of engineering, with computer science in the middle. The starting salary for the students coming out of those majors is about $70,000 a year. So yes, if you want to pursue a career in engineering, MIT would be a good decision. 
However, there are a lot of people that have no idea what they want to pursue in college but enroll just because it's the "normal" next step. That is the problem for me. People make the massive investment of time, hard work, and money to come out with a degree that 62% of graduates say has nothing to do with their job. That leads to a massive underemployment problem. There are more people who have degrees than there are jobs that will give enough salary to pay off those degrees.
So if college is a bad investment for you, what is a good next step? Let's go back to that extremely high paying computer science degree. Kenzie Academy is a coding academy where you can get a degree and start working for the same pay as the college degrees in nine to twelve months for $10,000 to $20,000. Community College is about $2,000 to $5,000 per year, and the average student comes out making about $42,000, while college graduates make about $55,000 per year; the spread does not cover the cost difference about ten times between the two schools.
With so many alternatives, why are students still choosing to get a four year college degree? Well, if you take a look at any LM student's instagram feed, it won't take you long to find the answer. The feed is flooded with senior college commits, and there is nothing wrong with celebrating the massive achievements of committing to a university, but the alternatives should not be shunned the way they are. Not following the college path is something of bravery and should be praised to help get rid of the stigma that going to college is the only option. It is a stigma that piles up loans on people, who only have a piece of paper to show for it. 
So I challenge you, who probably read this and thought "interesting buuuut not for me," to think about what type of investment you want to make post high school and give some thought to the fact that it does not have to be a four-year college. 
Leave a Comment