We can clear the Advanced Placement jungle
Max Fishman '22 offers their take on AP classes in a letter to the editor.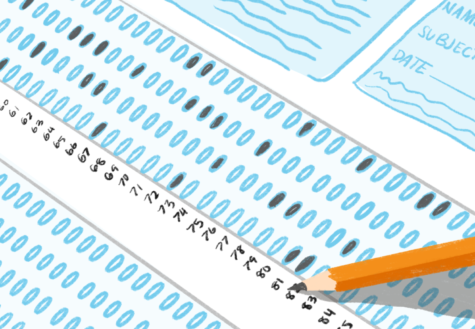 Dear Merionite Editorial Staff (and anyone who might take an AP),
The title of your article in the March edition of this wonderful paper has it on the money.
AP Classes are fundamentally flawed, and it feels like most of us had a sense of that already. 
Hoping to gain valuable skills from APs, or at least with the knowledge that harder classes are more attractive to selective colleges, many of us have ventured into the AP jungle. Navigating through AP Lang or APUSH, or AP Psych, similar snares tangled our trek.
Ultimately, time consuming homework regimes and stressful grading sprout from the "mile-wide" nature of these classes. Precisely as your article pointed out, APs cram a lot of material into one class and AP tests force teachers to cover all of it. 
On the "inch-deep" side of things, the complex ideas taught in college classes (which APs are meant to mirror) typically end up boiled down to rubrics and bullet points. As John Tierny, a college professor of 25 years turned high school teacher puts it, "The courses cover too much material and do so too quickly and superficially. In short, AP courses are a forced march through a preordained subject, leaving no time for a high-school teacher to take [their] students down some path of mutual interest." Tierny concludes, "The AP classroom is where intellectual curiosity goes to die."  
Beyond their direct flaws, colleges' irreverent attitude towards APs (they hardly ever earn you a full academic credit) demonstrates the flimsiness of the College Board's sell. APs simply don't do what they are meant to do. 
Or, do they?
I am writing this letter solely because of the last line of your article: "It is clear that the College Board needs to make a change." To live up to their purported goals, it absolutely does. But in the College Board's executives' bigger picture, the AP racket is perfectly fulfilling its goal. 
Between 2016 and 2019, the number of AP exams given per year more than doubled to 5 million. Selling that many $94 tests helped fund CEO David Coleman's $1.4 million and President Jermery Singer's $910,000 compensation packages. That money also goes to the College Board's lobbying efforts. Over the last 15 years, the College Board has spent a yearly average of $309,000 on lobbying to ensure local governments accept or sometimes even require AP courses. I bring up these innerworkings not just to emphasize that the College Board is flawed, but to expose how it's not particularly invested in a quality education, just a profitable one. 
So what now?
We can lay bare the behemoth system's machinations and blatant disregard for proper learning, but demanding that the College Board reshape their profitable model is futile. Instead, students need to appeal directly to the district. Afterall, LM could simply disband the AP program.
In 2018, after colleges confirmed that AP classes have no bearing on acceptance compared to other challenging classes, eight prominent D.C. private schools did exactly that. Teachers in those districts are now empowered to focus on interdisciplinary research, current events, and question-based learning. "We expect this approach will appeal to students' innate curiosity, increase their motivation and fuel their love of learning," said the schools of the changes' effect on their pupils. Thus, leaving the College Board behind entirely is one (and perhaps the only) viable solution to clear the AP jungle. However, such a drastic tack from the norm will require tremendous willpower.
Unfortunately, due to the nature of high school, the grade with the most AP and institutional experience is constantly on its way out. Only with proper coordination can the underclassmen coagulate their power and truly fight to drastically improve our school. Perhaps, as suggested in my last op-ed, a student-led organization devoted to spreading awareness and lobbying the administration on behalf of the student body as a whole is necessary.
As storied at his memorial, Mr. Hughes took great pride in learning from other districts and pushing for innovative solutions. He believed in the prowess of his teachers and he trusted his students. To live up to Mr. Hughes' legacy of love and educational best practice, it's clear that this district needs to make a change.    
Leave a Comment