Grammys
This article reviews the Grammys and the main events. It discusses the triumphs and controversies of the night.
From COVID-19 delaying the event, to controversy over certain performers and winners, the 2022 Grammys were able to put on a memorable award show that captured viewers attention.
The 64th annual Grammys were hosted by Trevor Noah on April 3 and for the first time ever, they took place in Las Vegas, Nevada. This year's Grammys were a major step up compared to the 2021 Grammys which were held during the height of the pandemic. In 2021, there were no crowds, no outdoor red carpet, and the party-like scene was non-existent. In 2022, the crowd returned and the party came back to life with performances by BTS, Billie Eilish, Olivia Rodrigo, Silk Sonic, and many other popular artists. As exciting as being back in person for the Grammys was, the reaction to certain people being nominated or winning became a topic of controversy.
About a month before the Grammys took place, a representative informed Kanye West that he had been removed from the lineup of performers because of "concerning online behavior." Over the past few months, West has been active on social media harassing Pete Davidson, Kim Kardashian's new boyfriend. West used a slur against Noah because of something he said on the "Daily Show," and overall West has been very negative and problematic on his platforms. The producers of the Grammys were concerned that during his performance he would say something controversial due to his long history of doing so on stage and at events. After being banned from performing, West decided not to attend the show at all. Although West never showed up, he still managed to win 2 Grammys for Best Melodic Rap Performance and Best Rap Song. Despite all of the problems West had leading up to the Grammys, the reaction towards his wins was positive and got him various congratulations from people including his current girlfriend, Chaney Jones who posted on her Instagram story, "THE BIGGEST 🐐🖤 SO PROUD." West now has a sizable collection of 24 Grammys, and with his two recent wins, he is now the most-awarded rapper in Grammy history. Juliana Messinger '24 said, "The fact that the Grammys still allows so many people to win awards who, despite their music being good, are not good people themselves really shows that their 'activism' and awareness is performative. Pulling Kanye from the lineup was a step but there are greater strides to take." 
More controversies surrounding the Grammys include celebrities such as Marilyn Manson, Louis C.K., and Dave Chapelle. Manson and Chappelle did not end up winning, but their initial nominations were still criticized by others. Manson has received several abuse allegations and Chapelle has made various transphobic comments. These actions have resulted in a debate over whether the two deserved to be nominated. Some believe that Manson and Chapelle's personal issues should not play a role towards the decision on whether they should be nominated for a Grammy because it should be based solely on talent.
Unlike the others, C.K. who openly admitted to sexual abuse acusations in 2017, actually won a Grammy for the Best Comedy Album. This win caused an outbreak of anger from the public. Although many people had a negative reaction to his big win, most of the comedy community decided to support him regardless of the controversy. 
Aside from some controversial reactions, other nominations and wins had very positive reactions. Olivia Rodrigo, for example, won 3 Grammys including Best New Artist, Best Pop Vocal Album, and Best Pop Solo Performance, making her the second youngest artist in history to win in these categories. Rodrigo gained tremendous amounts of respect and support for making history. Grace Benedict '24 said that, "at her age it is so amazing that she was able to become such an influencer in the music industry."
Along with Rodrigo, the Foo Fighters also won three awards in every category that they were nominated for. The categories in which they won included Best Rock Performance, Best Rock Song, and Best Rock Album. The Foo Fighters were supposed to attend and perform at the Grammys, but Taylor Hawkins, the band's drummer, unfortunately passed away in a hotel room a week before they were to perform. With this tragic loss, the band was unable to attend the live event or accept their awards in person. A tribute to Hawkins was played at the Grammys to honor his legacy and long career with the Foo Fighters. The band received nothing but positivity for their wins and many artists even paid tribute to Taylor Hawkins at the event.
The Grammys are recognized as one of the biggest and most popular music award shows to exist and the 2022 event was certainly one to remember.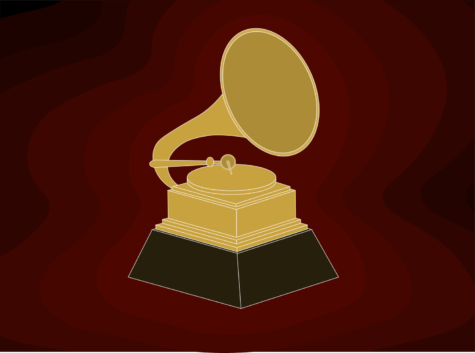 Leave a Comment