"Please rise?" Why?
Students and staff ponder the merits, or lack thereof, of standing for the Pledge of Allegiance.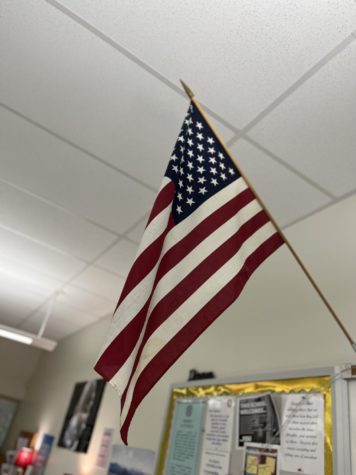 "Please rise for the Pledge of Allegiance" is a request to all LM students and staff every morning that travels through the muffled loudspeakers, echoes through the halls, and reverberates in our ears. But do you rise? Or do you choose not to? This question is a growing debate in recent years due to political stance, race, and peer pressure.
Some say that because the Pledge of Allegiance is the nation's anthem you should stand out of respect, while others oppose this, stating that the Pledge is outdated and not needed. In various interviews with LM students and staff, some stated that they stand for the pledge of allegiance to "show allegiance to my country" and "because I love my country, even with all its flaws." Others have countered this belief, claiming that they stand because "my teacher tells me to stand up" and "most of the time I don't stand because I don't think it is necessary." 
When asked whether the words in the pledge of allegiance are true, a staff member responded, "I mean, to a certain point. I think pledging my allegiance to a rectangular piece of cloth [is] not why I do it." The staff member continued, "I do it for what the flag stands for, democracy and justice. Do I agree with all the words though? No." Another person responded, I think it's a little weird to recite the pledge of allegiance everyday, but I also don't really care." 
While some have argued that not standing for the Pledge of Allegiance is rude, others have said that not standing shouldn't be considered rude at all. When LM students and staff were asked the question, "Is not standing rude?" they responded, "I'd say standing does show respect but most of the people that don't stand aren't being rude and if I don't stand it's not a statement of disrespect." Although peer pressure can play a role in the decision making of LM students and staff to stand or not to do so, it could also be an entirely strong personal choice. An LM student responded, "I think for many students, yes I think the thing now is not to stand. I think it does affect other students." Alternatively, the individual suggested, "I think some don't stand for the pledge because they don't believe in it but for many others I think it might just be laziness in the morning."
Whether you stand for the Pledge Of Allegiance, don't, or are unsure even of what to do, the debate remains open. Students and staff at LM have varying opinions and views on what to do for the Pledge of Allegiance, and this Anthem for America has opened many doors for more debates to come.
Leave a Comment