Welcome Principal Johnson!
Assistant Principal Michael Johnson will be leaving Harriton and taking over as the new LMHS principal.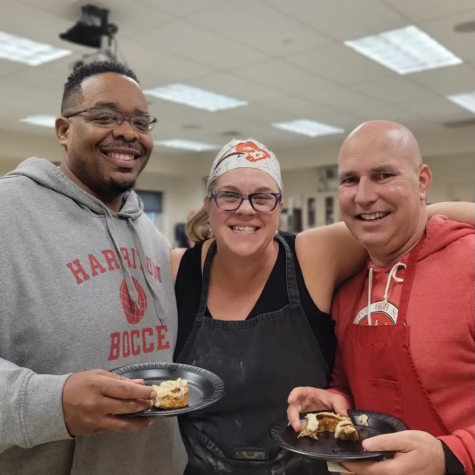 On April 19, it was announced that Harriton's assistant principal, Mike Johnson, would take the reins at LM beginning for the 2022-23 school year. After spending the previous eight years as an assistant principal at Harriton, Johnson will lead LM as principal. "I am excited to join a world class school community at one of the nation's best high schools," comments Johnson. Prior to administrative roles, his educational career began with a position as a sixth grade teacher at the West Oak Lane Charter School. Afterwards, Johnson held a variety of roles in the Abington School District (ASD). He began as a sixth grade teacher like in West Oak Lane Charter School, and then ended up becoming the Elementary Curriculum Specialist. Johnson later held a principal role in the Centennial School District and then was an assistant princpal at Harriton. Now, as principal at LM, Johnson offers an interesting perspective based on his work with all levels of pre-college education: "It has given me the experience to see the development of young people from kindergarten through high school graduation." He further mentions, "In my educational practice I have always done what I can to support students in the areas where these needs are not being met; in doing so, you increase the likelihood that students experience holistic success in schools." Johnson believes that specific student needs are often a more important factor than age itself. As he has accomplished in his previous educational positions, Johnson aims to come into LM assessing the needs of individual students.
In his new role, Johnson vouches to listen and learn to determine what is best for the school. Some of his goals as principal include ensuring "the building is properly staffed for the fall and that our leadership team has a productive summer preparing to open school in September." Sean Capkin, LM Spanish teacher and member of the committee that interviewed potential candidates for principal, mentions, "What underlied everything he said was connections with students and others." A central point of Johnson's transition to LM is his promise to listen to the community that surrounds him. Not only will he use these comments to implement new ideas, but to discover the areas of the school with the most room for growth. Johnson mentions part of his leadership strategy is to "work to do things with students rather than to them or for them." He will lead by building strong connections with the student body, rather reminiscent of Sean Hughes's tenure at LM. 
When instituting new policies, Johnson is prepared to handle confusion and backlash that might arise from the student body. Such as with changes in the library in the previous year, the student body was hesitant to adjust to new policies that were instituted by administration. Johnson acknowledges the fear
behind change, but notes it is often the fear of change itself that drives nerves, not the actual policies. When instituting new policies, Johnson believes that "helping people understand the 'Why' behind change is very important because it gives framing and clarity for what is being proposed." Anger from the library was mired by confusion as to whether there were substitutes or where to sign in. Auditorium assemblies or Advisory speeches could have easily cleared up the expectations and likely some of the anger. Johnson pledges to give both the what and the why to run a smooth operation once becoming principal. 
Since the passing of Hughes, LM has been left without a long-term principal in the main office. While Dr. Jim Scanlon has acted as an interim principal, Mr. Johnson will offer the security of a full time principal. Capkin believes that any "incoming school leader needs to take the temperature of the school." Capkin affirms that, "Mr. Johnson will try to and want to honor Mr. Hughes as he was the culture of this building," yet acknowledges that he is his own principal and leader. As seen through his various comments and ideas, understanding and communication are some of the central components of Johnson's leadership style. While Johnson will come in with new ideas to grow LM, he carries with him some of the core tenets of Mr. Hughes's philosophy: building connections is the key to building the school
Leave a Comment