Pride at the park
As June approaches, so do the festivities that come with pride month. Lucky for the LM community, some of our very own students have been hard at work organizing a meaningful pride event in Narberth Park!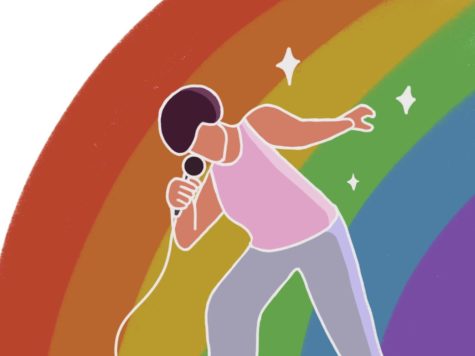 As June approaches, so do the festivities surrounding Pride Month. In past years, people wishing to show their pride would need to travel to Philadelphia or New York City. But this year, a group of LM students have organized an event right here in Narberth Park. Taking place on June 11 from 12 p.m. to 4 p.m., there will be an assortment of drag queens, musicians, artists, food vendors, and more to bring pride celebrations to our community. 
The idea for this event has been in the works since June 2021. Galena Wurtzel '23 described that while leaving a pride parade in Doylestown last year, they and a group of friends were verbally harassed by homophobic protestors. This terrifying experience sparked the idea for Pride at the Park, which is going to provide a safe space for queer people and allies to celebrate their identities. 
The planners for this event include Wurtzel, Maya Taylor '23, Ruby Davis '23, and Sylvie Weisbord '23. "We have been working with the Narberth Borough and they will be providing police officers to watch over the event," explained Taylor when asked about the safety precautions that will be in place. Taylor added, "Hateful protests legally aren't allowed to enter the park during our event." Through these measures, there hopefully won't be an incident like the one Wurtzel, Taylor, and others endured last June.
The headlining musical performance is the Philly-based queer band, Kate Dressed Up, with other local musicians also taking the stage. Drag queen Balena Canto will be giving one of their iconic storytimes for kids of all ages. Andrea Duetsch, the mayor of Narberth, will be speaking along with Brian Sims, a member of the Pennsylvania House of Representatives. Entrance is free due to the support of many local businesses, but Wurtzel recommends bringing money to support local artists and food vendors. 
Although Pride at the Park is still a month away, prepare for an exciting, inclusive celebration. Prepare your most outrageous outfit and get ready to show your pride!
Leave a Comment