New York, New looks
New York Fashion Week 2022 reminded us of how our personal styles truly define us.
What does it mean to make an impression?
The human brain is not capable of storing information from every reaction it encounters, so, we rely on first impressions in order to make judgment. Knowing this, many people spend their lives developing their own personal aesthetic: what it really means to be them. We saw this phenomenon happening during NYFW (September 9-14), the streets of Manhattan and Brooklyn filled with influencers, models, and the general public all looking to show off their developed style.
Some of the most popular looks consisted of Miu Miu ballet flats,Vivienne Westwood jewelry, Rick Owens shoes, Japanese designers, and Maison Margiela Tabi shoes. The trends were leaning towards more simple and classic styles. Issey Miyake was one of the most popular Japanese designers among social media He sadly passed away on August 5 of this year and to honor his memory, many people were seen wearing some of his most popular designs; pleated skirts and pants. Back to the latest trend of
Vivienne Westwood jewelry, the designer's jewelry closely resembles aspects of Japanese
animation Nana – a slow-burn, dramatised story of two girls that have the same name, the character designs are heavily influenced by Vivienne Westwood. They wore pieces such as the Armor Ring and the impractical, yet infamous, horse-rocking shoes. What makes the design so special is the orb on the logo (a saturn with an iron cross on top). The animation gained popularity on Tiktok, but fans of Nana are happy to see the designer's pieces proudly worn during NYFW 2022.
Bella and Gigi Hadid made an appearance on the runway, dressed in Tom Ford's metallic homage to the 70s disco era. Audiences were reminded of his relevance in today's fashion. Bella Hadid alone manages to keep this generation in a chokehold when it comes to fashion trends. She's one of the reasons you'll see Adidas Sambas and platform Uggs on everyone's feet.
Personally,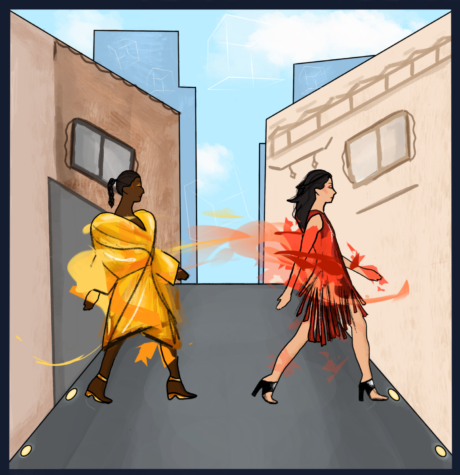 my favorite part of NYFW has to be the appearance of Seulgi from Red Velvet (a 5 member Korean girl group). Seulgi elegantly observed from the front row of Peter Do's runway show for his latest collection. Her appearance was a reminder of how influential K-Pop has become in the west. Overall, NYFW has rejuvenated my love for fashion and
my expectations for next year have significantly shot up.
Leave a Comment