Festival of free phones
Made In America is one of the most exciting music festivals of the year. With big artists such as Lil Uzi Vert performing, it was natural for large crowds to form resulting in many people's phones getting stolen.
In Philadelphia, this past Labor Day Weekend, the annual Made In America Festival was a chaotic way to end the summer. As always, the lineup was exciting and persuaded many people, including much of our student body, to purchase a two-day pass and celebrate the weekend. Despite the expensive beverages, food, and subpar bathroom options, the festival is always a big hit. This year, the exciting headliners included Tyler, The Creator, Bad Bunny (a fan favorite), Tate McRae, Lil Uzi Vert, Jazmine
Sullivan and many others. The day consisted of music, dancing and fanny packs that should have stayed zipped at all times. In years past, there hasn't been more stolen, lost, or disappearing phones than this year's Labor Day.
Olivia Walters '23 explained that she hadn't even realized her phone was missing until after coming out of a crowd of hundreds of people, when she noticed that her fanny pack had been unzipped. Finley Hoffman '23 also said that her friends had attempted to call and track her phone numerous times, but the location had been turned off. While no one can be certain on what exactly happened on Benjamin Franklin Parkway, there were numerous rumors about potential "phone robbers" throughout the weekend. Festival goers were then advised, as always, to keep sharp watch on all valuable items.
Made in America typically is a strange and tiring weekend, but this past Labor Day Weekend was something else. People say Verizon was practically "handing out phones" in the days that followed the festival. While this tragic wave of missing phones has most likely discouraged many people from returning back to the festival, it is definitely a story to tell and hopefully joke about in the future!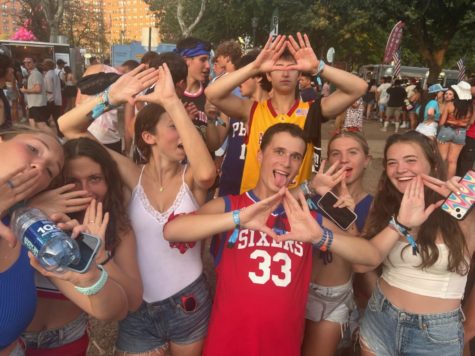 Leave a Comment